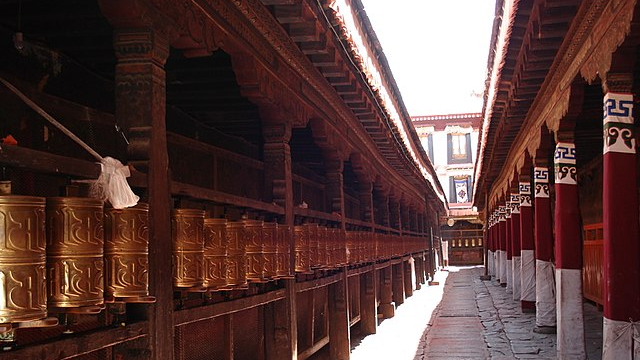 A public square in front of Lhasa's famed Jokhang temple, a UNESCO World Heritage site, remains closed to worshippers despite the completion two months ago of nearby construction work, according to sources in Tibet's regional capital.
Normally thronged with Buddhist pilgrims offering prayers and prostrations, the square is now surrounded by fences barring entry to Tibetan devotees and allowing access only by tourists, one source in Lhasa said.
"The pilgrims have nowhere to prostrate and worship, and only Chinese police and Chinese visitors can come inside the fenced enclosure," RFA's source said, speaking on condition of anonymity. "You don't see any activities by Tibetan Buddhist devotees."
"The sacred Jokhang temple has drawn Tibetan worshippers and pilgrims from all over Tibet since ancient times, and many devotees believe they should visit it at least once in their life for the sake of a good rebirth and their salvation," he said.
"However, [the prostration site] is now fenced off and closed to worshippers," he said.

Months of renovation work on the temple square, including the laying of concrete slabs and new underground pipes, were completed in August, "but the prostration site for pilgrims in front of the Jokhang temple remains closed," another Lhasa source confirmed.
"Pilgrims and other devotees spend hours and even days saying prayers and prostrating on concrete slabs in front of the main gate of the temple as a way of cleansing their misdeeds and gaining merit. But now, even after the renovations, it remains closed off to worshippers," he said.
New security checkpoints were also put in place in Lhasa's Barkhor area near the temple while construction work was being done, a third source in Lhasa said, adding that the installation of the screening booths "caused great inconvenience for Tibetan religious worshippers."
"The so-called 'facelift work' around the Barkhor has obviously facilitated police activities and the tightening of security in the area," the source said.
During a lockdown in Lhasa in April to prevent the spread of COVID-19, two Chinese-style pavilions were installed in front of the Jokhang, prompting concerns that the introduction of foreign architectural elements in the temple complex might affect the Jokhang's status as a UNESCO World Heritage Site.
And on Feb. 17, 2018 a fire broke out in the temple compound, setting at least one building ablaze but sparing the chapel that houses the temple's central image, a famous statue of the Buddha brought to Tibet in the seventh century by the Chinese bride of the Tibetan emperor Songtsen Gampo.

Support from US lawmakers
On Thursday in Washington, The House of Representatives Foreign Affairs Committee approved a resolution promoting autonomy for the Tibetan people, supporting talks between Beijing and the Dalai Lama, and urging Senate approval of the Tibet Policy and Support Act (TPSA), which passed in the House in January.
Co-sponsored by Democratic Rep. James McGovern and Republican Senator Marco Rubio, the TPSA when signed into law will require China to allow the opening of a U.S. consulate in Tibet's regional capital Lhasa before any new Chinese consulate can open in the United States.
It will also address water security and climate change issues in Tibet and strengthen the still-unfilled State Department office of the Special Coordinator for Tibet.
Finally, it will establish a U.S. policy that the selection of Tibetan religious leaders, including future successors to exiled spiritual leader the Dalai Lama, is a decision to be made by Tibetans free from Chinese government interference.
International Campaign for Tibet President Matteo Mecacci called Thursday's unanimous committee support for the House Resolution 697 "another sign of increasing Congressional action on Tibet."
"Although the US government has long supported the Tibetan people, there has been a flurry of bipartisan activity in recent years" he said in a statement."It's clear that our elected leaders care about the rights of the Tibetan people," added Mecacci.
A formerly independent nation, Tibet was taken over and incorporated into China by force 70 years ago, following which the Dalai Lama and thousands of his followers fled into exile in India.
Chinese authorities now maintain a tight grip on Tibet and on Tibetan-populated regions of western Chinese provinces, restricting Tibetans' political activities and peaceful expression of cultural and religious identities, and subjecting Tibetans to imprisonment, torture, and extrajudicial killings.

Reported by Lhuboom for RFA's Tibetan Service. Translated by Dorjee Damdul. Written in English by Richard Finney.
Source: Copyright © 1998-2016, RFA. Used with the permission of Radio Free Asia, 2025 M St. NW, Suite 300, Washington DC 20036. https://www.rfa.org.