The minute coronavirus prevention restrictions were eased, state-run churches in Jiangxi Province felt the resurgence of onslaughts. Many were closed for good.
by Zhang Feng
During one week in April, crosses were removed from at least six Three-Self churches in Yugan county, administered by the prefecture-level city of Shangrao in the southeastern province of Jiangxi. Some churches were cleared out and closed down permanently, leaving congregations with no place to gather.
On April 21, government-hired workers were sent to a fully licensed Three-Self church in Gaojia village in the county's Yangbu town to remove its cross and tell the congregation to sell the church. Three days later, four village officials came to the church and tore down all religious symbols, painted over the cross on the podium, and removed all chairs. One of the officials proclaimed that "believing in Jesus is prohibited as per government policy." The church was closed, and its over 100 members were left stranded.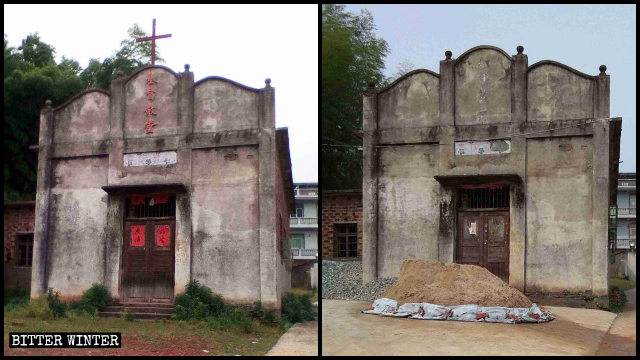 Three days later, four village officials removed all chairs and religious symbols from the church and proclaimed it closed.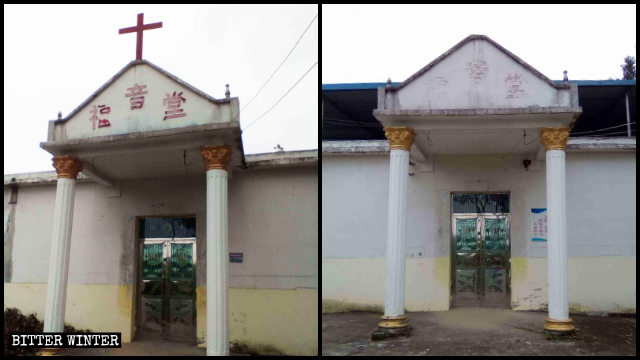 "We have to do whatever the government tells us to," the church director said helplessly. "We've proven our patriotism, donated money to help curb coronavirus in Wuhan, as they had required. Still, the government says that our church grew too rapidly, and they fear that having many believers is unfavorable to them. We don't know what to do now."
Two Three-Self churches in Yangbu's Ruoyuan and Paifang villages had their crosses removed and were converted into activity centers.
In Xinyuan village, officials used kitchen knives to scrape off the cross and other religious symbols from the walls of a local Three-Self church. "You can dance in the church, but can't worship God," one of them told the congregation while removing the cross. "If you don't agree, we'll use an excavator to demolish the church."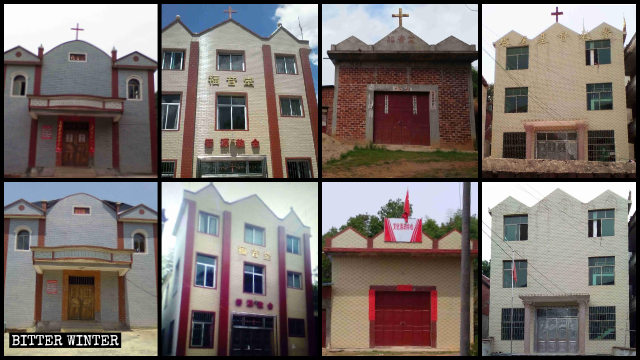 The Three-Self Grace Overcome Church in the Xinjian district of Nanchang, the capital of Jiangxi, used to have seven crosses of various sizes above its entrance. In the second half of 2018, local authorities ordered the removal of six crosses, claiming that they were too tall and too large. On April 25 this year, a government-hired welder removed the remaining cross and all Christian couplets in the church.
"We thought that after joining the Three-Self Church, the persecution would stop," a church member said. "But we continue to be persecuted all the same. The Constitution provides for freedom of religion, but it's all a lie. Xi Jinping acts like a good man when we see him, but as a devil behind our backs.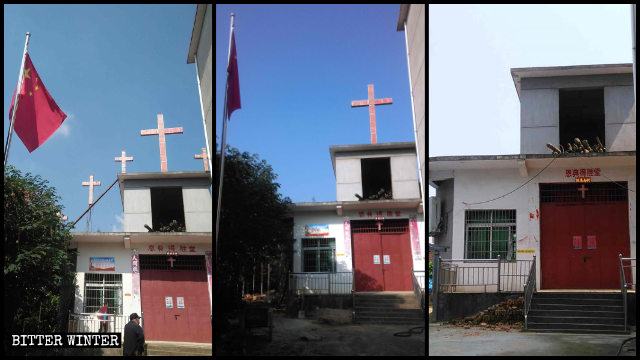 Source: Bitter Winter