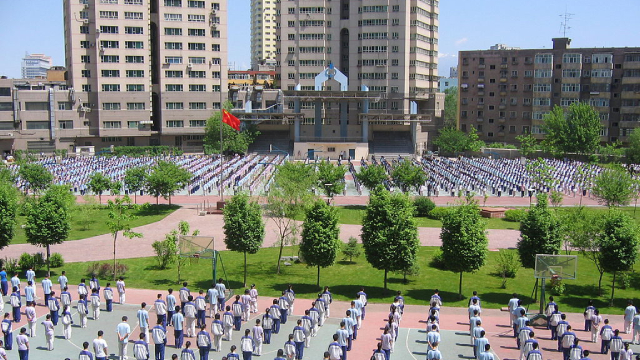 A Uyghur high school chemistry teacher is being detained in an internment camp in northwest China's Xinjiang Uyghur Autonomous Region (XUAR), official sources have confirmed.
Recently, a Facebook user by the name of Uyghuriye Alip posted information that Memettursun Daim, who taught at the No. 4 High School in Aksu (in Chinese, Akesu) prefecture's Kuchar (Kuche) county, was in April 2019 sent to one of the XUAR's vast network of internment camps, where authorities are believed to have held up to 1.8 million Uyghurs and other Muslim minorities since April 2017.
Among the details posted by Alip was a photo from March 2019 that appears to show Daim among a group of award recipients at a meeting of the ruling Communist Party at his school, suggesting he is or was a party member.
The alleged reason for Daim's detention was not immediately clear, according to Alip.
RFA's Uyghur Service spoke with an employee at the Kuchar County Archives, who said Daim's name was not among those listed as being party members. The employee suggested that the local Public Security Bureau or other government entities could verify whether he was.
An employee at the Kuchar County Education Bureau confirmed to RFA that Daim teaches chemistry but referred RFA to the local police station for answers to questions about whether he is being held in detention.
However, another employee at the education bureau acknowledged that Daim had been sent to an internment camp.
"Yes … I don't know the details," he said, suggesting that RFA contact No. 4 High School for additional information.
When asked whether Daim, who is being held in an internment camp, had ever worked there, an employee at No. 4 High School said, "Yeah."
RFA also spoke with an unidentified official who said Daim was "studying Mandarin Chinese with thousands of other students," despite being fluent in the language as a requirement for teaching.
"He's in Kuchar County Camp No. 3," the official said.
Camp system
Authorities regularly use the term "two-faced" to refer to Uyghur cadres or party members who they say pay lip service to Communist Party rule in the XUAR, but secretly chafe against state repression of members of their ethnic group.
Beijing initially denied the existence of internment camps in the XUAR, but last year changed tack and began describing the facilities as "boarding schools" that provide vocational training for Uyghurs, discourage radicalization, and help protect the country from terrorism.
Reporting by RFA's Uyghur Service and other media outlets, however, indicates that those in the camps are detained against their will and subjected to political indoctrination, routinely face rough treatment at the hands of their overseers, and endure poor diets and unhygienic conditions in the often overcrowded facilities.
Mass incarcerations in the XUAR, as well as other policies seen to violate the rights of Uyghurs and other Muslims, have led to increasing calls by the international community to hold Beijing accountable for its actions in the region, which also include the use of advanced technology and information to control and suppress its citizens.
Reported by Shohret Hoshur for RFA's Uyghur Service. Translated by Elise Anderson. Written in English by Joshua Lipes.

Source: Copyright © 1998-2016, RFA. Used with the permission of Radio Free Asia, 2025 M St. NW, Suite 300, Washington DC 20036. https://www.rfa.org.