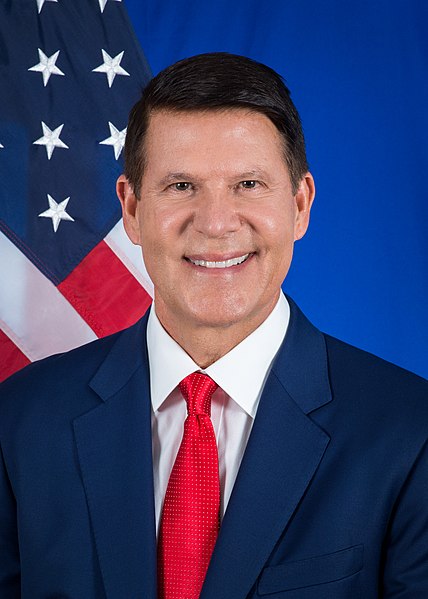 U.S. Under Secretary of State Keith Krach arrived in Taiwan on Thursday, at the start of a three-day trip that will see him attend a memorial service for the island's first directly elected leader.
Krach, the highest-ranking U.S. official to visit Taiwan since Washington cut ties with the island in 1979, touched down with his delegation at Taipei's Songshan Airport to be met by his counterpart Harry Tseng.
Krach is scheduled to attend a memorial service for former President Lee Teng-hui, who died July 30 at the age of 97, as well as a banquet hosted by President Tsai Ing-wen.
Foreign minister Joseph Wu said Krach's visit is highly significant for Taiwan.
"The U.S. State Department is sending a very high-level undersecretary of the State Department to Taiwan to attend the memorial service of former President Lee," Wu told journalists on Thursday. "The Taiwan government expresses a very high level of welcome."
Wu said Krach's attendance at the memorial service "is evidence of the closeness of the relationship between Taiwan and the United States."
Yen Chen-sheng, a research fellow at the Institute of International Relations at National Chengchi University, said Krach's visit is a diplomatic breakthrough.
"No Under Secretary of State has visited Taiwan since the U.S. broke off diplomatic ties," Yen said.
He said Krach's visit could also facilitate future purchases of oil and natural gas, and diversify the bilateral trade portfolio.
Visit still low-key
Chiou Jiun-rong, a former deputy minister of Taiwan's National Development Council, said Krach's visit was still fairly low-key, with considerable uncertainty around the level of formality that would be accorded to bilateral trade and economic talks.
But he said Krach could at least pave the way for future bilateral trade talks.
"If we are defined as a relatively independent political entity at the diplomatic level, then we can talk about a possible bilateral trade agreement or free trade agreement," Chiou said.
China said it would make a "necessary response" to Krach's visit, and lodged a complaint with Washington, the foreign ministry said on Thursday.
"We urge the U.S. side to fully recognize the extreme sensitivity of the Taiwan issue," foreign ministry spokesman Wang Wenbin told a regular news briefing in Beijing. "China will make a necessary response depending on how the situation develops."
Krach's visit comes at a time of heightened military tension in the Taiwan Strait, following large-scale exercises by China's People's Liberation Army (PLA) in nearby waters and the encroachment into Taiwan's airspace by PLA aircraft.
China's Zhejiang Maritime Safety Administration reported on the eve of Krach's arrival that the PLA would hold military exercises in the East China Sea from 8.00 a.m. to 6.00 pm on Sept. 17.
PLA planes also made an incursion into Taiwan's airspace during the visit last month by U.S. Secretary of Health Alex Azar.
'A serious provocation'
Taiwan's Ministry of Foreign Affairs said in a statement last week: "Military maneuvers by China's government constitute a serious provocation to Taiwan and a grave threat to regional peace and stability."
"Taiwan does not seek confrontation, but neither will it back down," the statement said. "The Chinese government is introducing a factor of extreme instability in the region."
It called on the international community to play close attention to increasingly aggressive moves by China.
The United States plans to sell as many as seven major weapons systems, including mines, cruise missiles, and drones to Taiwan, four people familiar with the discussions said, Reuters reported on Thursday.
Washington has been eager to create a military counterbalance to Chinese forces, building on an effort known within the Pentagon as "Fortress Taiwan," as Beijing's military makes increasingly aggressive moves in the region, the agency reported.
Taiwan's Defense Ministry declined to comment on the report, which said weapons packages from Lockheed Martin Co LMT.N, Boeing BA.N, and General Atomics are moving their way through the export process, citing three people familiar with the deals.
A senior U.S. official told Reuters: "There is no equilibrium today. It is out of balance. And I think that is dangerous."
The Pentagon said in a report to Congress published in September that China has strengthened and modernized its military capabilities in recent years to the point where the PLA is "already ahead of the United States" in some areas.
US adjusting its policy
Former lawmaker Lin Yufang, now convener of the National Security group at Taiwan's Institute for National Policy Research, said the U.S. does appear to be adjusting its policy on China..
"Of course [this] diplomacy means that the United States is adjusting its China policy," Lin told RFA. "The United States has gradually gotten rid of the line of strategic thinking that it needs mainland China. China's value as a strategic partner has plummeted."
"Now, they need to improve ties with Taiwan to counter the rapidly expanding power and influence of the Chinese Communist Party (CCP)," he said.
Lin said ongoing arms sales by Washington to Taiwan might suggest the U.S. would be reluctant to become embroiled in any military conflict across the Taiwan Strait, however.
"This is something that successive U.S. presidents have wanted to avoid since the Vietnam War, so they think that maybe by selling these weapons to the Republic of China, they may be able to deter China from launching a military attack on Taiwan," Lin said.
"[The idea is that] Taiwan could deploy enough military strength to deal with China without the need for the U.S. military to rush into war," he said.
The editor in chief of Military and Aviation News, Shih Hsiao Wei, said the package of arms reported by Reuters suggested Taiwan would gain the ability to hit the source of conventional ballistic missiles targeting the island.
"Before the PLA launches its short-range ground-to-ground ballistic missiles, just after launch, there is a radio emission to establish communication with command headquarters," Shih said. "Drones can search and detect these fleeting electronic signals."
"Then it is possible to attack the source of the missile using a cruise missile," he said.
Shih said the reported arms package includes airdropped mines, pointing to the threat of attempts at amphibious landings or blockades by the PLA.
Threats from China
China has said Taiwan, a democratic island that has never been ruled by the Chinese Communist Party nor formed part of the People's Republic of China,  must "unify" with China or face a potential invasion by the PLA.
President Tsai has repeatedly said that Taiwan's 23 million people have the right to determine their own future, and have no wish to give up their freedom or sovereignty.
The island has been officially governed by the 1911 Republic of China since it occupied the island at the end of World War II, ending 50 years of Japanese rule.
Earlier this month, it issued a newly designed passport on which "Taiwan" is more prominently displayed in English on the front cover, with the words "Republic of China" relegated to a tiny font size.
Reported by Hwang Chun-mei for RFA's Mandarin Service, and by Chung Kuang-cheng for the Cantonese Service. Translated and edited by Luisetta Mudie.
Source: Copyright © 1998-2016, RFA. Used with the permission of Radio Free Asia, 2025 M St. NW, Suite 300, Washington DC 20036. https://www.rfa.org.