Top U.S. officials and a U.S. lawmaker have called out China in recent days for its treatment of ethnic Uyghurs in the country's northwest Xinjiang Uyghur Autonomous Region (XUAR), slamming Beijing for what they said was a systematic effort to destroy the Muslim minority's religious and cultural identity.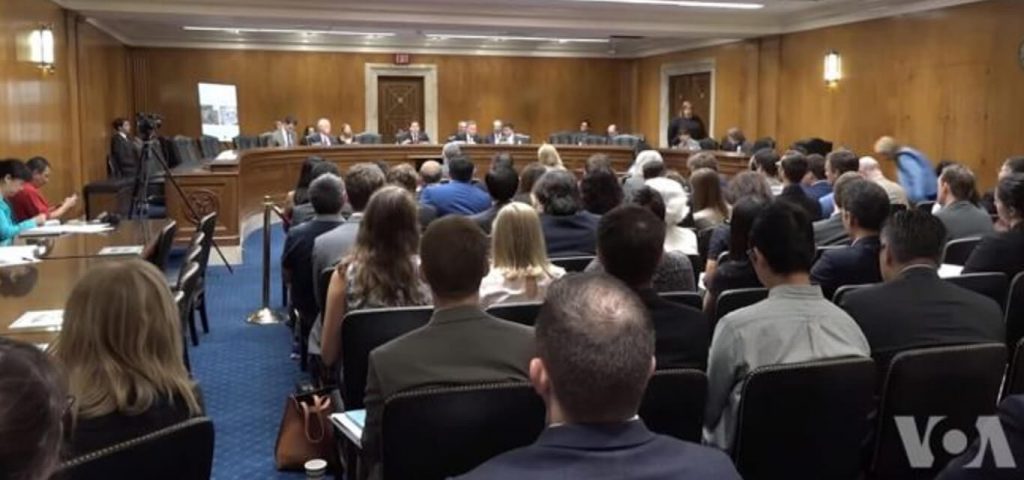 Beginning in April 2017, Uyghurs accused of harboring "strong religious views" and "politically incorrect" ideas have been jailed or detained in re-education camps throughout the XUAR, where members of the ethnic group have long complained of pervasive discrimination, religious repression, and cultural suppression under Chinese rule.
U.S. Vice President Mike Pence, U.S. Ambassador to the United Nations Nikki Haley, and Senator Marco Rubio spoke at separate events in Washington decrying China's re-education camps in the XUAR and calling on the country to end its religious persecution of the Uyghurs, in a rare example of U.S. officials at such senior levels concertedly drawing attention to the issue.
Speaking during a Religious Freedom Conference at the U.S. State Department on Thursday, Pence warned that religious persecution "is growing in both scope and scale" in China, which has been labeled a "religious freedom violator" in the State Department's annual International Religious Freedom Report every year since 1999.
"Together with other religious minorities, Buddhists, Muslims and Christians are often under attack," he said at the Ministerial to Advance Religious Freedom, which the State Department described as a gathering of foreign ministers, heads of religious and civil society organizations and survivors of religious discrimination "to combat religious persecution."
"Sadly, as we speak, as well, Beijing is holding hundreds of thousands and possibly millions of Uyghur Muslims in so-called re-education camps, where they're forced to undergo round-the-clock political indoctrination to denounce their religious beliefs and their cultural identity as the goal," Pence said.
Later, participants in the Ministerial issued a statement saying they were "particularly troubled by reports of the Chinese government's deepening crackdown on [Uyghurs] and members of other Muslim minority groups in China," including "undue restrictions on freedom of religion" and detentions in re-education camps.
"We call on the Chinese government to release immediately all those arbitrarily detained," the statement said.
Haley and Rubio
Concerns over the religious persecution of the Uyghur people were echoed Thursday by Haley at the U.S. Holocaust Memorial Museum, where she noted that Beijing had sent "hundreds of thousands" of members of the Muslim ethnic group to re-education camps "in order to combat what it sees as a threat to its rule."
"The Chinese state is exerting control over every aspect of life for the Uyghurs, creating what one publication has called 'a fully-fledged police state' in the province where most of the Uyghurs live," she said.
"Their religious and ethnic identity is literally being extinguished by the Chinese government."
Also on Thursday, at a U.S. Congressional-Executive Commission on China (CECC) hearing in Washington on "Xinjiang's Human Rights Crisis," CECC chairman Rubio said that Beijing is guilty of some of the world's worst religious persecution for its treatment of ethnic Uyghurs.
Rubio slammed China's government and the country's ruling Communist Party as "equal-opportunity oppressors targeting unregistered and registered Christians, Tibetan Buddhists, Falun Gong practitioners, and others with harassment, detention, imprisonment, and more."
But he called China's persecution of Uyghurs and other Muslim ethnic groups in the XUAR "arguably among the worst, if not the most severe, in the world today of an authoritarian government brutally and systematically targeting a minority faith community."
In addition to reports of detentions in the re-education camp network, Rubio pointed to accounts of Uyghurs being forced to eat foods that violate their religious dietary laws, controlling what people name their children, and authorities in the region "trying to strip their identity from them, both religious and ethnic."
"These are some of the most horrifying things that are happening in the world today," he said.
"That it doesn't lead newscasts in the country and around the world in and of itself is problematic."
The highlighting of religious persecution in the XUAR from the senior U.S. officials and lawmaker came a week after U.S. Secretary of State Mike Pompeo told Voice of America in an interview that China should refrain from using "the guise of a counter terrorism investigation to persecute religious freedom."
When asked how he would respond to China's defense of its draconian policies in the XUAR, Pompeo said that the State Department "has made clear that with respect to this issue we think they are on the wrong side on religious freedom."
Dolkun Isa, the president of the Munich-based World Uyghur Congress (WUC) exile group, issued a statement saying he was "deeply pleased by the extraordinary concern" shown by the U.S. leaders. Isa, who has lived in exile since 1994, learned last month that his mother, Ayhan Memet, died in one of the camps on May 17 at the age of 78.
"This level of highest attention paid to the issue of Chinese concentration camps detaining one million Uyghurs gives great hope to the long-suffering Uyghur people," he told RFA's Uyghur Service.
"China may continue to deny the existence of these concentration camps but it can no longer cover up its crimes against humanity in East Turkestan. China will never release the one million innocent Uyghurs on its own. There must be concerted international pressure and action," Isa added.
Camp network
On Wednesday, an editorial in China's Global Times newspaper, a tabloid published by the Communist Party's main mouthpiece, dismissed international coverage of the re-education camps, which it labeled "training institutes," saying western media outlets were incorrectly labeling them as "detention" sites and "baselessly criticizing China's human rights."
"By aiming to lecture students on the perils of extremism and prevent their religious activities from breaching the law, such education is commonplace and is the best protection for human rights and religious culture," the article said, adding that the practice was in accordance with China's laws and human rights principles.
Aside from the brief mention in the Global Times, China's central government authorities have not publicly acknowledged the existence of re-education camps in the XUAR, and the number of inmates kept in each facility remains a closely guarded secret. But local officials in many parts of the region have in RFA telephone interviews forthrightly described sending significant numbers of Uyghurs to the camps and even described overcrowding in some facilities.
Citing credible reports, Rubio and his CECC co-chair Representative Chris Smith, said recently that as many as 500,000 to a million people are or have been detained in the re-education camps, calling it "the largest mass incarceration of a minority population in the world today."
Adrian Zenz, a lecturer in social research methods at the Germany-based European School of Culture and Theology, said the number "could be closer to 1.1 million, which equates to 10-11 percent of the adult Muslim population of the region."
Source: Copyright © 1998-2016, RFA. Used with the permission of Radio Free Asia, 2025 M St. NW, Suite 300, Washington DC 20036. https://www.rfa.org.