Nothing is more typical of Tibetan culture and religion than religious banners. They are now being taken down, village after village, as persecution of religion escalates.
by Massimo Introvigne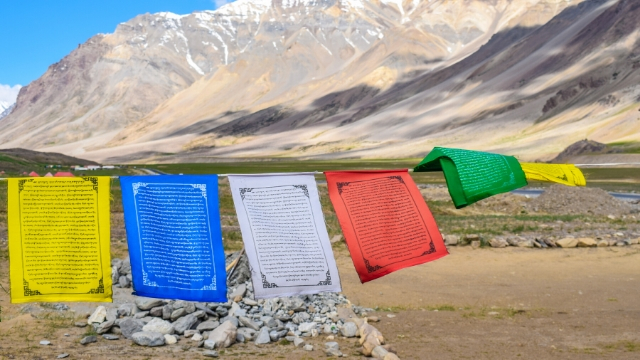 It is difficult to imagine Tibet, Bhutan, Nepal, Mongolia, or Ladakh without prayer flags. Strings of small cloth banners with religious symbols and texts hang everywhere. They are part and parcel of the landscape, but for Buddhists, they are much more. They are sacred artifacts, believed to create peace and harmony. Their five colors—blue, white, red, green, and yellow—represent the five elements and the five wisdoms of Buddhism.
Devotees believe that the wind, by moving the prayer flags, will spread compassion and goodwill around, for the benefit of both Buddhists and non-Buddhists. For this reason, Buddhists do not mind when Westerners who believe in different religions buy prayer flags and use them in their homes. They only ask that these sacred objects be treated respectfully. They are not merely ornamental. When they are worn beyond repair, they should not be thrown in the garbage, but burned by paying attention to the fact that they should never touch the ground. In this way, Buddhists believe that their blessings will be carried by the smoke to the spiritual world.
The CCP is trying to destroy Tibetan religion and culture, leaving only a "Disneyfied" version for the benefit of naïve tourists. This effort is decade-old, but has increased under Xi Jinping. On June 16, 2020, the Tibetan Centre for Human Rights and Democracy published its report on events in Tibet in 2019, which documents how the situation went from bad to worse. Particularly disturbing is the report of increasing use of torture against monks, nuns, and lay Buddhists, "thousands" of whom were arrested and detained in 2019. A new August 2019 law cancelled the pensions of those former government workers caught participating in any religious activity, including prayer with family and friends. In the end, the CCP announced, only a "modern, socialist system of Buddhism" will be allowed to (precariously) survive.
Sadly, the attack on the visual aspects of Tibetan religion was predictable. It comes as no surprise that the CCP has now started taking down prayer flags from hilltops and villages, obviously without treating the banners with the respect prescribed by the Buddhist tradition. Village after village, the CCP forces locals to remove the flags and give them to the police, presumably to be unceremoniously destroyed. The campaign started in Qinghai's Golog (Guoluo) Tibetan Autonomous Prefecture and in Tengchen (Dingqing) county in the Chamdo municipality, Tibet Autonomous Region, and is now extending elsewhere, as reported by Radio Free Asia. The campaign is carried out under the pretext of "environmental cleanup," although the CCP also mentions "behavioral reform" of non-sinicized, non-socialist Buddhism.
From the point of view of the devotees, this is both offense and sacrilege, but those who have protested again similar moves by the CCP, as the Tibetan Centre for Human Rights and Democracy noted in its report, have been immediately arrested, and often tortured. The prayer flags are the very soul of Tibet. Even those who are not Buddhist should protest this new manifestation of cultural genocide.
Source: Bitter Winter