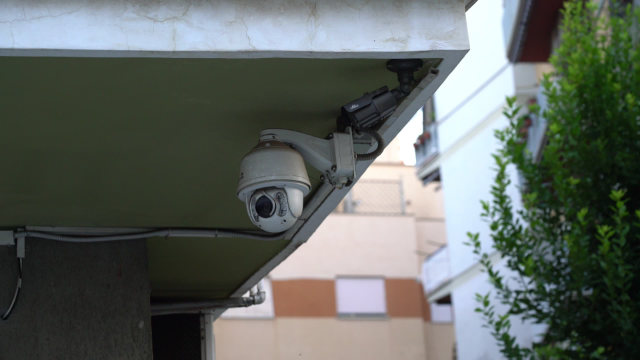 The CCP has installed cameras in places of worship to ensure complete control and punish those who don't worship according to its regulations.
"The church has HD cameras inside and outside: 20 were installed in December, and an additional similar amount recently," a Three-Self church director in Xinmi, a county-level city under the jurisdiction of Zhengzhou city in the central province of Henan, told Bitter Winter. "Such cameras will be installed in every church throughout the county," he continued, adding that 15 and seven cameras had been fitted in the churches of Chugou and Litang villages, respectively, both administered by Xinmi's Chengguan town.
"On top of monitoring if minors or Party members visit churches, the government's main purpose in installing cameras is to control believers and check on preachers' sermons," the director said. "The government seeks to eradicate Christianity gradually."
According to a Three-Self preacher from Lankao county in Henan's Kaifeng city, powerful cameras, over 10,000 RMB (about $ 1,400) each, have been installed in at least eight Three-Self churches, images from which are displayed on a large screen in the hall of the county's Two Chinese Christian Councils. Who leads Sunday services, what sermons are about, and how many congregation members are present—everything is under the government's close surveillance.
"The surveillance equipment is powerful; it can catch every single word in the church," a Three-Self church director in Lankao county explained. "We can get into trouble for making an incautious remark. Believers don't dare to even chitchat with each other under such surveillance." He once received a phone call from a local official less than one hour after he complained about the government.
In August 2019, over 100 cameras were installed in several Three-Self churches in Yi'nan county in Linyi, a prefecture-level city in the eastern province of Shandong. A local government insider revealed to Bitter Winter that the Religious Affairs Bureau and United Front Work Department use the cameras to monitor activities in churches, and those refusing to have cameras installed would be shut down.
In late July, a Three-Self True Jesus Church preacher from Henan's Nanyang city was arrested and interrogated after the local police learned that the church's three cameras, installed by the local Religious Affairs Bureau in the previous month, had been unplugged. Congregation members were unwilling to be continuously surveilled by the CCP.
Such an act is illegal, officers claimed and then confiscated the church's religious activity venue registration certificate. They sealed off the church's door with paper strips and threatened to demolish the preacher's house if she removed them. When the preacher went to the Bureau asking to return the certificate, she was refused. The Bureau's officials ordered her to take photos of the sealed door every Saturday and send to them as proof that services in the church had not resumed.
An employee at a Three-Self church in Nanyang's Tanghe county told Bitter Winter that the church director turned off the cameras in the place of worship at the end of last year to escape constant surveillance by government institutions. Consequently, the Religious Affairs Bureau reprimanded him in December and threatened to deduct points each time he handled the cameras and "shut the church down when its points are below 60."
Evaluating places of worship with points is yet another measure the CCP employs to control Three-Self churches. "Each church gets 100 points, and ten points are deducted if the church's national flag is torn or a government slogan hangs crooked, for example," the church employee explained. "Churches are shut down when points are reduced to 60."

Source: Bitter Winter