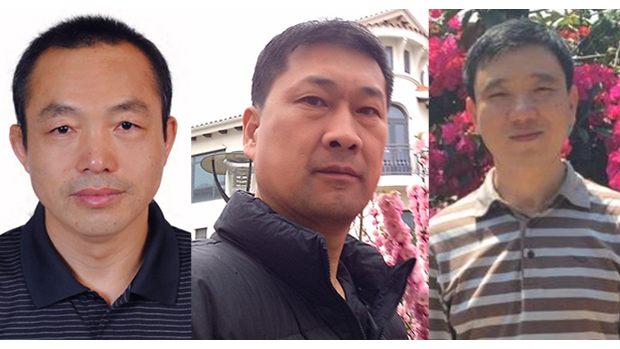 Three United Nations human rights experts have expressed "grave concern" over the fate of three human rights lawyers forcibly disappeared by the Chinese authorities after attending an informal meeting of dissidents in the southeastern port city of Xiamen in December.
Ding Jiaxi, Zhang Zhongshun and Dai Zhenya are currently being held without access to family visits or lawyers under a form of detention known as Residential Surveillance at a Designated Location (RSDL), which is used to "disappear" people accused of crimes relating to national security.
The experts said said RSDL is not compatible with international human rights law, because it enables the authorities to circumvent judicial processes and detain people incommunicado for up to six months.
"This puts individuals at heightened risk of torture, inhuman or degrading treatment or punishment," the experts said. "Enforced disappearance is a grave and flagrant violation of human rights and is unacceptable in all circumstances."
"U.N. human rights experts expressed their grave concern about the welfare of [Ding, Zhang and Dai]," the experts said in a statement on the U.N. Human Rights Council's official website.
"We see parallels between this recent crackdown and previous attempts to silence dissenting voices in China," the joint statement said, adding that nine other rights activists who attended the event had also been summoned for questioning or detained in a nationwide crackdown led by state security police in the eastern province of Shandong.
"It has also unfortunately become common practice for Chinese authorities to provide limited or conflicting information on the victims and the charges they face," the experts said. "The families are often kept in the dark about the well-being of their loved ones."
They said the detention of Ding, Zhang and Dai would likely have a further "chilling effect" on rights activism and civil society in China.
"We worry that these defenders are just being persecuted for the exercise of their most basic human rights," the experts said.
The experts said they are "in a dialogue" with Chinese authorities on the three lawyers' cases.
The U.S. State Department raised the cases of the three lawyers in an annual human rights report on March 11.
'Subversion of state power'
On Dec. 26, police from Shandong coordinated with other police nationwide to arrest human rights activists and participants who gathered in Xiamen, Fujian, in early December to organize civil society and plan nonviolent social movements in the country, the report said.
People who attended were detained on suspicion of "incitement to subvert state power" and "subversion of state power." The latter charge carries a minimum 10-year prison sentence.
While their families waited to learn their whereabouts, other rights activists who had gone to the Xiamen event, and even those indirectly connected to them, fled the country or went on the run.
Among them was New Citizens' Movement founder Xu Zhiyong, who was eventually detained in Guangdong province on subversion charges.
"Several others involved in the meeting, including human rights lawyers, were held for several days in police custody in various jurisdictions for questioning and investigation," the State Department report said.
Reported by Man Hoi-tsan and Lu Xi for RFA's Mandarin and Cantonese Services. Translated and edited by Luisetta Mudie.

Source: Copyright © 1998-2016, RFA. Used with the permission of Radio Free Asia, 2025 M St. NW, Suite 300, Washington DC 20036. https://www.rfa.org.