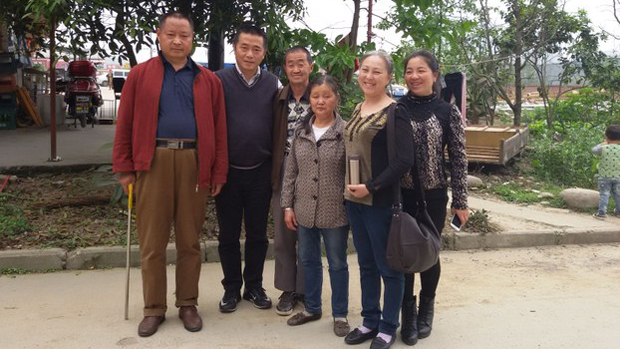 The terminally ill mother of jailed rights activist Huang Qi has been allowed a video call with her son after months of petitioning prison authorities in the southwestern Chinese province of Sichuan.
Huang's mother Pu Wenqing — a medical doctor — told RFA on Friday that her request was granted as she nears the end of her life.
Pu made a 30-minute video call with Huang, who is serving a 12-year jail term on "spying" charges at Sichuan's Bazhong Prison on Thursday.
"It was basically about his medical condition," Pu said of the conversation.
"He showed me his hands, and I asked if his feet were swollen, and he said yes, they were," Pu told RFA. "I am pretty deaf now, so he had to say it again.
"I told him the swelling could be the result of low protein in his diet, and told him he should eat at least one egg a day," she said. "He told me the prison had allocated him two eggs a week."
"Our time was up before we had finished talking," Pu added.
Pu said she has asked Huang to video call with her every month.
"I don't know whether he will be able to do this," she said. "I heard that Huang Qi's lawyers aren't allowed to visit right now because of the pandemic."
Wang Jing, a friend of the family, said Pu had felt rushed during the video.
"They only talked about Huang Qi's current condition really," Wang said. "[Huang said he is taking] three different medications for his stomach, for the kidney disease, and for high blood pressure."
Online journalist Yang Xiuqiong, who was a co-defendant in Huang's case, said the video call had only come after a wait of four years.
"[We] have waited too long for this day," Yang said. "His mother should tell everyone about Huang Qi's situation in prison."
'Miscarriage of justice'
A court in the southwestern province of Sichuan handed down a 12-year jail term to Huang, a veteran rights activist and founder of the Tianwang rights website, on July 29, 2019.
Huang was sentenced by the Mianyang Intermediate People's Court to 12 years' imprisonment, after it found him guilty of "leaking state secrets overseas."
Huang's lawyers and Pu have said all along that the case against Huang was a miscarriage of justice, even allowing for the traditionally harsh treatment of dissidents in China.
Huang, 57, has been identified by Paris-based press freedom group Reporters Without Borders (RSF) as one of 10 citizen journalists in danger of dying in detention.
He has repeatedly denied the charges made against him and has refused to "confess."
Huang's Tianwang website had a strong track record of highlighting petitions and complaints against official wrongdoing, and injustices meted out to the most vulnerable in society, including forced evictees, parents of children who died in the devastating 2008 Sichuan earthquake, and other peaceful critics of the ruling Chinese Communist Party.
Until her illness progressed, Pu had been a vocal campaigner for Huang's release on urgent medical grounds, and says the charges against him are politically motivated, with no evidence to back them up.
Reported by Qiao Long and Man Hoi-tsan for RFA's Mandarin and Cantonese Services. Translated and edited by Luisetta Mudie.
Source: Copyright © 1998-2016, RFA. Used with the permission of Radio Free Asia, 2025 M St. NW, Suite 300, Washington DC 20036. https://www.rfa.org.