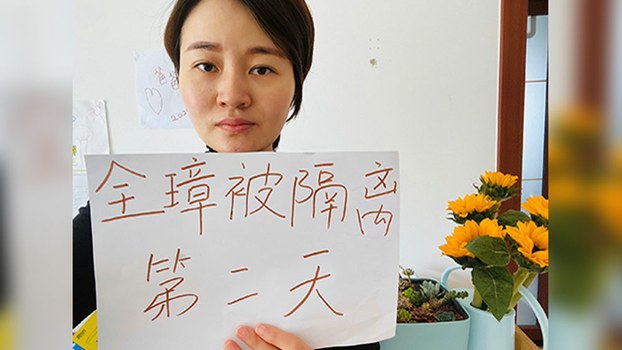 Human rights lawyer Wang Quanzhang has been prevented from rejoining his family at their home in Beijing following his release from prison in the eastern Chinese province of Shandong on Sunday.
Wang's wife Li Wenzu said Wang is currently under round-the-clock surveillance at an apartment he owns in Shandong's provincial capital, Jinan.
"They left [Linyi Prison] at just after 5.00 a.m. local time [on Sunday, and police took him back to his place in Jinan," Li told RFA.
"He had previously let the apartment to tenants, but the police evicted them," she said.
Li said she had received official notification that Wang is currently being held under enforced quarantine for coronavirus for 14 days, following his release.
She said she believes that the coronavirus epidemic is merely a pretext for Wang's effective house arrest.
"Our family lives in Beijing," she said. "Our lives have always been in Beijing, so Quanzhang should come back here."
"They are just violating our rights … I won't be going to Jinan to join him, because [the authorities] are breaking the law, and I'm not going to collude with them in doing that," she said.
Li said she still has concerns about her husband's physical and mental health.
He told her by phone after arriving in Jinan that he has a middle-ear infection caused by a perforated eardrum, but declined to say how that injury occurred.
She said Wang also appears to be suffering from memory loss.
Wang is still effectively incarcerated
In an audio recording of an emotional phone call between Wang, Li, and the couple's two sons, his sons can be heard begging their father to come home to Beijing.
Wang refuses, saying there is an epidemic, and "a process to be gone through" before he can be reunited with his family.
Chen Yue, of the Hong Kong-based Chinese Human Rights Lawyers' Concern Group, said Wang is still effectively incarcerated.
"The only purpose [in sending Wang to Jinan] is to make sure he remains under house arrest, so they can control him and limit his freedom," Chen said.
"It would have been entirely possible for them to send him back to Beijing for quarantine."
Chen said the Hong Kong-based group fears that Wang may have been tortured or subjected to other inhumane treatment since his detention.
"We are very worried that he is now under house arrest. Is he allowed to see a doctor?"
Wang was released from Shandong's Linyi Prison at the end of a four-and-a-half year jail term handed down on Jan. 28, 2019 by the Tianjin No. 2 Intermediate People's Court, which found him guilty of "subversion of state power."
The verdict and sentence followed repeated delays, resulting in Wang being held in pretrial detention for more than three years with no access to a lawyer or family visits.
During that time, the authorities failed to provide a proper account of Wang's prolonged detention to the public, including Wang's family and family-appointed defense lawyers.
A nationwide police operation under the administration of President Xi Jinping has targeted more than 300 lawyers, law firms, and related activists for questioning, detention, imprisonment, debarring, and travel bans since it launched in July 2015.
Reported by Gao Feng for RFA's Mandarin Service, and by Wong Lok-to for the Cantonese Service. Translated and edited by Luisetta Mudie.

Source: Copyright © 1998-2016, RFA. Used with the permission of Radio Free Asia, 2025 M St. NW, Suite 300, Washington DC 20036. https://www.rfa.org.