A member of The Church of Almighty God recounts her experience serving a five-year sentence for her faith in prison where she was subjected to forced labor.
by Yuan Wei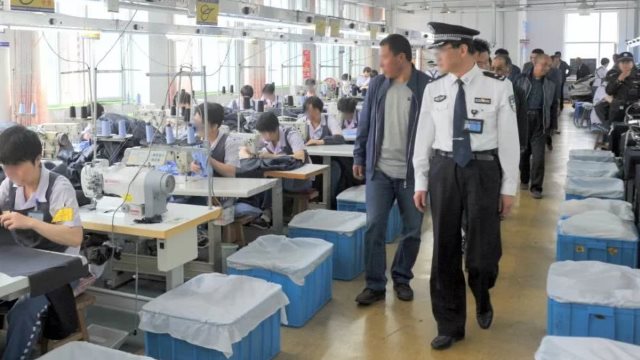 A member of The Church of Almighty God (CAG)—the single most persecuted religious movement in China—in her 30s now, was sentenced to five years in prison in 2014. Accused of "using a xie jiao organization to undermine law enforcement" just for her belief, she served the time in a women's prison in northwestern China.
The woman remembered that a guard told her soon after she arrived that the prison workshop she was in charge of provided high output and was often given increased production tasks.
"Seeing that I had a strong complexion, she took me to her workshop," the believer recalled. "I was assigned to lockstitch buttonholes. The work never ended, the same thing repeating every day, month, and year."
When production companies in China face workforce shortages, they seek help from prisons to increase production. The CAG believer said that the majority of inmates serving long sentences in her cell block were brought in from Sichuan, Yunnan, Zhejiang, and other provinces to work in prison's workshops. According to her, the prison received 600 RMB (about $ 85) for each person.
The woman remembered one time when guards gave each inmate in her workshop some uniforms to put on, including shoes and hats. They were instructed not to utter a word during an upcoming inspection. Supposedly, a clothing company manager from Hong Kong, who suspected that his goods were produced by prisoners, was to come for a visit. "For this reason, a sign 'No entrance for prisoners' was posted on the door, which has helped to fool the businessman and wangle a sizeable order from him," the CAG believer said.
The prison not only undertakes orders from Hong Kong, Malaysia, and other countries but also makes uniforms for domestic use. "Guards don't care much about the quality for orders from foreign countries, but on domestic orders for police, railway, and other uniforms, they are particularly strict," the woman remembered. "They often lectured us that these uniforms were made for the Chinese, and any quality defect would affect the image of the country. We would be blamed for each minor mistake."
"We had to work for 16 hours each day, sometimes even overnight, and still forced to work the next day, without any rest," the believer recalled work conditions in prison. "We were so sleepy that we couldn't help dozing off. It was not unusual to pierce our fingers with a needle when we would step on the sewing machine pedal by accident due to fatigue. Then mechanics would use pliers to pull out the needle. They then would tuck our injured fingers into the engine oil, supposedly, to disinfect the wounds. Despite the injuries, we had to continue working."
Guards often beat those prisoners who didn't manage to keep up with requirements because they were unskilled or lacked physical strength. "I lived in distress and torment for a long time," the woman continued. "When I was told that my father was terminally ill, I couldn't hold on any longer and stopped working. To punish me, the prison district chief, with the help of four prison guards, poked an electric baton on my face, arms, and hands. I was crying miserably as the current passed through my body."
As a result of working long hours in the closed, poorly ventilated environment, the believer and her fellow inmates suffered severe medical problems. Their eyesight deteriorated considerably, but they still had to continue working.
Source: Bitter Winter