Behind the "success" of the CCP's rural revitalization campaign hide stories of misery and pain by its "beneficiaries."
by Sun Kairui
The East Asian rainy season, called meiyu or plum rains in China, start in late spring or early summer each year and may last for a few months. The plum rains came to the eastern province of Zhejiang on May 29 this year and lasted for 50 days, heavy downpours coming one after another. This time was particularly hard on 30 elderly people who live in shabby bamboo sheds in Xianju county administered by the prefecture-level city of Taizhou. The families had to move to the sheds after their homes have been demolished while implementing the "new socialist countryside" policy. Launched by China's National People's Congress in March 2006, the campaign was intended to help 800 million rural residents catch up economically with those living in the cities. Actively promoted by President Xi Jinping, the policy was proclaimed "a success," but the stories of its "beneficiaries" paint a different picture.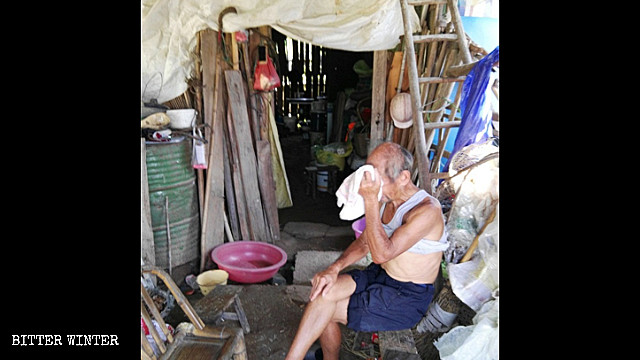 The troubles for the 30 people living in these bamboo sheds started during the New Year of 2016 when the Xianju county government started building the "new orderly and beautiful countryside" in response to the central government's call to revitalize China's rural areas. Without giving any compensation, the authorities ordered over 30 rural households to demolish their houses and relocate, promising to build new homes next year. Four years later, the promise has not been fulfilled: Younger residents have left, looking for jobs elsewhere, while over 30 elderly inhabitants who could not afford to relocate moved to makeshift bamboo sheds.
"It was raining cats and dogs on the night of July 20, and the wind was so strong that it removed the roof from a shed where two families live," a woman in her 80s, who lives with her husband in a bamboo shed, remembered. "I was lucky that my shed had survived. We never expected to live like this in our old age: without a real home or hope. Our house was in perfectly good condition, but the government ordered to demolish it. Officials told us that the new countryside was for our benefit and that they would build a new house for us in the future if we agreed to the demolition. But it was a lie. We still live in sheds built with bamboo that has become moldy and eaten by worms. They may collapse any day. It's terribly cold in the winter and unbearably hot in the summer."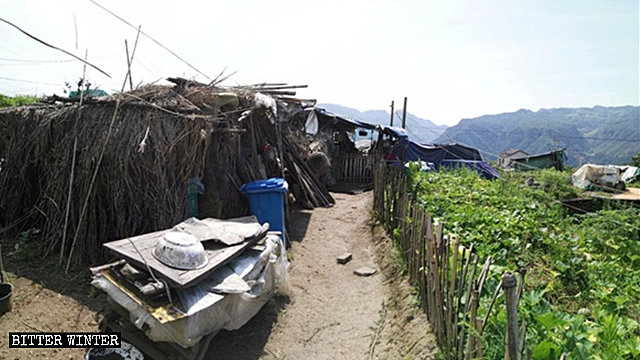 "We may have to wait forever to have new homes," a village resident in his 60s complained. "Over the four years, five or six elderly people who lived here have passed away."
Another resident, also in his 60s, added that his shed leaks every time it rains. "My clothes, comforters, and all my rice crop get wet," the man lamented. "During a typhoon last year, the iron sheets on my roof were swept away, and the floor was covered with water. Over 500 kilos of rice in the shed sprouted from the humidity."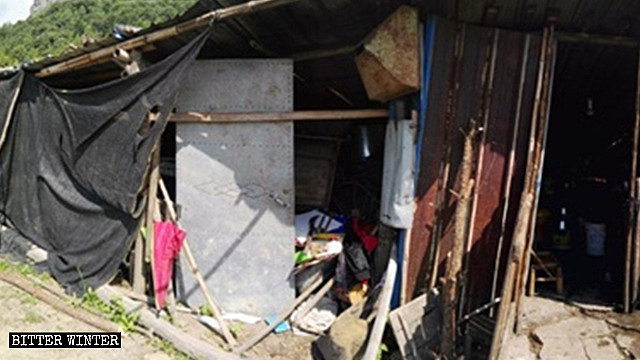 Another resident in his 80s who lives alone disclosed that he did not agree to his home's demolition at first. "But then one official started shouting at us, saying that it was the Party's policy to construct the new countryside," the man remembered. "My son was worried that he would be sent to jail if he disobeyed. He had no choice but to sign an agreement to relocate. The government does not care about our living conditions."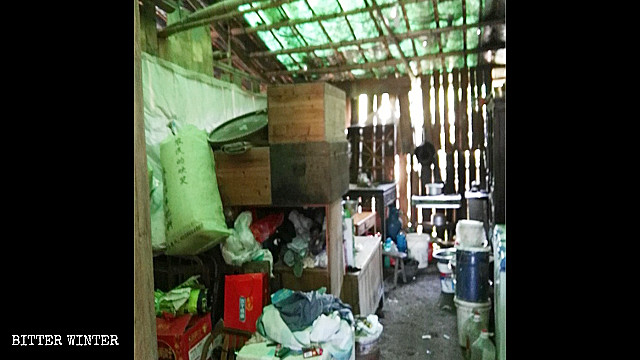 The construction of the new countryside is in full swing. Like these 30 people living in miserable conditions, countless people across China suffer the consequences of CCP's  vanity projects.
Source: Bitter Winter