A debate in the British Parliament, new calls to boycott the Beijing 2022 Winter Olympics, coalitions forming to protest atrocities in Xinjiang offer hope that the CCP crimes will no longer be ignored.
by Ruth Ingram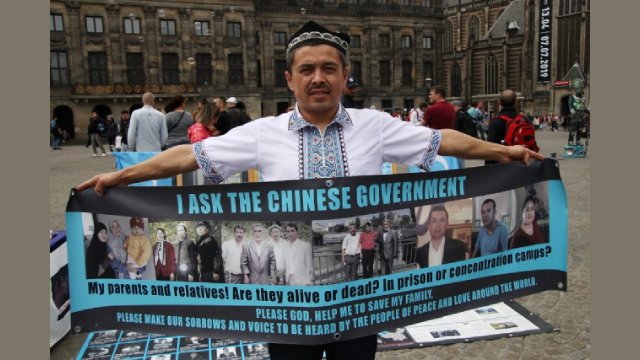 The British government has Beijing roundly in its cross hairs following a debate in parliament this week urging sanctions over its treatment of Uyghurs. A petition garnering international support with almost 150,000 signatures precipitated the session, which was attended in person by members of parliament from every political party and corner of the British Isles, who spoke vehemently and persuasively of the need to act against China.
The number of debates and strength of feeling among members of the UK Parliament concerning atrocities meted out by the CCP against its citizens has grown in size and intensity over the past two years, since the scandal of organ harvesting of political prisoners was raised two years ago, and demands for sanctions have escalated.
This comes in the wake of another pivotal gathering of the UN Human Rights Council recently, where Germany on behalf of 39 countries made a statement, calling out Beijing's treatment of Uyghurs and demanding "unfettered access" to the Xinjiang region, based on "increasing numbers of reports of gross human rights violations."
Turkey stepped off its wavering fence this year, and joined opposition to Beijing with ambassador Feridun Hadi Sinirlioğlu expressing concern. "As a country having ethnic, religious and cultural ties with the Uyghur Turks, we have been particularly alarmed by the recently published reports and news on human rights practices against the Uyghur Turks and other Muslim minorities in Xinjiang," he said.
Support for the Uyghurs in the UN has grown markedly since last year's July assembly when only 22 nations opposed CCP's policies. But Beijing was ready this year to counterattack, having primed a total of 70 countries to back them up. Pakistan had rallied 55 countries in support of China's actions in Hong Kong, and Cuba 45 countries to support the CCP efforts in Xinjiang, with Kuwait making a parallel joint statement on behalf of three Gulf States.
China described attempts to "smear its human rights record" as doomed to failure. They were "despicable," "poisonous," and "standing on the wrong side of history," they said, which echo strongly Xi Jinping's conviction voiced recently that his policies on Xinjiang are successful and he was not going to back down.
Other international alliances have been forming in attempts to stem the tide of China's relentless disdain for world opinion. In September, a coalition of 160 human rights groups delivered a letter to the International Olympic Committee (IOC) urging it to revoke Beijing's hosting of the Winter Olympic Games. IPAC, the Inter-Parliamentary Alliance on China, (an international cross-party group of legislators working towards reform on how democratic countries approach China) headed by UK parliamentarian Sir Iain Duncan Smith, is also campaigning to see the sporting event moved.
A Washington Post editorial in September suggested that China should be stripped of the Winter Olympics. "The world must ask whether China, slowly strangling an entire people, has the moral standing to host the 2022 Winter Olympics," it said. "We think not."
Leading the UK debate in London, MP Chris Evans (Islwyn), in the face of Beijing's disregard of world opinion, urged for Magnitsky sanctions to be imposed by the UK on Chinese officials implicated in the Uyghur scandal. "The suffering that the Uyghur Muslims have undergone, and sadly continue to undergo is nothing short of horrifying," he said, detailing the fears of the diaspora now severed from their families, the harrowing tales of beatings, torture, rape and mass sterilizations, destruction of their language, culture and religion, and now the mass deportation of former camp detainees to work as forced laborers all over China. making goods for Western brands.
"The image is dystopian," he said. "The surveillance is total." He went on, "Uyghur Muslims do not have the right to their religion, to their bodies, or to freedom of expression. The system is policed through directives given to officials in Xinjiang. The directives do not mention judicial procedures, but call for the detention of anyone who displays so-called 'symptoms' of radicalism or anti-Government views. The international community should be gravely concerned," he urged.
Citing the US government's implementation of Magnitsky sanctions against Russian human rights violators in 2012, and the UK's own version devised earlier this year, he pointed out that already it had been used to sanction the killers of the Washington Post journalist Jamal Khashoggi, who was murdered in the Saudi embassy in Istanbul, organizations implicated in forced labor in North Korea, and the very Russian officials who were allegedly involved in the mistreatment of Sergei Magnitsky in a Moscow jail.
"The Magnitsky sanctions are effective, because sterling is a valuable global currency to hold," he pointed out. "By having their assets frozen in Britain, sanctioned individuals are unable to have assets or continue to do their business." The remit of the sanctions include no longer being allowed to enter the country or to own residences, and encompass people who act on behalf of a state to violate other human rights, such as the right not to be subject to torture, the right to be free from slavery or forced labor and, above all, the right to life.
Without exception participants in the debate asked why Britain was dragging its heels on sanctions. "China is undeniably an economic powerhouse, but we cannot let its strength in world economics shield it so as to allow atrocities and human rights violations," urged Chris Evans, concluding that the time to act had come.
The time for mere "outrage," expressions of "grave concern," and just speaking out against human rights abuses, was over, he suggested. "We have an abundance of evidence in the form of leaked documents, satellite imagery and the harrowing testimony of victims. We cannot continue to listen to the mounting evidence and do nothing substantial with it," he said.
Many of the British MPs calling for action pointed to the USA, whose Uyghur Human Rights Policy Act of 2020 set a new bar for trade with China and goods produced with forced labor. Its Uyghur Forced Labor Prevention Act, passed overwhelmingly on September 22nd, went a step further to ensure that U.S. entities are not funding forced labor among ethnic minorities in the region. Imports that have even a hint of slavery in their supply chains, are banned under the new legislation and the UK MPs demanded Britain follow suit.
Responding to a welter of persuasive rhetoric from thirteen other MPs demanding fearlessness and maintenance of moral high ground against Beijing's bullying and subversive tactics vis a vis not only Uyghurs, but Tibetans and more recently Southern Mongolians, Nigel Adams, UK government Minister for Asia admitted that the British government was not blind to the atrocities. "We are committed to responding robustly to all human rights violations in Xinjiang," he promised, citing the government's leading role within the international community to hold China to account.
Whilst remaining vague on an expansion of the scope of the UK Magnitsky provision to include China, which in the final analysis was in the hands of the UK Foreign Secretary, he went so far as to state, "China must immediately end extrajudicial detention in Xinjiang, and uphold the principles of freedom of religion or belief, freedom of speech, and freedom of association for every single one of its citizens."
He confirmed that any action taken on behalf of the British Government against Beijing, would always be in the context of national values. "As the Prime Minister and Foreign Secretary have made clear, we want a positive relationship with China, but we will always act to uphold our values, our interests, and our national security." "We are crystal clear with China when we disagree with its approach," he stressed.
Source: Bitter Winter