Citing Huawei's complicity in slavery and oppression, British Uyghurs are appealing to the British Government to reverse a decision to allow it to run part of the UK's 5G network.
by Ruth Ingram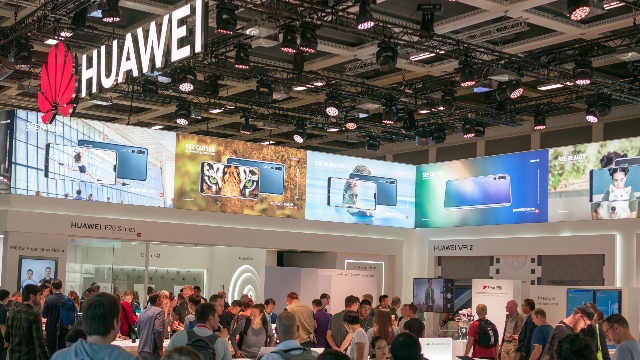 Uyghurs protest
A last ditch stand to persuade the British Parliament to change its mind over the Chinese technological giant Huawei's involvement in the UK's 5G network comes after a close call in March, when rebel MPs with grave security concerns, voted against their party but were narrowly defeated by 24 votes.
In a letter to the British Government this week, two prominent exiled Uyghurs are pleading for another look at this issue, citing Huawei's indisputable involvement with the CCP and its key role in the subjugation and persecution of Uyghurs in North West China.
Rahima Mahmut, a human rights advocate who heads up the World Uyghur Congress in London and Enver Tohti Bughda, an activist and member of the International Advisory Committee of the International Coalition to End Transplant Abuse in China, are calling for a rethink on the basis of the fundamental business and human rights Britain has signed up to.
Speaking on behalf of his clients, human rights barrister Michael Polak, who is the chair of Lawyers for Uyghur Rights, said the petition was being made on the basis that the Government's decision was in breach of the UK's international obligations and commitments made in regards to human rights and workers' rights. He said his clients would argue for reconsideration "as there is evidence of the use of forced labor and slavery in Huawei's supply chain." He added, "It has also been alleged that Huawei plays an integral part in the systematic oppression of the Uyghur and other Turkic people in the Xinjiang Uyghur Autonomous Region (East Turkestan), which amounts to crimes against humanity and a breach of jus cogens norms of international law."
British Uyghur Rahima Mahmut cites Huawei's direct role in the abuse of her own family, whom she has not contacted since 2017, at their instigation, for fear of their own safety. "Since 2016, my homeland has been turned into the biggest digital gulag on earth, and Huawei has been working with the public security bureau, providing surveillance technology which is being used to arbitrarily detain millions of my people," she says. "It's a disgrace that a company that is central to the oppression and suppression of an entire ethnic population has been given such an important role within the infrastructure of the United Kingdom. It is a betrayal of the core values and morals that I believed this country stood for as a British citizen." "The entire Uyghur population both inside the Uyghur region and in exile are suffering from the CCP's oppressive surveillance technology," she said.
Enver Tohti, the other claimant, has stated that, "God created us equal, but the Chinese government has turned us into second class citizens and has imprisoned thousands of my compatriots. Many of my friends and family have been taken into the concentration camps [the so-called transformation through education camps] and we do not know when or if they will be released. Those who remain outside the camps live their life in the shadow of fear and repression unable to practice their religion and culture for fear that they too may disappear into these horrendous camps." He added, "As a British Uyghur I need the Government to speak up against the repression of the Uyghur people, not go into business with a company which is deeply involved in these acts against us.'
Huawei's involvement in human rights abuses
Proof of Huawei's direct involvement and support of human rights abuses and modern day slavery has been meticulously gathered by the Australian think tank ASPI (Australian Strategic Policy Institute) in its in depth study, "Uyghurs for Sale: 'Re-education,' Forced Labour and Surveillance Beyond Xinjiang"
Conservative estimates that 80,000 Uyghurs have been forced into slavery, many as part of Huawei's own supply chain, point to a Chinese government push to transfer large swathes of Uyghurs and other ethnic minority citizens into factories across the country, where they are forced to work under the guise of so-called poverty alleviation in the province.
ASPI research describes vividly how, the regions of Tibet and Xinjiang are often at the "bleeding edge" of China's technological innovation. After trawling through swathes of Chinese Government websites and reports they have come to the inescapable conclusion that Huawei is "proudly" working hand in hand with the Communist Party to crush the Uyghur people and other Turkic minorities in the region.
Making no efforts to conceal its intent, Huawei boasts of numerous successes with Public Security Bureau projects in Xinjiang and a host of other surveillance-related contracts directly at the behest of the Chinese Government's police forces. "The evidence shows that Huawei is deeply implicated in the ongoing surveillance, repression and persecution of Uyghurs and other Muslim ethnic minority communities in Xinjiang," said the report.
Their research shows the mapping of 75 Smart City-Public Security undertakings, most of which involve Huawei. These projects "include the provision of surveillance cameras, command and control centers, facial and license plate recognition technologies, data labs, intelligence fusion capabilities and portable rapid deployment systems for use in emergencies."
The company has provided the region's police with technical expertise, support, and digital services to help meet the digitization requirements of the public security industry and ensure "Xinjiang's social stability and long-term security," as part of a 2014 roll out of the "Safe Xinjiang" initiative, a euphemism for a police surveillance system. Huawei built the police surveillance systems in Karamay and Kashgar, and was praised by the head of Xinjiang provincial police department for its contributions to "Safe Xinjiang".
The involvement of Huawei in the Xinyang Uyghur Autonomous Region security apparatus is also alleged in the "China Cables," a set of highly classified Chinese government documents that were obtained by the International Consortium of Investigative Journalists (ICIJ) earlier this year.
"There are significant allegations that the Chinese authorities are committing crimes against humanity including torture, enslavement, forcible transfer of population, imprisonment and other severe deprivations of physical liberty in violation of fundamental rules of international law," said Michael Polak, citing "enforced marriage and pregnancy, persecution based on religion, race, and ethnicity, and enforced disappearances." He added, "There is also evidence which alleges that Huawei's role is integral to the commission of these breaches of jus cogens rules of international law." 
A security risk for the world
Huawei's indisputable expertise in all matters surveillance related is not merely confined to the borders of China. The company and the ideology that underpins it have expansionist ambitions across the globe.
"The complicity of China's tech giants in perpetrating or enabling human rights abuses—including the detention of an estimated 1.5 million Chinese citizens and foreign citizens, foreshadows the values, expertise and capabilities that these companies are taking with them out into global markets." summarizes the ASPI in another report entitled "Mapping China's Technological Giants."
From the phones in people's pockets to the tracking of 2.5 million people using facial recognition technology, and the transformation through education camps, Huawei and other Chinese technology companies have shown their true colors. The ASPI concludes its report by raising several red flags for any country contemplating involvement with Chinese tech companies in its infrastructure.
"The most challenging issue is the continued export around the world of the model of vicious, ubiquitous surveillance and repression being refined now in Xinjiang," it warns.
"The degree to which nations and communities around the world are coming to rely on Chinese technology companies for critical services and infrastructure, from laying cables to governing their cities, has significant strategic implications both now and for many years into the future," it said, flagging up the ideology underpinning Chinese technological companies, "which have scant regard for democracy, press or political freedoms, or rights for minorities."
Other factors the ASPI report urged for consideration when dealing with Chinese companies, were the country's well-established track record of stealing intellectual property, highlighting the 5G domain as a particularly sensitive area." Quoting an article in the China National Defense Report in March 2019127 appearing to be written by researchers affiliated with Xidian University and the PLA's Army Command Academy, the report says that, "they discuss the military applications for China of 5G in the move to 'intelligentised' warfare." ASPI quotes the article, which said, "As military activities accelerate towards extending into the domain of intelligentization, air combat platforms, precision‐guided munitions, etc. will be transformed from 'accurate' to 'intelligentized.' 5G‐based AI technology will definitely have important implications for these domains."
A further worrying trend, says the ASPI, is the extent to which Chinese companies are leading the field in research and development into a range of innovative, and strategically sensitive, emerging technologies. "Their global expansion provides them with key resources, such as huge and diverse datasets and access to the world's best research institutions and universities."
Most concerning is the extent to which the CCP's own policies and official statements "make it clear that it perceives the expansion of Chinese technology companies as a crucial component of its wider project of ideological and geopolitical expansion."
Lawyer Polak speaks
The claimants in this case are represented by a team made up of Michael Polak, plus a specialist judicial review solicitor, Oliver Carter of Irwin Mitchell Solicitors, and Dr Aris Georgopoulos, Assistant Professor in European and Public Law at the School of Law, University of Nottingham and Head of the Research Unit for Strategic and Defence Procurement of the Public Procurement Research Group (PPRG)
About this important case Michael Polak has stated the following:
"Given the evidence that Huawei is an integral part of the security apparatus where the Uyghur and other Turkic people are subjected to crimes against humanity, our clients believe it would be unconscionable for the Government to maintain a course of action welcoming them into our national infrastructure."
"Our clients have bravely decided to challenge a company which has played such a large part in the oppression of the Uyghur people in atrocities which provide a perfect example of the damage which can be done by a powerful authoritarian government setting out to destroy a people and a culture," Polak added, stressing that, "Our Government needs to act within both its legal obligations not to contract with companies involved in gross human rights violations and with slavery tainted supply chains and its moral obligation to make it clear to the Chinese Authorities, and those companies aligning themselves closely to them, that the mass detention and repression of the Uyghur people will not be tolerated."
Source: Bitter Winter