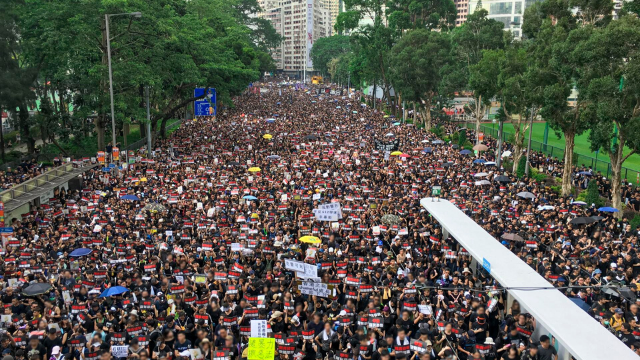 July 1, 2020, will be remem­bered as Hong Kong's offi­cial day of death, the day when China assumed control of the city.
British Hong Kong was a colonial territory of the United Kingdom from 1841 to 1997, apart from a brief period under Japanese occu­pation from 1941 to 1945.
In 1984, the U.K. signed the Sino-British Joint Declaration with China. The Declaration stipulates the sovereign and administrative arrangement of Hong Kong after July 1, 1997, when the lease of the New Territories was set to expire according to the Convention for the Extension of Hong Kong Territory.
"One Country Two Systems" was formu­lated in the early 1980s by Deng Xiaoping during negotiations with the United Kingdom over Hong Kong. The idea is that Hong Kong would be under China, but continue as a free country without direct control from China.
Under its own governance, Hong Kong thrived as one of the most independent countries on earth in terms of human rights and business law. Such a free environment, coupled with its rulers' industrial savviness, allowed it to blossom into one of the world's wealthiest regions. It came to be known as the "jewel of the orient."
A Loss of Freedom
For decades, Hong Kong has acted as a massive pipeline for Western finances to flow into China.
But over the past year, millions of con­cerned citizens in Hong Kong have taken to the streets in protest of increasing Chinese control and a proposed extradition bill that would allow China to extract and imprison any Hong Kong citizen it deems a threat.
The series of protests gradually turned into a call for democracy and human rights, resulting in a violent crackdown by the Chinese-controlled government that resulted in numerous mysterious deaths and thou­sands of arrests. Since then, freedoms that Hong Kong used to enjoy have been gradu­ally retracted.
A Draconian Law
On July 1 of this year, Beijing stripped Hong Kong of its independent status when it passed the "National Security Law" (NSL). The draconian law singlehandedly killed free speech in Hong Kong and handed China control of Hong Kong's police force and legal systems. It allowed the Hong Kong govern­ment to imprison anyone critical of Hong Kong or mainland China's governments.
The NSL is so dangerous because it ulti­mately breached the "One Country, Two Systems" understanding. It destroyed the autonomous status of Hong Kong, reducing its status to just another ordinary Chinese coastal city.
The Communist Party of China has wielded power in Hong Kong through government puppets and sympathetic supporters. After passing the NSL, it no longer needs to exer­cise remote control. Any action that could threaten "national security" can lead to 10 years of imprisonment. Even contact with ICC, other Western organizations, or even groups from Thailand and Taiwan, can now result in interrogation or imprisonment.
For many Chinese and Taiwanese Christians, Hong Kong was the last hope for Communist China's democratization. The NSL, though, was the final nail in the coffin for Hong Kong.
Persecution Is Imminent
Because Chinese Christians face severe restrictions on worship and assembly, Hong Kong has a special place in the hearts of Chinese Christians. Not only do Hong Kong churches heavily involve themselves in main­land ministry, the city has also been an essen­tial training site for Chinese Christians, par­ticularly house church members, to freely interact and learn from Hong Kong Christians. Now, that luxury is no more.
In the State Department's 2019 Report on International Religious Freedom: China – Hong Kong, it noted that Christian churches in Hong Kong provided underground churches in mainland China with monetary support, Bibles, blacklisted Christian literature, theo­logical training, and assistance in founding new churches. Under new regulations in main­land China, however, many Hong Kong pas­tors had to suspend or cancel their work on the mainland to avoid endangering contacts there, according to media reports.
Following the passage of the NSL, many predict that it will only be a matter of time before the city adopts the Chinese religious management system, under which only state-sanctioned churches can survive. Churches that refuse to submit themselves under the Party's control will be disbanded and perse­cuted, as they have been in China. Therefore, many Hong Kong Christians, as well as secu­larists, find themselves trapped in a cage.
Communism at Its Core
The fact that China was willing to destroy its own wealth reveals something about Xi and the CCP. The CCP is terrified of los­ing control. Once millions of Hong Kong residents took to the streets, the CCP could not risk that virus migrating to the mainland. The protests had to be crushed no matter what the cost. The CCP watched the fall of commu­nism in Russia and eastern Europe and knew that any threat to its power must be crushed. They were willing to risk the loss of trillions of dollars.
Communism is untenable as a long-term form of government and can only exist through force. Hong Kong was a chapter in that lesson. The good news is that human beings have an unquenchable thirst for freedom and justice. Time is on the side of the long-suffering people of China and the residents of Hong Kong who find themselves now entering into a very dark period. The Chinese people hold the future in their hands. Ultimately, the rot from the CCP's corruption and injustice will fully work through the culture, and the CCP should fail from within.
Though Hong Kong's autonomous status is dead, the spirit lives on in its people. Tens of thousands of activists, politicians, and protes­tors are fighting the CCP and the Hong Kong puppet government even at this very moment, despite the consequences they might face. The CCP wants them dead, but they continue to fight and persevere.
But for now, a dark future awaits the place that was once regarded as the "Pearl of the Orient."
Source: ICC www.persecution.org