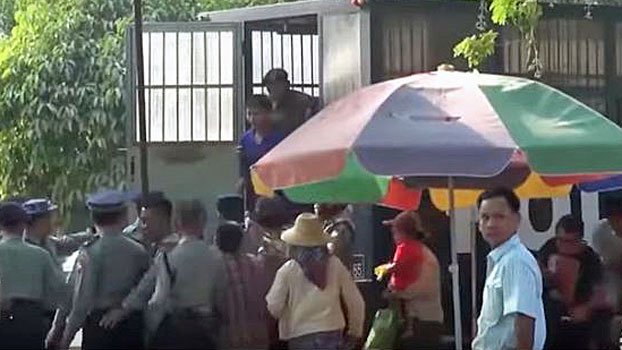 Five Myanmar villagers each were sentenced to five years in prison on Friday on charges of destroying a factory building and vehicles during a protest against a Chinese-backed coal-powered cement factory in Mandalay region, a lawyer for the defendants said.
Residents of Aungthabyae village in Patheingyi township clashed with police and those in charge of the Alpha Cement Plant in May 2019 during a protest against the construction of the factory near their community.
Nearly 20 people were injured when police fired rubber bullets and tear gas to disperse the crowd of protesters. Some of the demonstrators reportedly had set four vehicles and part of the factory property on fire.
An official from the Chinese company had filed charges against those sentenced Friday for illegally using explosives and destroying property.
The defendants' attorney, Sithu, said Friday that video footage presented during the trial was faulty.
"The court needs to uphold the law, but where did it that copy of the CCTV video recording?" he asked. "That was the second evidence [presented], but the video is blurred and should not be used to convict anyone."
Aye Aye Myint, sister of villager Tun Myint Win who died in prison where he was being held during the investigation, said the court failed to address authorities' mistreatment of those accused.
"During the trial, the court was biased and favored the company," she said. "My brother was unjustly killed in jail. There was harsh treatment, and no one revealed it or talked about it."
The villagers face additional charges in another trial scheduled for April 3. They have said that the charges are unlawful and that they will not attend.
Nine Aungthabyae residents are being detained in prison, while 33 others accused of wrongdoing during the protest have been declared fugitives, lawyers said.
Village administrator sentenced
In December 2019, the court in Patheingyi township sentenced village administrator Moe Lin to one year in jail with hard labor on charges of defaming the state for getting involved in the rally.
Moe Lin, who oversaw the administration of about 100 households in Aungthabyae village, had been found guilty of inciting the public while trying to mediate a conflict between protestors and police, Sithu told RFA's Myanmar Service at the time.
Construction of the Alpha Cement Plant, a joint venture between Myanmar's Myint Investment Group and China's AnhuiConch Cement Company, began in December 2017. The plant is expected to produce 5,000 tons of cement a day.
During the May 2019 protest, the villagers blocked factory vehicles from entering the area and demanded compensation for land they say they lost when an 18-foot-wide road was built as part of the construction work at the plant, operated as part of a joint venture between a local firm and a Chinese partner.
The villagers also had urged authorities to address what they said were problems caused by an influx of hundreds of Chinese employees working at the site.
An official from the township's General Administration Department filed an initial complaint against 50 locals who were later charged with causing harm to a public servant, committing mischief with the intent to damage, and abetting a crime.
Reported by Khaymani Win for RFA's Myanmar Service. Translated by Khin Khin Ei. Written in English by Roseanne Gerin.

Source: Copyright © 1998-2016, RFA. Used with the permission of Radio Free Asia, 2025 M St. NW, Suite 300, Washington DC 20036. https://www.rfa.org.