Buddhist and folk religion temples continue to be destroyed across the eastern province of Anhui, as their guardians face government threats and police violence.
by Lu An
In mid-August, the government of Taihu county in Anhui's Anqing city decided to demolish the Buddhist Zhengfa Temple because they deemed it an "illegal building." Having learned about the government's plans, local Buddhists took turns guarding the temple day and night.
At over 4 a.m. on August 27, about 400 police officers and local officials came to the temple to implement the demolition order. They broke inside by prying open the temple door and chased away the six believers guarding the temple by shocking them with electric batons. A 79-year-old man, who had a heart bypass surgery two years ago, died on the spot from the shocks.
"The current policies on religions are like during the Cultural Revolution, and common people can't fight them," a Taihu county resident said helplessly.
The Buddhist Longshan temple in Anqing-administered Susong county was demolished on August 13. About 300 county officials and police officers took part in the process. The temple director was kept in his home under police control until the demolition was completed. According to an eyewitness, five checkpoints were installed on the three roads leading to the temple to prevent anyone from approaching.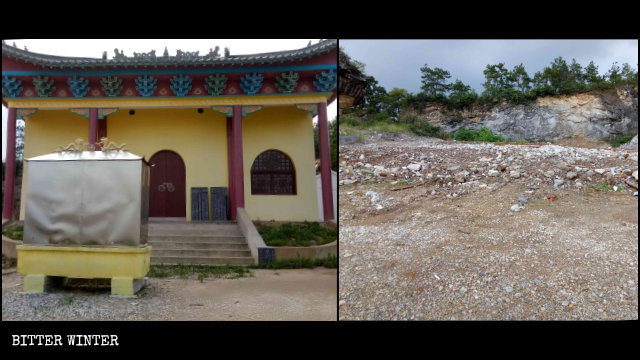 The ancient Buddhist Fusheng Temple in Danyang, a town in the Bowang district of Maanshan city, was destroyed in June. Local officials informed the people gathered to protect the temple that the order to destroy it had come from the city government that also decreed to detain anyone who "makes troubles." They also explained that if the people agreed to the demolition, the county government would help expedite the permission for a new temple, and some materials from the old temple would be preserved for its construction. But if they protested, the temple would be demolished without any prospects for a new one. The residents had no choice but to sign a document agreeing to destroy the temple willingly.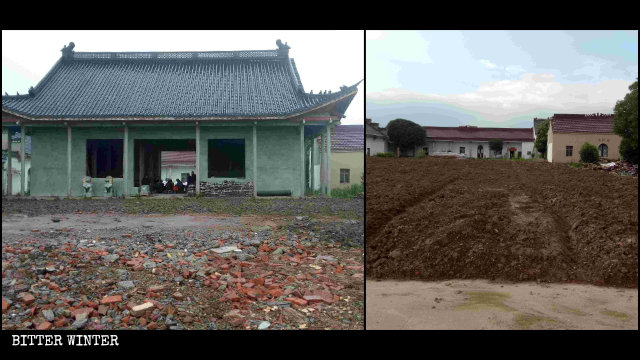 The county government used similar tactics to demolish two more temples in June.
"Nobody can protest against this government," a county resident said.
On September 6, the government of Xiaokou town in Fuyang city's Taihe county destroyed four folk religion temples on the pretext of preventing the erosion of a nearby river. Over 30 government personnel were sent to disperse the residents protesting the Maozhuang Temple's demolition, prohibiting them from photographing the scene. After 40 minutes, the temple was turned into ruins.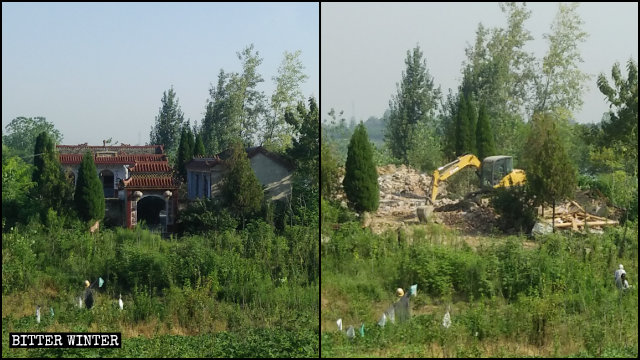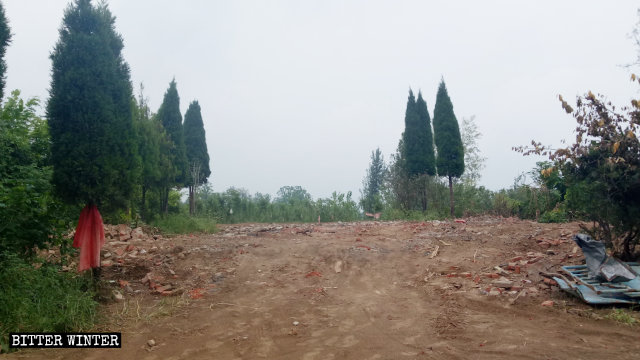 On May 19, the Xianren Temple, a folk religion temple in Lu'an city's Tangchi town, was demolished for "being unlicensed."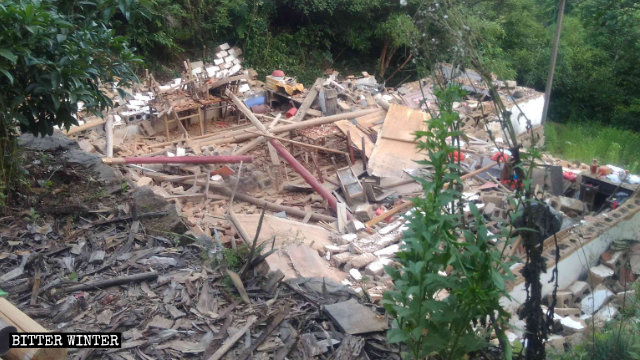 Source: Bitter Winter