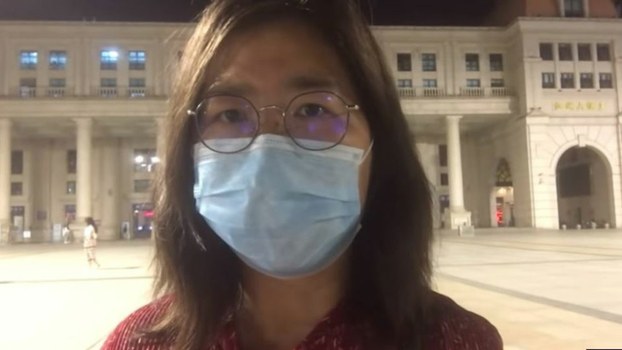 A court in Shanghai has handed down a four-year jail term to a citizen journalist who reported on the coronavirus pandemic as it emerged in the central Chinese city of Wuhan.
Zhang Zhan, who appeared in court in a wheelchair after being force-fed during a hunger strike in the Pudong New District Detention Center, was jailed on Monday by the Pudong District People's Court, which found her guilty of "picking quarrels and stirring up trouble," a charge frequently used to target critics of the ruling Chinese Communist Party (CCP).
Zhang began to weep when she heard the sentence, as did her mother when she spoke to journalists following the trial.
"She got four years, which was totally inhumane," Zhang's mother, who gave only the surname Shao, told RFA after the trial.
"She was sitting facing the judge and we were sitting behind her, so we couldn't see her face … but we saw her wiping away tears," Shao said. "She was so, so skinny."
"Then the judge said 'Take the criminal away', and they pushed her away in her wheelchair," she said. "I don't know how they can bear to do such a cruel thing."
Security was tight outside the court buildings, with police setting up a cordon around the gates and forcing journalists and bystanders to stand back, news photos of the scene showed.
"When I came out, there were a lot of police officers around the gates," Shao said. "I don't know what happened … but they told lawyer [Li Dawei] to leave."
Force-fed by nasal tube
Repeated to calls to Zhang's defense attorneys Zhang Keke and Ren Quanniu rang unanswered following the trial.
Zhang Keke had previously posted to social media that Ren had been shocked at how thin Zhang Zhan was during his last visit to their client.
In the indictment, Zhang Zhan was accused of "posting false information" on overseas social media platforms Twitter and YouTube, and for giving interviews to foreign news organizations.
Zhang, 37, began refusing food in detention in June, and RFA reported in September that she was being force-fed via a nasal tube.
She has also resisted pressure from police to "confess" to the charges against her.
Zhang stand accused of "fabricating" two items in her reporting from Wuhan.
The first item was her report that Wuhan citizens were forced to pay a fee to get nucleic acid tests for COVID-19, and the second was that residents confined to their homes under a city-wide lockdown had been sent rotten vegetables by neighborhood committees.
Zhang said she admitted to all of the material facts of the case, but refused to plead guilty to the charge, saying that the information she posted wasn't false.
'They seem to want her to die'
Her defense attorneys argued that she had personally visited communities near Wuhan Railway Station, as well as pharmacies and supermarkets in other districts, where she had interviewed Wuhan residents, and acquired the information in her posts first hand.
Shao said she had declined media interviews since her daughter's arrest under pressure from police, in the hope of a more lenient sentence.
"I think I was duped by them, because they wound up giving her a harsh sentence anyway, which I hadn't expected," Shao said.
"They seem to want her to die, because they know about her physical condition," she said.
Reports from the scene said police had detained and questioned British and Japanese media representatives, as a crowd of Zhang's supporters gathered outside the court buildings.
Sichuan-based rights lawyer Li Dawei said he had traveled from his hometown in the hope of being allowed to sit in the courtroom as an observer, to no avail.
"I had hoped to sit in as an observer, but they didn't allow it," he said. "They said that the judge had to agree to observers sitting in beforehand."
Shanghai-based rights activist Shen Yanqiu said police had been stationed at all of the nearby subway exits, and were detaining known activists.
"There were uniformed and plainclothes police officers at the court gates and at all of the subway exits," Shen told RFA. "He Jiawei, a resident of Zhuzhou city in Hunan province, was detained by the police at Century Square police station, and reporters were also detained."
Reported by Qiao Long and Man Hoi Yan for RFA's Mandarin and Cantonese Services. Translated and edited by Luisetta Mudie.
Source: Copyright © 1998-2016, RFA. Used with the permission of Radio Free Asia, 2025 M St. NW, Suite 300, Washington DC 20036. https://www.rfa.org.