As temples were shut to prevent the spread of COVID-19, CCP intensified its campaign to eliminate all Buddhist statues in Sichuan, Fujian, and Shandong provinces.
by Ye Jiajia
A 13-meter-tall Guanyin statue used to sit atop a mountain near the Longyun Temple in Zhangzhou, a prefecture-level city in the southeastern province of Fujian. It was built in 2010, at the cost of more than 4 million RMB (about $ 570,000) donated by Buddhists from Xiamen city. At the end of April, the statue was torn down on orders by the local government for "being too tall."
A local Buddhist told Bitter Winter that officials from the United Front Department and other government institutions were at the site to supervise the demolition. "They threatened to arrest anyone who would try to obstruct it," the believer said. "These officials often returned to check if people were worshiping there, driving away anyone they found."
"The government has been strictly controlling all religions these years," a monk in the temple said in a sad voice. "Officials have previously ordered to cover up the statue four times. When they decided to destroy it, we didn't dare to meddle in."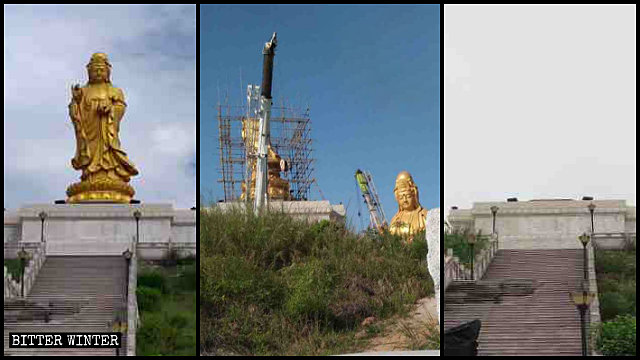 On April 29, more than one hundred government personnel were blocking intersections to the Guanghan Temple in Shehong, a county-level city in the southwestern province of Sichuan, as a large excavator was driven to destroy a 30-meter-tall Guanyin statue.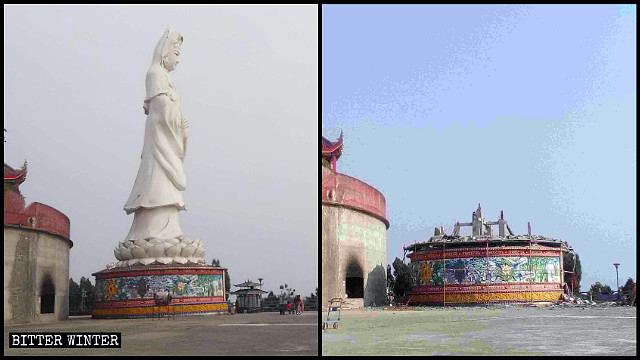 "If everyone worships Bodhisattva, who will worship the CCP?" a local believer asked sarcastically. "The Central Committee has ordered to destroy Buddha statues, threatening to demote officials of every level in Shehong city otherwise. No one dares to disobey the state's policy."
Around the same time, a 6-meter-tall outdoor Guanyin statue, worth 100,000 RMB (about $ 14,000), was demolished in the Jiuchong Temple in the city's Tuopai township, along with 14 Bodhisattva statues inside.
An 8-meter-tall Guanyin statue weighing 30-tons in the Xin'an Temple in Pingdu, a county-level-city in the eastern province of Shandong, was torn down on May 17. The icon, which cost believers 100,000 RMB (about $ 14,000) to build, was demolished on orders by the municipal government as "illegal construction." A few days later, government personnel cemented all doors and windows in the temple.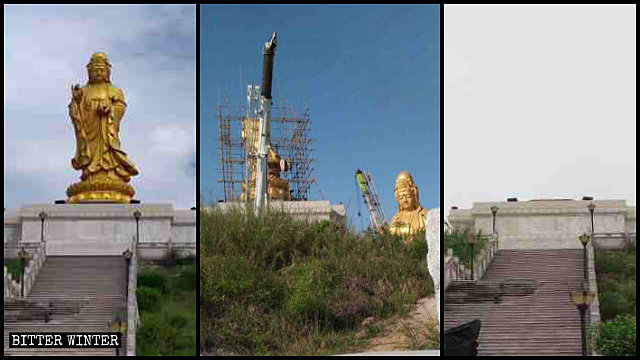 "Officials didn't want villagers to see the demolition, so they hauled away the statue past 10 p.m.," a village resident said with fury. "Just like during the era of Mao Zedong when the CCP didn't allow people to be religious. You can only believe in the Communist Party."
The government of Fuzhou city in the southeastern province of Jiangxi gave orders to villages under its jurisdiction to remove all Buddhist statues. A resident of Lifang village in the city's Linchuan district told Bitter Winter that local authorities ordered Buddhists to stop worshiping and demolish all religious statues in early March. "To protect the statues, we hid them away and converted our temple into an activity center," the man explained.
Another villager added that the situation is reminiscent of the Cultural Revolution when people were instructed to get rid of the Four Olds: old Customs, culture, habits, and ideas.
A resident in the Linchuan-administered Xiahuang village said that the government required them to clear out all statues in their temple at the beginning of March. "If we don't move them, the temple will be torn down," the villager said. "The statues of 18 Arhats are as high as five to seven meters, and we cannot move them by ourselves. Township government officials come to inspect now and then to see the statues remained in the temple. We just sealed the doors and windows with plasterboards and painted them red to block the view, hanging a signboard that it is now an activity center for the elderly."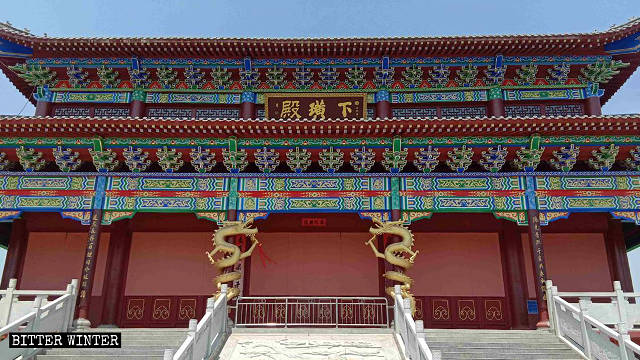 Source: Bitter Winter