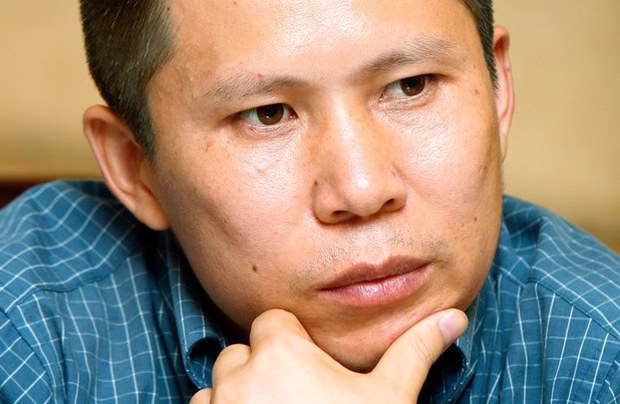 One year after a nationwide police operation rounded up some of China's most prominent rights activists and lawyers following a gathering in the southeastern port city of Xiamen, the ruling Chinese Communist Party (CCP) looks set to further tighten its grip on public speech with a renewed focus on "political security."
In the wake of the meeting, Shandong police launched a nationwide operation that has detained at least eight people and questioned many others following the gathering at a restaurant that was intended as a way for rights activists to socialize and to share ideas about China's development.
"We must prevent and resolve national security risks, increase the capability to foresee and predict risks, and try to discover and nip in the bud the hidden risks with potential significant security implications," CCP general secretary Xi Jinping told a meeting of the Politburo on Dec. 11.
"The importance of national security is defined by our location in the course of history and the current situation our country is facing," he said.
The emphasis on "predicting risks" and "nip in the bud" potential dissent will likely rely on an ever-widening system of domestic surveillance that includes a nationwide, searchable database of CCTV images with facial recognition capability and an expanding system of block-level neighborhood surveillance by grassroots neighborhood committees, known as the "grid."
Prominent dissident Xu Zhiyong, who attended the Xiamen meeting and later penned an online essay calling on Xi to step down, went on the run after the meeting, hiding out in a friend's apartment in the southern province of Guangdong. He was eventually tracked down using facial recognition and surveillance footage.
According to Hong Kong's South China Morning Post, deteriorating ties with the U.S. under the Trump administration are partly behind the renewed focus on domestic security.
"The Chinese leadership is worried that the growing rivalry with the United States will create political volatility inside China and is concerned by Washington's attacks on the party," the paper said in its Dec. 11 on Xi's remarks to the Politburo.
Uncertainty drives fears
Beijing is also increasingly concerned about what it describes "sabotage, subversion and splittism" instigated by foreign forces, and has banned any activity deemed to encourage pro-democracy or pro-autonomy thinking in its draconian national security legislation in both Hong Kong and mainland China.
It quoted a recent writing from domestic security czar and Politburo member Guo Shengkun as saying: "China faces increasing uncertainty and instability in its external environment."
On Dec. 26, 2019, rights lawyers Ding Jiaxi and Huang Zhiqiang and activists Dai Zhenya, Li Yingjun, and Zhang Zhongshun were detained by police in their hometowns, while rights lawyer and university professor Liu Shuqing, 43, was detained by police in Shandong's provincial capital Jinan on Dec. 31 on suspicion of "subversion of state power."
"They had been planning it for a long time, and this was the final step in the operation," a participant in the Xiamen meeting idenitified only by a nickname Xiaofeng told RFA. "The police were ahead of everything."
"One person heard them knocking on the door before they could even buy a ticket to leave the country," Xiaofeng said. "Some people went on the run in their cars, wearing hats and masks, but they were still tracked down using CCTV footage."
"Police even had video of the meeting, which they brought out when one person refused to talk … Nothing escaped the Eye of Sauron, even in a short-term rented villa," he said, adding that police had vowed to use every comment made at the meeting to convict the participants.
Two months after the Xiamen meeting, police eventually also caught up with Xu Zhiyong — who had been on the run for seven weeks — using facial recognition technology and big data analysis.
Xu, who had already served jail time for his spearheading of the New Citizens' Movement anti-corruption campaign, had penned an open letter to President Xi Jinping while in hiding, calling on him to step down.
"I am willing to play the role of the child in the Emperor's New Clothes, and ask you not to go against the tide, but to take a rest," Xu wrote, in a reference to Xi's resignation.
Xu had also penned a New Year's message to China's citizens in 2020, calling on them to think about whether they want to carry on with an authoritarian government or movement towards democratic constitutionalism, an idea that President Xi has said has no place in his vision for China.
While nearly 20 people have been released following detention and interrogation, Xu, Ding and rights lawyer Chang Weiping remain under "residential surveillance at a designated location (RSDL)", on subversion charges.
Torture
Chang was redetained on Oct. 22 on suspicion of "incitement to subvert state power" after he published a video detailing his torture on a "tiger chair" during his earlier detention.
"I was locked into the tiger bench in a villa at the Baotai Hotel [in Shandong's Qufu city] 24 hours a day for 10 days," Chang said in the video. "This was an extreme form of torture."
"I still have no feeling in the index finger and ring finger of my right hand are still numb," he said.
Similar treatment has been meted out to Ding, along with noise harassment, sleep deprivation, 25-hour light exposure and fixed sitting and sleeping positions, his U.S.-based wife Luo Shengchun has said.
Another participant at the Xiamen gathering, who gave only the nickname Xiaolin, said the CCP clearly saw the gathering as a threat to its grip on power.
"The authorities saw the fact that [dissidents] were strong enough to hold a meeting as a threat to them," he said.
"This country sees you as a threat not if you want to do countless evil deeds, but if you are a good person with a conscience."
Another participant, who used the pseudonym Xiaozhong, said the authorities were aiming to create a sense of fear to warn off anyone else thinking of engaging in civil organizations or rights protection work.
"They are killing the chickens to frighten the monkeys," Xiaozhong said. "That way, everyone will fear for their own safety … you may wake up feeling safe one morning, but all that could have changed by the evening."
"This creates fear of a particular kind."
Rights activist Hua Ze, who is also a friend of Xu Zhiyong, said the CCP is afraid that a single spark could start a prairie fire of social unrest that could lead to its downfall.
"For influential human rights activists like [Xu, Ding and Chang], the authorities won't rest easy until they are behind bars," Hua said.
Reported by Xue Xiaoshan for RFA's Mandarin Service. Translated and edited by Luisetta Mudie.
Source: Copyright © 1998-2016, RFA. Used with the permission of Radio Free Asia, 2025 M St. NW, Suite 300, Washington DC 20036. https://www.rfa.org.