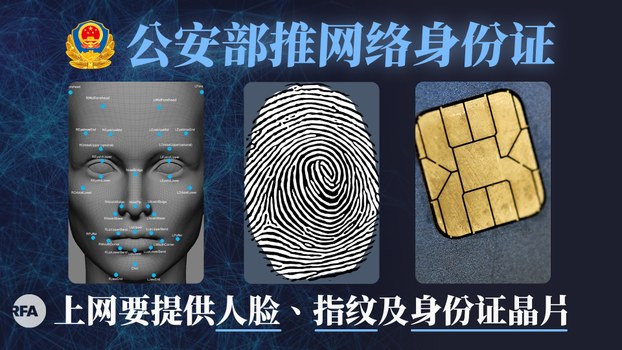 The ruling Chinese Communist Party (CCP) has rolled out an online ID system based on biometrics that is better able to track its citizens' online activities than the current system, RFA has learned.
The Ministry of Public Security is trialing an online ID card in the southeastern province of Fujian and the southern province of Guangdong, prior to rolling it out nationwide, sources said.
China has long required its internet users to register for online accounts using their real names, backed up by a smart national ID card.
However, applicants for the new online card will be required to supply biodata including facial scans and a fingerprint to police before they can access certain online services, according to recent state media reports.
Tseng Yi-shuo, cybersecurity chief at the Institute for National Defense and Security Research on the democratic island of Taiwan, said the biggest problem with the scheme lies with the intention to gather personal data on people in a centralized location.
"We are talking about the most confidential and sensitive personal information including health, as well as biodata," Tseng said. "This is data collection on a massive scale."
"If they want to use it for a different purpose [than when I signed up], will they notify me or obtain my consent beforehand?"
"Decentralized surveillance is always better than totalitarian, Big Brother-style surveillance," he said.
The scheme has sparked concerns that the new ID card could soon be required to access online services, and that it will give CCP officials access to people's browsing history for evaluation.
"Of course it's clear that this is the intention," Tseng said. "They keep pushing the boundaries of real-name registration."
Expanding control
Former Tsinghua University politics lecturer Wu Qiang said there are parallels between the massive uptake of citizens' data in the wake of the coronavirus pandemic.
"The claim by the ministry of public security that they are cracking down on online crime … basically means they are going to limit everyone's freedom as the price to be paid for that," Wu said.
"It's very similar to the schemes they had in place during the pandemic lockdowns," he said.
He said he fully expects controls and restrictions on internet use in China to continue to expand, until they are widely regarded as normal across the country.
Rights groups say CCP General Secretary Xi Jinping is building a dystopian digital surveillance state to promote his brand of totalitarian rule, since beginning an indefinite term in office in 2018.
Chinese Human Rights Defenders (CHRD) network said in its annual report in February that the CCP is expanding the use of artificial intelligence, including facial recognition, DNA collection technologies and big data algorithms, to monitor and target critics and suppress ethnic minority groups.
The report said anyone taken to a police station is now subjected to standard biometric data collection, including being fingerprinted, and having DNA and blood samples taken and biometric photographs taken, while forced biometric data collection was routine at police checkpoints in Xinjiang.
Meanwhile, police knocked on doors or summoned people who used virtual private networks (VPNs) to get onto overseas social media sites like Facebook and Twitter, and forced them to delete their posts or accounts, the group said.
It called on Beijing to end censorship and dismantle the digital surveillance police state, including the complex system of blocks, filters and human censorship known collectively as the Great Firewall.
Reported by Gao Feng and Siu Fung Lau for RFA's Mandarin and Cantonese Services. Translated and edited by Luisetta Mudie.
Source: Copyright © 1998-2016, RFA. Used with the permission of Radio Free Asia, 2025 M St. NW, Suite 300, Washington DC 20036. https://www.rfa.org.