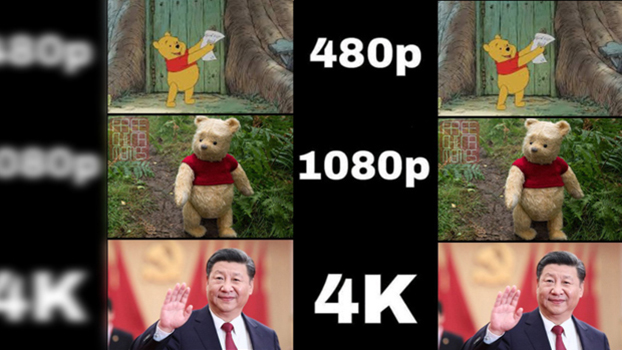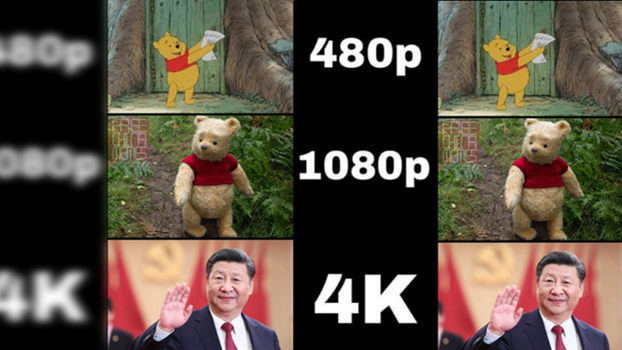 A student who tweeted a cartoon of Winnie the Pooh in connection with President Xi Jinping while studying in the U.S. was jailed for six months on his return to China for the summer vacation last year.
The Wuchang District People's Court in the central city of Wuhan announced on Jan. 22 that Luo Daiqing, a student at the University of Minnesota, had been arrested and sentenced to six months' imprisonment for "posting a tweet criticizing President Xi Jinping, general secretary of the [ruling] Chinese Communist Party on Twitter."
Luo, 25, was accused of posting dozens of "comments and inappropriate images insulting to the leader of this country" while studying in the U.S. in September and October 2018, the court said.
Among the tweets cited by the court in evidence against Lu was a depiction of President Xi as Winnie the Pooh, whose likeness has been banned from China's tightly controlled internet after a number of memes likening the fictional bear to the president went viral.
Luo was detained on July 12, 2019 by police in his hometown of Wuhan after he returned to China for the summer vacation, it said.
He was handed a six-month jail term on Nov. 5, 2019 for "picking quarrels and stirring up trouble," a charge frequently used to target peaceful critics of the government.
Luo was released on Jan. 11, 2020 after time in pretrial detention was included as part of his sentence, but declined to say much when contacted by RFA on Thursday.
Taking a break
Asked if the media reports about him were correct, Luo said: "Pretty much! The online reports are pretty factual."
But he declined to say whether he remains under surveillance or police restrictions or whether he has plans to resume his studies in the U.S.
"My situation right now is that I am taking a break," he said.
Luo had also tweeted images depicting Xi as Lawrence Limburger, the villain in the Biker Mice From Mars cartoon, along with satirical reference to ruling Chinese Communist Party slogans, including "No national security without online security."
Senator Ben Sasse of the U.S. Senate Intelligence Committee hit out at the sentence, saying that Twitter is blocked by government censorship and can't be accessed inside China's Great Firewall.
"The Chinese Communist Party ought to release Luo Daiqing immediately, and the University of Minnesota ought to give him a full-ride scholarship," Sasse said in a statement.
"Don't forget that the Chinese Communist Party has banned Twitter, so the only people who even saw these tweets were the goons charged with monitoring Chinese citizens while they're enjoying freedom here in the United States," the statement said.
"This is what ruthless and paranoid totalitarianism looks like."
A University of Minnesota spokesman said the school has received no information about the case.
Luo's defense lawyer Hu Jibin declined to comment on the case when contacted by RFA on Thursday.
Global reach
Sulaiman Gu, a graduate student at the University of Georgia, said Luo's jailing is similar to the February 2017 jailing of Kwon Pyong by a court in the northeastern province of Jilin for posting a selfie wearing a T-shirt criticizing Chinese president Xi Jinping.
Kwon Pyong, an ethnic Korean whose name in Mandarin is Quan Ping, was jailed for subversion after he "used words, images and video to insult and slander this country's government and the socialist system" on social media, according to the indictment.
"This case reminds me of the Kwon Pyong case three years ago. That also involved a student studying in the United States, who also ridiculed Xi Jinping," Gu said, adding that Kwon had planned to take his protest to the streets in China.
"Here, China is exercising cyber sovereignty over the U.S. internet and implementing global control over speech on U.S. soil," he said.
Kwon, a graduate of Iowa State University, had previously spoken out online in support of dozens of detained Chinese human rights lawyers, as well as Guangzhou-based rights activist Guo Feixiong.
He was detained on Sept. 30, 2016 after posting selfies wearing a T-shirt with several satirical nicknames for President Xi, including "Xitler," and "Baozi Xi" in a reference to the president's widely publicized visit to a regular restaurant to eat baozi, or steamed pork buns, with local people.
Personality cult
Gu said both cases show that Xi is highly image-conscious and is building a personality cult around himself.
"Xi Jinping … has been established by the regime as an unattainable idol, a god against whom blasphemy is not permitted," Gu said. "But he is not a god, so we should redouble our efforts to blaspheme against him."
Wu Lebao, an international student at the Australian National University, said Beijing has wielded an unprecedented level of power over Chinese students on overseas campuses since Xi came to power in 2012.
"They now have an outrageous level of control over overseas students, and I think the [government-backed] Chinese Students and Scholars Associations (CSSA) have played a disgraceful role here," Wu said.
"The U.S. should consider banning the CSSAs and making them legally responsible for their actions."
Liu Dasheng, a freelance journalist living in the United States, said the jailing of Luo shows how long Beijing's arm has become.
"This is all about what they call long-arm jurisdiction, and I think it violates U.S. sovereignty, not just freedom of speech," Liu told RFA.
"If this case is handled in this way, won't it then be possible for them to retaliate against any Chinese person overseas on their return to China?"
Reported by Ng Yik-tung and Sing Man for RFA's Cantonese Service, and by Jia Ao for the Mandarin Service. Translated and edited by Luisetta Mudie.
Source: Copyright © 1998-2016, RFA. Used with the permission of Radio Free Asia, 2025 M St. NW, Suite 300, Washington DC 20036. https://www.rfa.org.