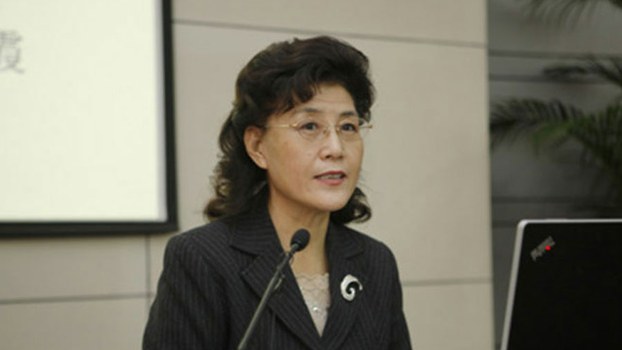 China's Communist Party has expelled an outspoken retired professor from the party's top training academy and stripped her pension over a series of speeches she made criticizing the country's direction under leader Xi Jinping.
Cai Xia, 68, a former professor at the Central Party School, who once denounced Xi as a "Hereditary [Second Generation] Red" leader, was accused by the school on Monday of serious violations of Party discipline and expelled from the Party.
The school's announcement said the Central Commission for Discipline Inspection and the Party School Commission for Discipline Inspection made a joint investigation and decided to criticize Cai's remarks as "serious political problems that damage the country's reputation."
The statement added: "Their nature is extremely vile, the circumstances very serious, and the Party's political and organizational discipline, and code of conduct for personnel in national institutions seriously violated."
Cai responded from the United States with a social media post saying: "I am very happy to thoroughly sever ties with this cabal-like ruling party."
She joins a growing list of public figures who've been punished in recent months for public criticism of Xi and his policies.
Real estate tycoon Ren Zhiqiang, was expelled from the party in July, and is expected to face corruption charges after publishing comments highly critical of the party. Law professor Xu Zhangrun was also fired from his teaching post at Tsinghua University in Beijing over a series of articles critical of the leadership.
Critic of Xi
Cai signed a joint open letter while the coronavirus pandemic was raging in the central city of Wuhan, urging the implementation of free speech rights guaranteed by China's Constitution.
"Speaking the truth can help everyone live safely. I think that this principle is very clear, and was written in our Constitution long ago. But for many years we have not implemented it well," she said.
But the retired professor is best known for a snippet of video circulating widely on the internet.
"Surprisingly no one dared to raise this issue at the Third Plenary Session of the 18th Communist Party Congress, and the Party has become a political zombie. One person, one core leader controlling the knife and gun has ensnared corrupt officials – but their corruption is a by-product of the system itself. There are no longer any human rights or rule of law in the Party to protect the rights of Party members and cadres."
Although Xi was not named, most viewers saw him as the target of her attack.
She also participated in the Yanhuang Chunqiu magazine symposium, telling the gathering that "China's development path is not only to integrate economically with the world, but also to integrate with the world through political reform."
Former executive editor of Hong Kong's "Open" magazine Tsoi Wing-Mui said he believes that criticizing Xi led directly to Cai's expulsion from the Party.
"Cai Xia is her own person, and has spoken the truth," Tsoi said. "She can be said to be a democrat within the Communist Party of China, and is also said to be 'Hereditary [Second Generation] Red' herself.
Party intellectuals
Cai, who is believed to have relocated to the United States, is among many party intellectuals who are deeply frustrated with the current situation in China, and she has already considered the consequences of speaking out, Tsoi suggested.
"They are completely disappointed with the current political reality in China. Originally, these people had a little more room for speech," he said, referring to Xi's two post-Tiananmen predecessors.
"The Jiang Zemin era and the Hu Jintao era turned a blind eye to them, not like Xi Jinping now. They are more inclined towards universal values. Now they are deeply frustrated," Tsoi said.
Cai and the other critics have taken aim at domestic repression as well as policies under Xi, including the aggressively nationalistic "Wolf Warrior" diplomacy, mercantilist trade and industrial policies, and other actions that have sparked friction with the outside world.
"After 'Xi's Great Leap Forward', we saw a big leap forward in Xi's style like 'Made in China 2025' and even 'Greater My Country'. Issues including Huawei and so on have all erupted from this," said political commentator Wu Qiang, who was dismissed by Tsinghua for supporting pro-democracy protests in Hong Kong.
"Although it did not bring about three years of famine, it brought Wuhan pneumonia and a serious deterioration in US-China relations. China fell into international isolation unprecedented since the early 1960s."
Reported by RFA's Mandarin Service. Translated and edited by Scott Savitt and Paul Eckert.
Source: Copyright © 1998-2016, RFA. Used with the permission of Radio Free Asia, 2025 M St. NW, Suite 300, Washington DC 20036. https://www.rfa.org.