While countless Buddhist and Taoist temples are demolished, places of worship that install statues of China's revolutionary leaders are spared CCP's persecution.
by An Xin 
On July 24, 2019, the government of Xinqiao town, administered by Taizhou city in the eastern province of Zhejiang, demolished Fuyuan Temple, a fully licensed Buddhist temple with a history of nearly 300 years. A person who used to work there told Bitter Winter that in late February last year, town government officials locked the entrance to the temple, banning any religious activities inside, and drove away all monks. They explained that the measures were taken because of "substandard fire control measures and lack of the national flag." The temple spent over 200,000 RMB (about $ 28,000) for renovations, but it was demolished before they were even finished.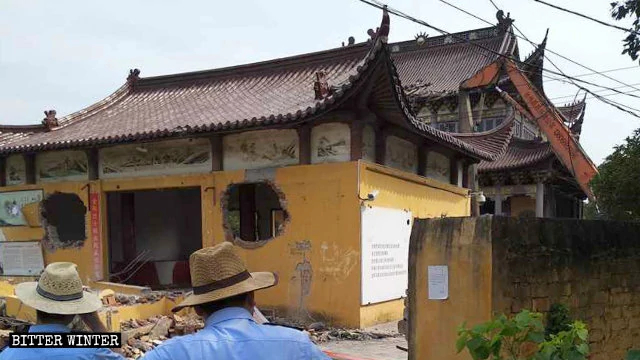 "No one dared to reason with government officials, who acted like tyrants and robbers," the temple worker explained. "People were afraid to get into trouble: lose their employment or have their property confiscated."
In early 2020, the government of the Cangshan district in Fuzhou, the capital of the southeastern province of Fujian, demolished over a dozen Buddhist and Taoist temples in the district's Gaishan town. Officials claimed that "the temples were illegal constructions that negatively affected the town's beauty."
According to an eyewitness to one demolition, over 100 urban management officers blocked the roads leading to the temple and removed all religious statues from it. Over the following four days, they used an excavator to level the temple to the ground.
Video: A temple in Fuzhou's Gaishan town is being demolished.
The director of one of the temples told Bitter Winter that some of the demolished places of worship were issued relocation notices, meaning that they were state-approved and could not be designated as "illegal constructions." He recalled that before the demolition, officers claimed that they could do whatever they wanted because they wore "law enforcement uniforms," which meant that "the state is backing them."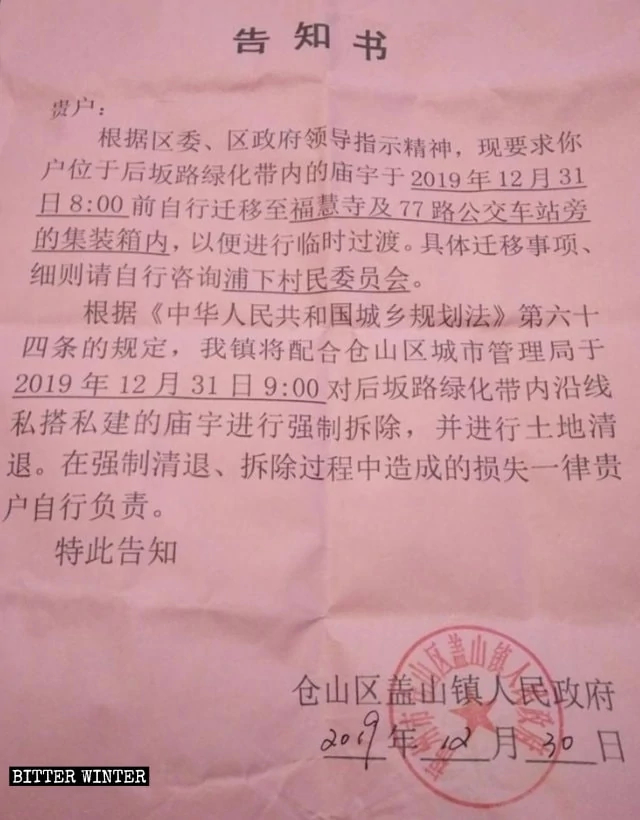 "The government destroys temples as it pleases, disregarding the needs of ordinary people," the director of another temple said. "The town mayor and village officials promised to relocate our temples, but without signing agreements or giving us money for relocations. We cannot trust these officials since they could be transferred in a few months, and their successors will not acknowledge their promises. Who knows when we'll have a new temple?"
Video: Government officials and urban management officers are smashing the doors to a temple.
"The government wants to eliminate all religions, that is why they demolish temples," the director of a destroyed Taoist temple added.
To prevent temples from demolitions, some owners choose to enshrine Mao Zedong and other former and present CCP leaders in their places of worship. After Bitter Winter brought to light two such instances in Henan Province's Ruzhou city— the Zhongyuan Yidianhong Temple and a temple on Qinglong Mountain outside Zhangpo village—authorities ordered to demolish them to silence public opinion.
The director of the Qingyun Temple in Zichang, a county-level city in the northwestern province of Shaanxi, "upgraded" his temple in June last year by installing statues of Mao Zedong, Zhou Enlai (the first Premier of the People's Republic of China), and Zhu De (an army general and one of the pioneers of the CCP). He also hired workers to write slogans promoting the core socialist values on the walls of the temple. The director was afraid that without these changes, the temple could be closed or even demolished. And he was right: the temple was allowed to stay open after the renovation. When local government officials inspected it, they praised the director for "doing a good job."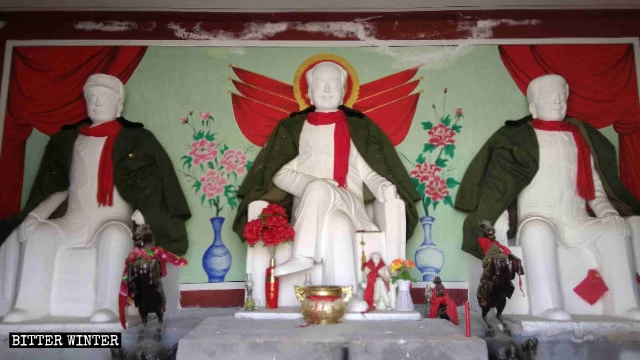 In August and September last year, at least 50 temples were forcibly demolished in Yanchuan county of Yan'an, the capital of Shaanxi.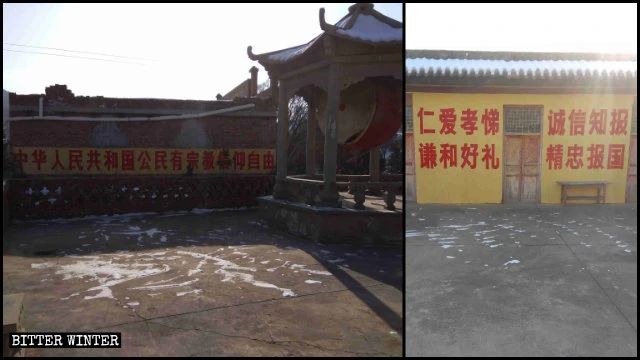 Many temples in Heng county, administered by Nanning, the capital of Guangxi Zhuang Autonomous Region, now have statues of Mao Zedong and other revolutionary leaders. Some were even allowed to expand, while others function without state-issued licenses.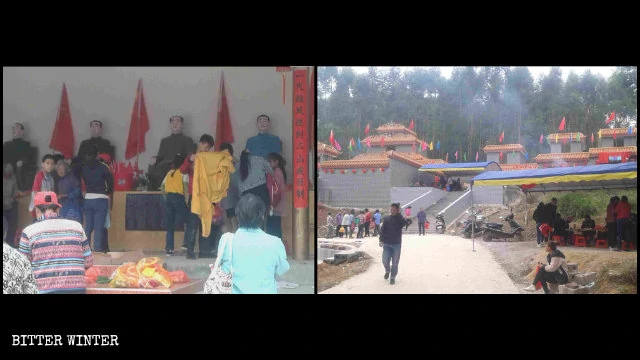 "We worshipped Buddha in the past, but now His statues are replaced with those of Mao Zedong," a local Buddhist commented. "The Communist Party wants to be worshiped as a deity."