Followers of The Church of Almighty God, Falun Gong, and Jehovah's Witnesses are kept in camps until they renounce their faith and betray fellow believers.
by Chang Xin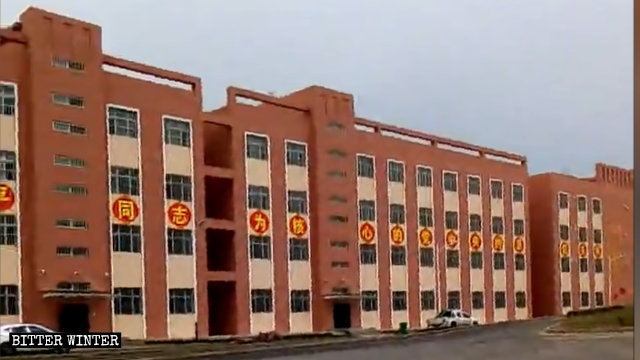 According to a document issued in 2018 by the government of a locality in Xinjiang, members of three banned religious groups—The Church of Almighty God (CAG), Falun Gong, and Jehovah's Witnesses—must be sent to transformation through education camps and kept indefinitely until they have been "transformed," i.e., become atheist. Their release depends on whether they have implemented five musts. These are a written pledge to stop attending religious activities; relinquishment of all religious materials in their possession; public criticism of one's faith, promising to break up with it; disclosure of information about fellow believers and group's/church's affairs; and aiding the government in transforming other believers.
Bitter Winter has reported extensively about members of banned religious groups in China, who are brutally suppressed for their rapid growth and refusal to be controlled by the state,   being detained in transformation through education camps. They are indoctrinated and tortured, along with Uyghurs and other Muslim minorities.
As per the document, these religious believers can be sent to transformation through education camps merely for attending religious activities, possessing religious materials, or refusing to renounce their faith after being arrested.
A CAG member revealed to Bitter Winter that he was held in a camp in northern Xinjiang with nearly 100 other Church members among almost 4,000 other detainees, most of whom were Uyghurs. There were also ethnic Huis and Kazakhs, as well as former government officials who were deemed "two-faced" for sympathizing with detainees in transformation camps or trying to help them.
A dozen or so people had to share a 30-odd-square-meter cell, equipped with surveillance cameras. People had to take turns sleeping on the floor because there were not enough bunk beds. The interviewed CAG member was severely injured during interrogation, so he could not get on the top bunk, which resulted in even more limited sleeping arrangements for him.
All the detained CAG members were assigned to the same "classroom," where they had seven indoctrination sessions each day, closely surveilled by guards. Some were escorted from their cells with hoods on their heads and were taken away after the sessions. The camp administration called them "diehards."
Detainees in camps are assigned to "classes" according to the assessment of their level of faith, to avoid "cross-infection." For the CCP, religious beliefs are the same as infectious diseases or tumors that need to be eradicated.
"The camp was managed like a prison," the CAG member remembered. "Anyone who refused to sing red songs was not allowed to eat, or all cellmates could be punished and sent to solitary confinement."
Mandatory singing of revolutionary songs was particularly hard on Jehovah's Witnesses, who practice the so-called political neutrality and refuse to sing national anthems, salute flags, or serve in the army.
The CAG member confirmed that camp instructors often threatened to keep believers detained until they signed the "four statements"—written pledges of repentance, break-up, guarantee, and criticism—renouncing their faith. Before their release, all believers were demanded to sign a confidentiality agreement and were threatened to be held criminally accountable if they disclosed any information about the camp.
China regards religious movements that are not under its direct control as "a danger to state security" that need to be "transformed through education" merely for maintaining their belief. As Nicholas Bequelin, East Asia Director at Amnesty International, remarked, "The mass detention camps are places of brainwashing, torture and punishment. A simple act of messaging your family abroad can get you detained highlights how ludicrous, unjustified and completely arbitrary the Chinese authorities' actions are."
Source: Bitter Winter