Adherents to this banned religious movement, a key target of CCP's persecutions, were taken into custody in Jiangxi, Henan, and Guangdong provinces.
by Wang Yong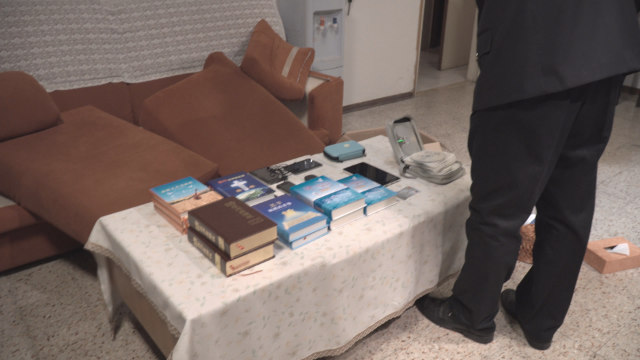 From June to September, the government of the southeastern province of Jiangxi launched several operations against members of The Church of Almighty God (CAG), resulting in the arrest of 208 believers. More than 400,000 RMB (about $ 56,000) in church and personal assets were confiscated.
According to a police officer from the prefecture-level city of Yichun, some CAG members had been monitored for more than two years. Church leaders are targeted in particular. "Why is the state stepping up the construction of prisons? Because it aims to arrest all religious believers," the officer said.
One of the arrested CAG members recalled how 11 plainclothes police officers broke into her home and rummaged through her belonging without presenting any documents, confiscating all faith-related books. The woman was taken to a local police station.
"I was locked in a wooden cage, while officers questioned me about the Church," the believer recalled. Because she refused to answer questions, the officers set the air conditioner in the interrogation room to the lowest temperature, leaving her in the cold for the whole night.
In the central province of Henan, some CAG believers were arrested as local authorities visited homes to check residents' household registrations. Others were detained after extended tracing. According to the CAG's preliminary numbers, 319 believers were arrested from June to September across the province.
A CAG member from Henan's Sanmenxia city told Bitter Winter that on August 15, two police officers came to his apartment on the pretext of checking his household registration. They photographed him and searched his home but found no religious materials. He was released after interrogation and was demanded to answer his phone 24 hours a day for five days. To evade more arrests, the man left home at night. In the following three days, the police persistently phoned his relatives to inquire about his whereabouts and his family members' religious status. "I wanted to hide at my relatives', but because of the police harassment and intimidation, they did not dare to receive me," he said.
In August, 23 CAG members were arrested in Zhongshan, Foshan, and other cities in the southern province of Guangdong. During interrogations, the police told the arrested they had been traced for a long time. The authorities knew where they worked, what time they returned home every day, and when and where they met other Church members.
Some CAG members were released after a month's detention but were still subjected to close surveillance. "Every time I went out, a police car would follow me," one of the arrested believers said. "The police also incited my husband to watch over me. I don't have any freedom at all. I worry that the police will arrest me again. I barely sleep and often have nightmares."
In September, the Public Security Bureau in a city in the northern province of Shanxi implemented a crackdown operation targeting the CAG. Over 20 police officers from a special investigation team pursued seven believers who went out of town on Church matters.
"At least five cars followed us, so we just got out of our vehicles and ran in all directions," a CAG member recalled how the police pursued him and six other believers. "We ran to the mountains to hide, but soon we heard the buzzing sound of a drone. With no way to escape, we hid in a cornfield, cowering there without daring to move. Three of us managed to escape by going over the hills. I don't know what happened to the others; we lost contact with them."
Source: Bitter Winter