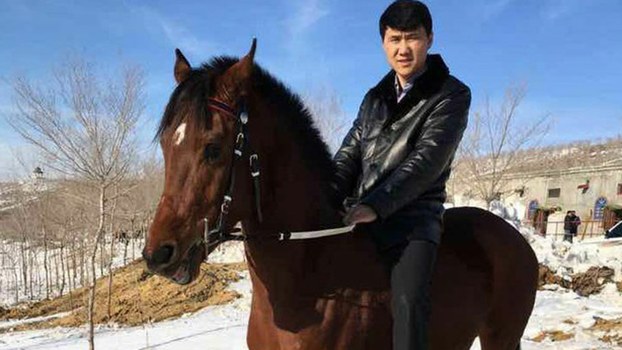 Two ethnic Uyghurs who run what is widely considered the most successful real estate firm of the past decade in northwest China's Xinjiang Uyghur Autonomous Region (XUAR) have been arrested, with at least one sentenced to a lengthy prison term, according to their brother.
Rozi Haji Hemdul, 43, and his brother Memet Hemdul, 37—co-owners of Xinjiang Rozi Haji Ltd. and Korla Chilanbagh Property Ltd.—were arrested in October and December of 2017, their brother Omerjan Hemdul, who lives in exile in Turkey, recently told RFA's Uyghur Service.
"We had decided to contact one another less frequently in April 2017, but in October of that year another brother informed me that Rozi Haji was arrested at his home in [the XUAR capital] Urumqi," Omerjan Hemdul said.
"Approximately two months later, my other elder brother, Mehmet, was arrested."
Omerjan Hemdul said that he hadn't made contact with his family since learning of Mehmet's arrest, but had been seeking information through other sources about his brothers, who are both fathers of four and originally from Shaqur village in Korla (in Chinese, Kuerle) city, in the XUAR's Bayin'gholin Mongol (Bayinguoleng Menggu) Autonomous Prefecture.
"Around two weeks ago, I contacted a Han Chinese man who used to work for one of my brothers' companies, and he said he had spoken with a Uyghur police officer who told him people like my brothers are 'all in prison,' with 'hardly anyone left outside,'" Omerjan Hemdul said.
"He said, 'Your brother [Rozi Haji] was originally placed in an internment camp, but was charged not long afterwards and given a 25-year prison sentence.'"
According to Omerjan Hemdul, the former employee did not know what happened to Memet Hemdul, but said that he believed Rozi Haji Hemdul was arrested and charged "because of his charitable work, including providing money for students."
Authorities are believed to have held more than 1.5 million Uyghurs and other Muslim minorities accused of harboring "strong religious views" and "politically incorrect" in a vast network of internment camps in the XUAR since April 2017.
While Beijing initially denied the existence of the camps, China this year changed tack and began describing the facilities as "boarding schools" that provide vocational training for Uyghurs, discourage radicalization, and help protect the country from terrorism.
But reporting by RFA's Uyghur Service and other media outlets suggest that those in the camps are detained against their will and subjected to political indoctrination, routinely face rough treatment at the hands of their overseers, and endure poor diets and unhygienic conditions in the often overcrowded facilities.
Omerjan Hemdul said he had no information regarding his brothers' wives or children and claimed that authorities had seized or frozen their combined assets, which include 10 buildings in Urumqi and Korla, a construction project near the central train station in Hotan (Hetian) city, and various restaurants and villas—estimated at around 1 billion yuan (U.S. $140 million).
"My brothers have never been involved in anything other than their own businesses—only charity, by giving money to students," he said.
"I believe the government's intention is to take away their wealth by making accusations against them. I have remained silent all this time, but now I have decided to speak out and pursue justice."
Other sources
RFA called the police station in Shaqur, which has jurisdiction over the Hemduls' Lenger neighborhood, to confirm that they had been arrested, but an officer who answered the phone said he had no information about them.
Calls to other police stations and government departments overseeing business management in the city, as well as in other cities where they managed property, went unanswered.
But a decades-long friend of Rozi Haji Hemdul, who is now living in exile, told RFA on condition of anonymity that they had "heard he was sentenced to 25 years in prison."
"Along with several big businessmen in Urumqi, we were all good friends," the source said.
"I heard that he was arrested in October 2017, despite having good business relationships with both Han Chinese and Dungan [Hui Muslim] people … He committed no crimes, and his only 'fault' was that he made money."
The source said that he was aware of Rozi Haji Hemdul's business portfolio and believed that his confiscated assets amounted to "at least 700 million yuan (U.S. $98 million)."
News of Rozi Haji Hemdul's sentencing came amid multiple reports from official media that the central government had ordered local authorities to investigate the finances of all owners of private companies throughout the XUAR, at the same time that internment camps were being built in the region.
According to the directive, the reports said, private business owners were required to fill out declaration forms at the time that provided detailed financial information about their assets and submit them to relevant government departments, where they were subjected to strict review.
In April this year, RFA confirmed that a successful Uyghur property developer named Ilyas Memet had been arrested in March 2018, while a wealthy Uyghur businessman named Yaqup Rozi had died after suffering a heart attack while detained in an internment camp in March this year. Both are believed to have been detained for traveling abroad to countries blacklisted by authorities for travel by Uyghurs due to the perceived threat of religious extremism.
Mass incarcerations
Mass incarcerations in the XUAR, as well as other policies seen to violate the rights of Uyghurs and other Muslims, have led to increasing calls by the international community to hold Beijing accountable for its actions in the region.
At the Ministerial to Advance Religious Freedom in Washington in July, U.S. Secretary of State Mike Pompeo called the internment camps in the XUAR "one of the worst human rights crises of our time" and "truly the stain of the century."
U.S. Vice President Mike Pence also slammed the camps "where [Uyghurs] endure around-the-clock brainwashing" and survivors have described their experience as "a deliberate attempt by Beijing to strangle Uyghur culture and stamp out the Muslim faith."
U.S. Ambassador-at-Large for International Religious Freedom Sam Brownback recently told RFA in an interview that countries around the world must speak out on the Uyghur camps, or risk emboldening China and other authoritarian regimes.
The U.S. Congress has also joined in efforts to halt the incarcerations, debating legislation that seeks accountability for China's harsh crackdown on the Uyghurs. The Uyghur Human Rights Policy Act would appoint a special State Department coordinator on Xinjiang and require regular reports on the camps, the surveillance network, and the security threats posed by the crackdown.
Reported Gulchehra Hoja and translated by RFA's Uyghur Service. Written in English by Joshua Lipes.
Source: Copyright © 1998-2016, RFA. Used with the permission of Radio Free Asia, 2025 M St. NW, Suite 300, Washington DC 20036. https://www.rfa.org.