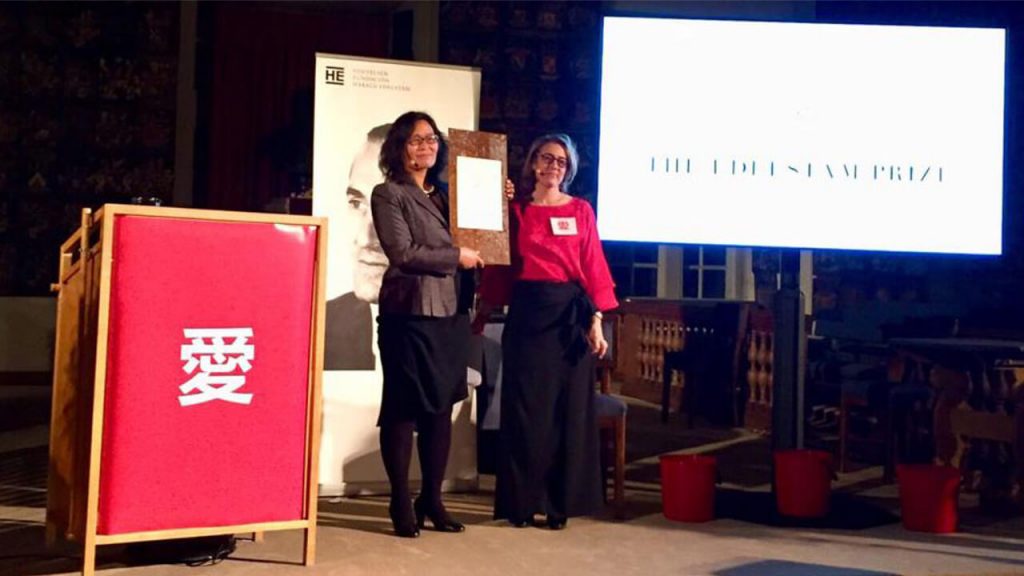 Li Wenzu, wife of disappeared human rights lawyer Wang Quanzhang, has been awarded Sweden's Edelstam Prize for "exceptional courage" in defending human rights, the organizers said.
But the prize was presented to U.S.-based activist Yuan Weijing in her place, as Li was prevented from traveling to Stockholm to receive the award in person.
"Actually, I was very unsettled when I found out I had won the award, because so many other relatives and lawyers affected by the July 2015 crackdown have done so much more than I did," Li told RFA on Wednesday. "But I was very moved [to see] photos and videos [of the ceremony]."
"There have been so many people who have offered me their silent help over the past three years, and we wouldn't have made it through with their support," she said. "Some people told me that we are opposing an authoritarian power with love."
The award ceremony featured a large Chinese character meaning "love," as well as the iconic red buckets used by Li and fellow activists to highlight the plight of detainees.
"Everyone who attended the ceremony was given the character for 'love,' as well as a little red bucket," Yuan Weijing told RFA after receiving the award on Li's behalf.
"This award is intended as moral support for Li and for the other wives and family members, who, like her, have been fighting for their husbands' rights and freedom," she said.
Yuan, who now lives in the United States with her husband, human rights lawyer Chen Guangcheng, said the award should also heighten awareness outside China of the plight of the country's lawyers.
"The attention that Mrs. Li Wenzu and the other wives have brought, not only to their husbands' plight, but also to the state of the crackdown, is a wonderful example of courageous human rights activism, fighting back with untraditional methods, using online appeals, and visits to jails, prosecutors and courts," Caroline Edelstam, jury chairwoman and co-founder of the Edelstam Foundation, said in a statement on the foundation's website.
"China remains an authoritarian one-party state that systematically curtails a wide range of fundamental human rights, including the freedom of expression, association and assembly, and using a system of enforced disappearances," she said.
'Good humor and positive energy'
The announcement said Li had been "instrumental in campaigning for the release of the hundreds of lawyers and activists" detained during a nationwide police operation that has targeted more than 300 lawyers, law firms, and related activists since it launched in July 2015.
"They have actively looked for families of those affected by the [crackdown], trying to understand their needs and supporting them in every possible manner," it said. "They have traveled the length and breadth of the country, and have even been arrested at times for visiting 'sensitive' family members."
It said Li holds together the group of affected families "with her good humor and positive energy," and has come under intense pressure from the ruling Chinese Communist Party for doing so.
Wang, who has been held in police detention without trial for three years, has been forced to take medication while in the custody of the Tianjin No. 1 Detention Center, his attorney Liu Weiguo said after being allowed to visit his client for the first time in July.
Edelstam said enforced disappearances are "criminal acts, without exception and regardless of circumstances, including state of war, emergency or national security."
According to international law, family members of the disappeared are recognized as victims of enforced disappearance as well, she said.
The Foundation called on Beijing to free Wang and other detained rights attorneys, and to end its "harassment, threats and retaliatory actions" against Li and the couple's young child.
Reported by Shen Hua for RFA's Mandarin Service, and by Ng Yik-tung and Tam Siu-yin for the Cantonese Service. Translated and edited by Luisetta Mudie.
Source: Copyright © 1998-2016, RFA. Used with the permission of Radio Free Asia, 2025 M St. NW, Suite 300, Washington DC 20036. https://www.rfa.org.