Through government incentives, Han Chinese have been lured to Xinjiang to accelerate the "hanification" of ethnic Muslims. Now, it's not easy for them to return home.
by Wang Yong
To supplement its systematic mass suppression of Muslims in the Xinjiang Uyghur Autonomous Region, which some equate to genocide, by detaining millions in transformation through education camps in the name of "fighting extremism," the Chinese regime has encouraged Han Chinese to relocate to Xinjiang. Intended to weaken the cultural fabric of Uyghurs and other ethnic Muslims, the "hanification" campaign has been stimulated by giving the Hans generous benefits and promising them a prosperous and happy life in their new home.
Bitter Winter interviewed two people who had relocated to Xinjiang. They asked not to use their real names, so we use pseudonyms.
Mission impossible
"It was so easy to transfer our household registration to Xinjiang, but we cannot relinquish it now," lamented Mr. Chen, who moved his family from the central province of Henan to southern Xinjiang a few years ago where he started a wholesale vegetable business.
In 2017, the family decided to return to home, so Mr. Chen started the official procedure to transfer their household registrations from Xinjiang to Henan. The mission turned out to be impossible.
"I've even tried to have our Xinjiang registrations relinquished with bribes to officials and through friends with connections in the Xinjiang government, but with no luck," Mr. Chen said.
After two years of futile attempts, the family decided to risk transferring back home without the registration. They are back in Henan, but their household registration is still in Xinjiang. They are only temporary residents in their home town, with no rights for the basic medical and social care, and their son cannot enroll in school.
In China, hukou, a household registration system, regulates citizens' access to government services, such as healthcare, education, retirement pensions, and other social programs. It is also indispensable in getting a job or a place to live. Therefore, the regime often uses it to control the population and its internal migration.
"Officials in Henan refuse to accept my household registration under the pretext that they are 'preventing rioters from traveling inland,' Mr. Chen said with frustration.
When asked what the main reason to leave Xinjiang was, Mr. Chen's said that it was getting hard to support the family doing business because the government is concentrating all its efforts on the so-called "stability maintenance" instead of economic development. "Also, most Uyghur men have been detained, only a few are left who can be hired for work in my line of business," Mr. Chen explained.
He added that in the area he used to live and work, law enforcement officers often cordon off streets, especially on holidays and festivals. On major holidays, like the National Day on October 1, the whole area and highways leading to the area were totally blocked, so fresh vegetables couldn't be shipped to other areas. They could only be sold at a low price in his neighborhood, resulting in enormous losses for Mr. Chen's business.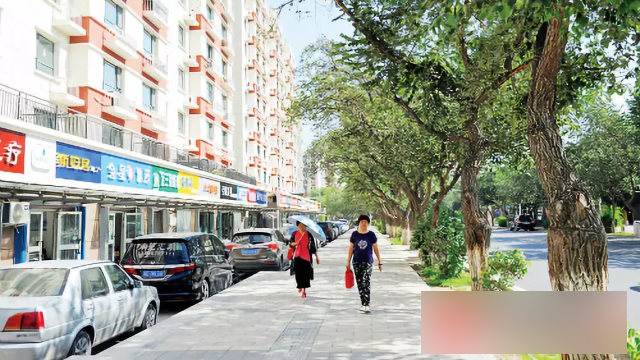 The distressing situation of human rights was another critical factor in determining the family's decision to leave Xinjiang.
"There is no personal freedom in Xinjiang at all," Mr. Chen said. "People must show their IDs and undergo body searches when they go to the supermarket or a pharmacy, travel by bus or train. They have to be cautious when speaking, censor themselves not to say 'sensitive' words. You can be investigated just for hearing someone complain about the government."
It has also become difficult to sell the real estate property in Xinjiang. "It was easy to sell houses in the past, but now, it has become really challenging, since people are selling more and more property. Most Han people are desperate to leave, not wanting to live in Xinjiang any longer," Mr. Chen said.
"Don't go to Xinjiang!"
Mr. Zhang, who started his training business only two years ago in southern Xinjiang, also wants to leave as soon as possible.
"I've lost nearly 450,000 RMB (about $ 65,000), all of which I brought to Xinjiang with me. The social stability has overtaken the economic development in Xinjiang," Mr. Zhang said. "The government may close your business 'for rectification' under any pretext. It is a daily occurrence, so it's hard to keep a business running. There used to be more than 100 training agencies like mine, but now only just over ten are left."
As Mr. Chen, he is in the same predicament – the city authorities in southern Xinjiang where he lives also refuse him to relinquish his registration and allow his family to return home. The government only processes new registrations but doesn't rescind them, officials claim.
The gravity of the situation is evident just visiting the websites of Xinjiang government institutions. Residents who want to leave the region are frustrated and anxious, constantly posting requests for information as to when they will be allowed to return to their places of origin.
Xinjiang residents posted questions online to government institutions regarding the process of their registration transfers.
The office of Gaoxin district in Urumqi, the capital of Xinjiang, had a notice posted on the official site, saying that "as per the orders from the higher levels of government, household deregistration is suspended" in the district.
The Gaoxin district of Urumqi stated on the official website that "household deregistration is suspended" in the district
In a video, entitled "Advice to Graduates: Don't Go to Xinjiang!," widely circulated online in the summer, a Han Chinese man, using a voice changer, warns graduates who are attracted by the government's promises of excellent conditions for settling in Xinjiang not to go there.
"Once you move to Xinjiang, you will have no other choice but to stay there," the man in the video says. Those who have relocated to Xinjiang and refused to have their eye retinas scanned, fingerprints and blood samples taken, would have their household registrations frozen, i.e., they would not be able to move out of Xinjiang legally to live elsewhere in China. Residents with Xinjiang registration are scrutinized much harder anywhere they go in China, no matter their ethnicity, the video warns.
The man in the video explains that the Xinjiang government cannot fulfill its promises to those who have relocated as all its money is used to maintain social stability. Transformation through education camps are omnipresent, and even civil servants can be sent there for making a mistake at work.
Source: Bitter Winter