Believers from South Korea are packing their things and get ready to go home to escape CCP's persecutions and harassment they face every day because of their faith.
by Li Mingxuan
"I've never encountered such persecution as in China anywhere else I have been to. There are surveillance cameras everywhere. There is no personal freedom," a Jehovah's Witnesses elder from South Korea summarized to Bitter Winter his ten-year-plus experience living in China.
He came to the eastern province of Shandong over a decade ago to devote himself to missionary work. This year, he decided to return to his home country. He said that like other Jehovah's Witnesses from abroad, he would try to preserver until the end of the year. Now, he is getting ready to sell his apartment before the move.
In mid-August, he asked a fellow local believer to keep some of his religious books and CDs, because he was afraid that they could be used to deport him should the police find them at his home. He was reluctant to part with the books; after all, he has used them for preaching in Shandong for the past decade.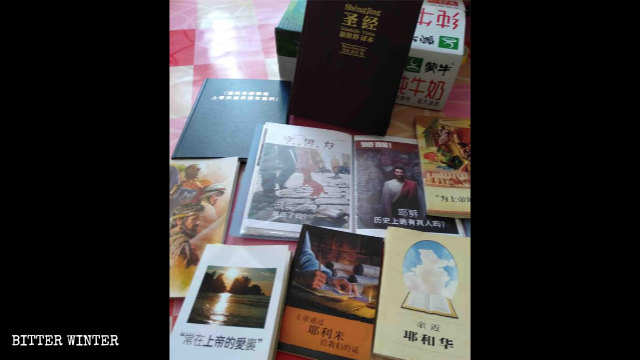 The main reason for his decision is the intensifying suppression against religious movements and groups from abroad. After the United Front Work Department and the Ministry of Public Security jointly issued last year the Work Plan of the Special Operation to Investigate and Deal with Overseas Christian Infiltration According to Law, authorities throughout China have been cracking down on Jehovah's Witnesses and other religious groups, like South Korean Christian churches.
Because of the crackdowns, more and more Jehovah's Witnesses from abroad have been arrested and deported. In May, a Jehovah's Witnesses elder was deported back to South Korea from Shandong's Qingdao city after the police tracked him down during a religion-related investigation. As a rule, according to Jehovah's Witnesses in China, the deported missionaries are prohibited from returning to China for five years, but church elders are permanently barred from entering the country again.
"To avoid being tracked down and arrested by the CCP, we have installed several 'layers' to enter our meeting venue. First, there is a security door; then, large foam boards are attached to it, and also a folding partition conceals the door," the elder from South Korea explained some security measures that they had to implement. "During our gatherings, we keep the windows tightly closed and put up several layers of curtains. Besides, we can't gather at the same place for a long time and must change the meeting venue whenever necessary. We often have to gather on short notice because we don't know where the gathering is being held. Since January, our meeting venue has been changed more than a dozen times."
As part of their customs, female Jehovah's Witnesses usually wear long skirts to express their devotion to God. In the tense and hostile environment in China, women started wearing pants during gatherings. That way, if the police come to arrest them, they don't need to change their clothes and can flee immediately – one of the many tricks they were forced to learn to survive being Jehovah's Witnesses in China.
A Jehovah's Witness from South Korea who also lives in Shandong told Bitter Winter that seeing foreign missionaries around her being deported, one after another, she and her husband have become more cautious in their daily lives.
"When we need to buy a SIM card or rent an apartment, we ask local believers to do it for us. When property management staff come knocking on our door, we don't dare to open it. We wanted to take the subway when it had just opened, but after hearing that IDs are checked, we were discouraged," she said. "Every day, when we open our eyes and see that everything is fine, we thank God."
"One time, I went to the bus station to pick up a friend, and a person in uniform questioned and photographed me. I was terrified at the time, thinking he was a police officer. I later learned that he was a security guard. It was frightening, but I wasn't in any danger," she said with lingering fear while recounting her experience.
Jehovah's Witnesses in other parts of China also face the same dangers. A member from Cangzhou city in the northern province of Hebei, a native Chinese, recounted to Bitter Winter that last May, five South Korean preachers from one venue were arrested and deported, others were harassed by the authorities. The believer also revealed that to evade the government's surveillance, believers started using public telephones to contact each other. On their mobile phones, they don't indicate real names on contact lists, and they never answer calls from unknown numbers.
"We keep our gatherings concealed now. It's like guerrilla warfare – we're constantly on the move from place to place. We have no choice. The CCP's persecution forces us to do this. We have to be careful," the believer from Cangzhou said. "The government is afraid of us having contact with foreigners, fearing that this will threaten the Communist Party's regime. We never get involved in politics. All we do when we're together is worship God."
Although not on the list of the xie jiao, the activities of Jehovah's Witnesses in China are regarded as illegal. In mid-April, 17 Jehovah's Witnesses in Xinjiang's Korla city were indicted for "using an evil religion organization" to "incite the obstruction of law enforcement" and one for "obstructing law enforcement by organizing and using an evil religious organization." It is the first time that Article 300of the Criminal Code, usually reserved for organizations listed as xie jiao, was applied against Jehovah's Witnesses
Source: Bitter Winter