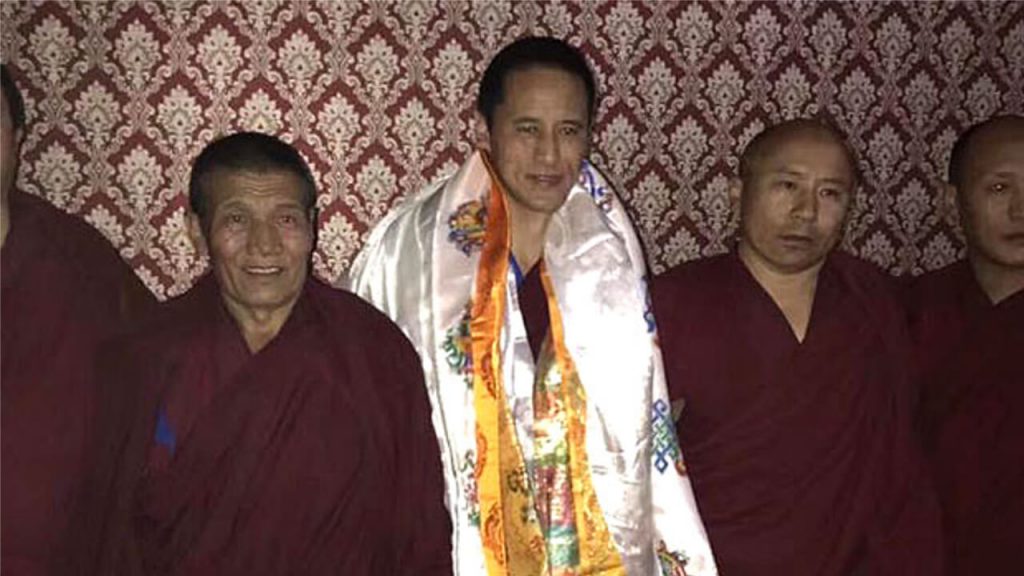 A Tibetan monk jailed for five years for his writings on politically sensitive topics has been released from prison in China's Qinghai province after serving his full term, but is now banned from speaking at public gatherings, Tibetan sources say.
Gartze Jigme, 41, was freed on Feb. 4 and was returned by his family to his home in Tsekhog (in Chinese, Zeku) county in the Malho (Huangnan) Tibetan Autonomous Prefecture, a Tibetan living in exile said, citing sources in the region.
"His family and friends went to receive him at the prison early in the morning, but it took a long time to process the paperwork, and they were unable arrive at their home until 7:00 p.m.," RFA's source said, speaking on condition of anonymity.
Jigme, who was welcomed with ceremonial scarves by relatives, friends, and monks on his return, had been held in a prison in Qinghai's capital Xining during his time behind bars, the source said.
"He is physically frail, but he shows no signs of major health issues, at least for now," he said, adding that Chinese authorities had quickly moved to block the online distribution of a photo showing Jigme following his release.
"He has been forbidden from returning to his monastery for one year, and has been banned from speaking in public at the invitation of community organizations," he said.
Caregivers from Dokar township and from elsewhere in the county have now been sent to look after him, the source said.
Politically sensitive writings
Jigme was first detained in April 2011 after he launched a literary journal titled Courage of the King, RFA's source said.
In the journal's second edition, a copy of which was obtained by RFA, Jigme wrote extensively on topics considered politically sensitive by China, including self-immolation protests by Tibetans, Tibet's exile government and spiritual leader the Dalai Lama, Tibet's environment, and Chinese policies in the region.
Speaking to RFA, a second Tibetan source said that Jigme was taken into custody again in January 2013.
"Police barged into his room and examined his computers. His publications were then banned, and those circulating in the market were pulled back," the source said, also speaking on condition he not be named.
On May 14, Jigme was secretly sentenced to a five-year prison term by the Tsekhog county court, the source said.
China has jailed scores of Tibetan writers, artists, singers, and educators for asserting Tibetan national identity and civil rights since widespread protests swept the region in 2008.
Source: Copyright © 1998-2016, RFA. Used with the permission of Radio Free Asia, 2025 M St. NW, Suite 300, Washington DC 20036. https://www.rfa.org.