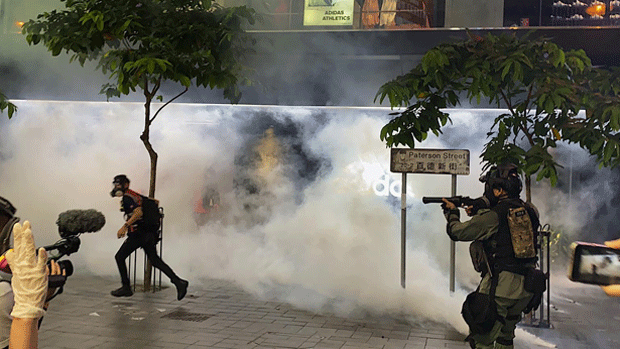 Authorities on Wednesday evacuated students from mainland China and democratic Taiwan from Hong Kong's universities as military helicopters were spotted near one campus and students dug in for another day of siege following Tuesday's clashes with riot police.
Dozens of mainland Chinese students carrying luggage boarded a police launch from a pier near the Chinese University of Hong Kong (CUHK), the scene of a police raid on campus on Tuesday during which officers fired more than 1,000 tear gas rounds at fleeing students.
The evacuation was arranged by the ruling Chinese Communist Party's Central Liaison Office in Hong Kong, according to one student surnamed Pan.
"This social unrest is very worrying," Pan said. "We came to Hong Kong to study from the mainland, but now it seems that our personal safety is under threat."
"There have been fires everywhere on campus during the past couple of days, and we can't study in peace, so were are getting ready to go back to the mainland," she said.
Students were being billeted at a hotel in neighboring Shenzhen using facilities funded by the Communist Youth League, Pan added.
"The Communist Youth League in Shenzhen has set up a post to temporarily provide accommodation for students," she said. "We'll go to Shenzhen and stay a while, and then see if we are going home or what."
A Youth League worker surnamed Huang who answered the phone at the Shengbao Guesthouse in Shenzhen's Futian district said they were assisting "large numbers" of students fleeing the Hong Kong unrest.
"A lot of people have arrived, starting yesterday evening, and we are doing everything we can to settle them," Huang said. "The [facility] was originally intended for recent graduates who are looking for work, but we have been doing everything we can to find beds for them to sleep in."
Students fly out
Meanwhile, authorities in democratic Taiwan bought flights for their nationals studying at CUHK, escorting some 85 students from the Shatin campus to the airport, while around 40 others had made their own way to the airport.
Some 40 Taiwan nationals studying at Polytechnic University had already returned to the island.
A Taiwan student at CUHK who declined to be named said he felt "selfish" for fleeing Hong Kong.
"I didn't stand on the front line. I think I am selfish, because I put myself first," the student said. "We have feelings for Hong Kong, but we are still bystanders."
Another student said the Hong Kong government was incompetent, and had refused to respond to the five demands of the protest movement, which include fully democratic elections.
"The people of Taiwan can decide who governs them, so the government will respond to their demands," the student said. "But in Hong Kong, too many high-level officials aren't chosen by the people of Hong Kong."
Police 'out of control'
Kaxton Siu, assistant professor of applied social sciences at the Hong Kong Polytechnic University (Poly U), said Poly U, the University of Hong Kong, and City University, among others, had all been raided by police in recent days.
"The police are out of control right now," Sui said. "This is because chief executive Carrie Lam told the police a few months ago that she would stand by them."
He added: "The Hong Kong police lack a fair and independent accountability mechanism."
Siu said the actions of Lam's administration and the police suggest that the authorities are trying to destabilize Hong Kong, rather than restoring order.
"There would have been no big clashes [at the universities] it it weren't for the police officers going in there," he said. "Beijing's current strategy in ruling Hong Kong is to ruin Hong Kong."
He said the police seemed to have begun using much more hardline tactics following Lam's meeting with Chinese President Xi Jinping last week, during which Xi offered her his "absolute trust" and support.
'Huge strategic mistake'
Jackson Yeh, a sociology professor at CUHK, said the police shouldn't have raided the university without a warrant.
"They thought that they could enter the campus arbitrarily without bothering to show a warrant issued by the court," Yeh said. "Personally, I think that this was highly unsatisfactory."
He said social progress and traditional freedoms have now regressed to the state that Taiwan was in under the one-party martial law of the KMT nationalists during the 1970s and 1980s.
"Beijing has made a huge strategic mistake in the way it is ruling Hong Kong, but they are not willing to admit it," Yeh said. "It seems very unwise to me. This won't be resolved any time soon."
Lawyers acting for CUHK students failed on Wednesday to win an injunction against riot police entering the college campus, although they argued that Tuesday's violence had been sparked by the police raid, not the other way around.
But lawyers for the police said students had flung hundreds of Molotov cocktails and countless other projectiles at police, and the court refused the injunction.
Sustained confrontation
The CUHK condemned the violence, blaming both protesters and police for continuing offensive actions while school authorities were trying to negotiate a police withdrawal.
"The negotiation ultimately failed due to sustained confrontation," the university said in a statement on its website. "Petrol bombs and injurious objects were continuously thrown by the crowd present during the confrontation, while the police fired volleys of tear gas and rubber bullets."
It said three students arrested at CUHK on Tuesday were subsequently released on bail.
Hong Kong Security Secretary John Lee said the use of force was needed to gain control of a bridge from which protesters were dropping objects onto a roadway below.
"The police have a duty to ensure public safety is maintained," he told reporters. "That's why we had to take charge of the bridge formerly controlled by the protesters."
CUHK will remain closed through Thursday and Friday owing to severe damage to campus facilities and disrupted public transportation services, the university said.
Around noon on Wednesday, several People's Liberation Army helicopters appeared over the CUHK campus, sparking concern that Beijing is planning a military operation to end the Hong Kong unrest.
Hong Kong's Mass Transit Railway (MTR) was only operating limited subway services on Wednesday, with bus services also affected.
Police were searching cars as lines of private vehicles formed outside the CUHK campus as supporters tried to bring in supplies to support protesters besieged behind homemade barricades, while some supporters brought in bags of water bottles, masks, saline, and other equipment by motor scooter, push-bike or on foot.
Schoolchildren shoved
The city's education bureau came under fire for allowing schools to stay open on Wednesday after around 10 uniformed schoolchildren were stopped and shoved against the wall at Yau Tong MTR station on their way to school.
A video posted to social media showed the riot police yelling at the children. No reason was given for their being stopped and questioned.
The incident was followed by an announcement that schools would close on Thursday, although many schools had taken the decision into their own hands and closed their gates on Wednesday. No mention was made of arrangements for Friday, however.
In Hong Kong's Central business district, where suited, skirted, and kitten-heeled office workers have joined black-clad protesters at the barricades to hurl insults at the police since a city-wide strike on Monday, hundreds of people turned out at lunchtime to further vent their anger at police and at the administration of chief executive Carrie Lam.
Police said normal life in the city is on the brink of "total collapse."
"The rioters' intention is to bring Hong Kong into a total breakdown," police spokesman John Tse told reporters on Wednesday. "No excuse, no political motives can justify or glorify this madness."
Lam was believed to be in a meeting with members of her cabinet, the Executive Council (ExCo), at her residence on Wednesday night.
Reported by Tam Siu-Yin for RFA's Cantonese Service, and by Qiao Long for the Mandarin Service. Translated and edited by Luisetta Mudie.
Source: Copyright © 1998-2016, RFA. Used with the permission of Radio Free Asia, 2025 M St. NW, Suite 300, Washington DC 20036. https://www.rfa.org.