Members of these conservative Protestant house churches face increasing persecution, as their meeting venues across China are raided by the police and shut down.
by Shen Xiang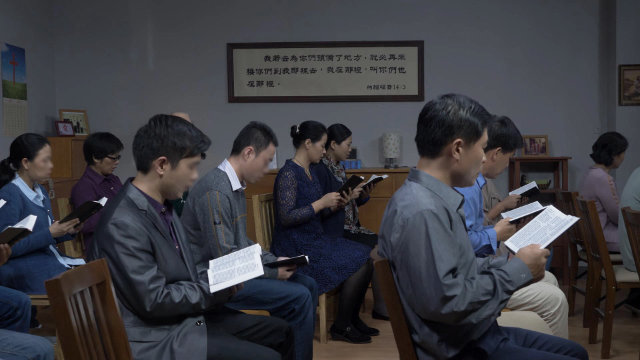 On June 21, the police raided a Sola Fide house church meeting venue in Linfen city in the northern province of Shanxi, where 22 believers were holding a gathering. Congregants' cellphones were seized, and the church leader, pastor Wang Xiaoguang, was prohibited from organizing religious meetings anymore, threatened to be arrested if he disobeyed.
According to a source who asked to remain anonymous, the police found the venue by monitoring Wang Xiaoguang's and other believers' phones. The government of Yaodu district in Linfen had demanded the subdistrict offices where members of the church resided to watch them and submit daily reports on their whereabouts.
Wang Xiaoguang and his wife, Yang Rongli, who was in charge of the church, were arrested for their faith already in 2009 and sentenced to three and seven years in prison, respectively. Following their release, they were designated as key targets of government surveillance. In January 2018, officials used explosives to demolish Sola Fide's Golden Lampstand Church in Linfen. Consequently, the church's multiple meeting venues were closed down, forcing believers to disperse into smaller groups.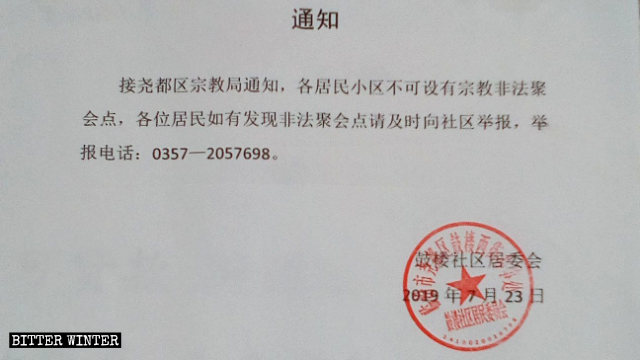 "It is important to note that the main reason Sola Fide churches are persecuted is their staunch refusal of joining the Three-Self Church rather than theology. To some extent, theological differences are tolerated in China, provided that churches accept to submit themselves to the Three-Self Church and accept its CCP-appointed leaders," Massimo Introvigne, the editor-in-chief of Bitter Winter, pointed out in his article about Sola Fide.
In mid-May, a Sola Fide house church meeting venue in Chenzhou city in the central province of Hunawn was shut down for refusing to join the Three-Self Church. Some church members told Bitter Winter that local Religious Affairs Bureau officials repeatedly pressured the venue's person in charge to join the official church since March. They stated that the new Regulations on Religious Affairs require all house churches to join the Three-Self Church and threatened that those who disobey CCP's orders "are bound to suffer." Believing that China's new law on religion is unconstitutional, the church leader refused to be governed by the state.
"Sermons at Three-Self churches don't follow the words of God at all; they incorporate national regulations and policies, the core socialist values, and traditional culture," a church co-worker told Bitter Winter. "Three-Self churches have been transformed into atheistic places. They are entirely under the government's control."
A Sola Fide house church in Hunan Province's Zhangjiajie city also came under suppression for refusing to join the Three-Self Church.
A congregation member recounted that in late March, government officials went to the homes of church members, following a list they had acquired, and attempted to force them to sign pledges to stop attending the church. They warned believers that not signing the document means breaking the law, and they will be imprisoned. Some elderly believers were threatened to have their state benefits and subsidies revoked. Several churchgoers signed the document under enormous pressure, and the meeting venue was shut down in April, all its assets were confiscated.
In late June, a Sola Fide meeting venue in Wuhan city in the central province of Hubei was also shut down, its preacher arrested.
A believer recalled that on the day of the raid, the police chased away congregants from the venue and took away the person in charge for interrogation, demanding to know how much donation money they had and who was responsible for keeping it. The believer remembered that one of the officials from the local Religious Affairs Bureau who raided the venue said that not a single illegal religious site would be allowed to exist in the area of his responsibility.
A Sola Fide meeting venue in Weihai, a seaport and a prefecture-level city in the eastern province of Shandong, was shut down in May. Since then, the congregation has been holding gatherings in secret. Believers are extremely cautious to evade surveillance; they no longer use phones to contact each other and take hidden mountain roads to get to their meetings, a church member told Bitter Winter.
Source: Bitter Winter