More than ten percent of the inhabitants of a mostly Uyghur-populated township in northwest China's Xinjiang Uyghur Autonomous Region (XUAR) have been jailed or are detained in "political re-education camps," according to local officials.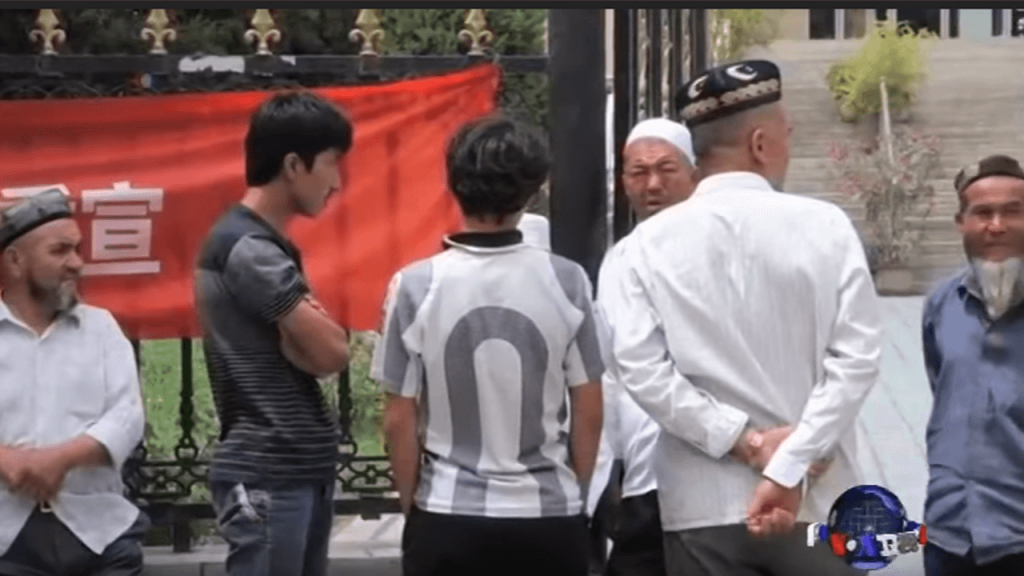 Beginning in April 2017, Uyghurs accused of harboring "strong religious views" and "politically incorrect" views have been jailed or detained in re-education camps throughout the XUAR, where members of the ethnic group have long complained of pervasive discrimination, religious repression, and cultural suppression under Chinese rule.
The head of the judicial department of Tuwet township, in Hotan (in Chinese, Hetian) prefecture's Qaraqash (Moyu) county, recently told RFA's Uyghur Service that more than one out of every 10 of the township's 32,000 residents had been imprisoned or detained in a re-education camp since April last year.
"There are 1,721 people in re-education camps," said the head of the department, who gave his name as Rozimemet.
"The number of people sent to prison is 1,731," he added.
An officer at the Chinibagh village police station, in the seat of Qaraqash county, recently told RFA that around 40 percent of the more than 1,700 residents of his home village of Yengisheher had been detained in re-education camps.
When asked if authorities in Tuwet township had been tasked with attaining a quota for jailing or detaining 40 percent of residents, Rozimemet said they had not, but he acknowledged that they had been given a target, without elaborating.
Camp network
China's central government authorities have not publicly acknowledged the existence of re-education camps in the XUAR, and the number of inmates kept in each facility remains a closely guarded secret, but local officials in many parts of the region have in RFA telephone interviews forthrightly described sending significant numbers of Uyghurs to the camps and even described overcrowding in some facilities.
Citing credible reports, lawmakers Marco Rubio and Chris Smith, who head the bipartisan Congressional-Executive Commission on China, said recently that as many as 500,000 to a million people are or have been detained in the re-education camps, calling it "the largest mass incarceration of a minority population in the world today."
Adrian Zenz, a lecturer in social research methods at the Germany-based European School of Culture and Theology, said the number "could be closer to 1.1 million, which equates to 10-11 percent of the adult Muslim population of the region."
China regularly conducts "strike hard" campaigns in Xinjiang, including police raids on Uyghur households, restrictions on Islamic practices, and curbs on the culture and language of the Uyghur people, including videos and other material.
While China blames some Uyghurs for "terrorist" attacks, experts outside China say Beijing has exaggerated the threat from the Uyghurs and that repressive domestic policies are responsible for an upsurge in violence there that has left hundreds dead since 2009.
Source: Copyright © 1998-2016, RFA. Used with the permission of Radio Free Asia, 2025 M St. NW, Suite 300, Washington DC 20036. https://www.rfa.org.