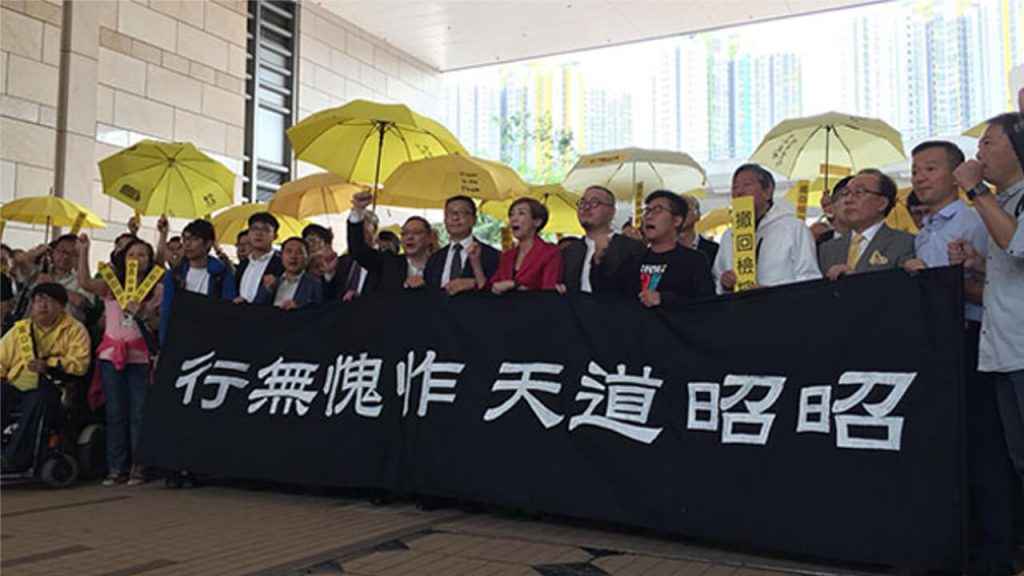 Authorities in Hong Kong on Monday put on trial nine prominent figures of the city's 2014 Occupy Central pro-democracy movement, four years after the event, on public order charges.
The three activists who initiated the movement — law professor Benny Tai, retired sociology professor Chan Kin-man, and reverend Chu Yiu-ming — face one count each of conspiracy to cause public nuisance, inciting others to cause public nuisance, and inciting people to incite others to cause public nuisance.
Former student federation leaders Tommy Cheung and Eason Chung, League of Social Democrats vice-chairman Raphael Wong, and lawmakers Tanya Chan and Shiu Ka-chun face two counts of inciting others to cause a public nuisance, while former Democratic Party lawmaker Lee Wing-tat faces one count.
Around 100 supporters gathered outside the West Kowloon Magistrate's Court on Monday, holding up banners calling for fully democratic elections.
"Civil disobedience! Peaceful resistance! No regrets!" they chanted. "We are not afraid! We want universal suffrage!"
The prosecution told the court that the actions of the seven were "unreasonable," and accused them of repeatedly calling on protesters to shut down parts of the central Admiralty district, where key government buildings are located, by blocking traffic with "illegal" sit-ins.
Prosecutors accused Tai, Chan and Chu of initiating the civil disobedience movement at a news conference in March 2013, as a way of achieving fully democratic elections, and of encouraging large numbers of people to take part.
Not guilty pleas
All nine pleaded not guilty to the charges, which were based largely on evidence of their statements made to the media at the time.
Speaking outside the court, Chan Kin-man said the case was a landmark one in Hong Kong's history, because the prosecution case was based on comments made in media interviews, a move he said could be a further blow to freedom of speech in the city. He welcomed a motion tabled by several British MPs expressing concern over the trial, and what they called "vague and ambiguous charges."
The motion "condemns the use of common law charges apparently intended to intimidate and silence pro-democracy figures including conspiracy to commit public nuisance, incitement to public nuisance and to incitement to incite public nuisance."
It said more than 100 pro-democracy protesters have been charged, and many jailed, on the basis of common law charges which curtail freedom of expression and have been criticized by the United Nations Human Rights Committee.
Hong Kong chief executive Carrie Lam called the motion "clear interference" by the MPs, however.
"A foreign government or foreign parliamentarians have asked us to make certain decisions on the prosecution – I believe this is a clear inference of internal affairs and is highly undesirable," Lam said on the sidelines of the Asia-Pacific Economic Cooperation (APEC) leadership summit in Papua New Guinea.
Hong Kong was promised the continuation of its traditional freedoms of speech and association by a mini-constitution drafted by U.K. and Chinese officials ahead of the 1997 handover to Chinese rule.
But those freedoms are now being eroded in the wake of repeated interventions in the city's political life by Beijing, according to overseas governments and human rights organizations.
The trial comes after student leaders Joshua Wong, Nathan Law, and Alex Chow were found guilty of public order offenses in July 2017 for their role in the occupation of a cordoned-off public space at the start of the movement.
Wong and Chow were convicted of "unlawful assembly" after they climbed into the fenced-off area outside government headquarters on the night of Sept. 26, 2014, at the start of a 79 day civil disobedience campaign for universal suffrage.
They were jailed after a retrial at the request of the justice department, which said their non-custodial sentences were too lenient, but were later released on appeal.
Reported by Lee Wang-yam for RFA's Cantonese Service, and by Gao Feng for the Mandarin Service. Translated and edited by Luisetta Mudie.
Source: Copyright © 1998-2016, RFA. Used with the permission of Radio Free Asia, 2025 M St. NW, Suite 300, Washington DC 20036. https://www.rfa.org.