The Chinese Communist Party (CCP) has mobilized people from all walks of life to gather information on believers and report on them.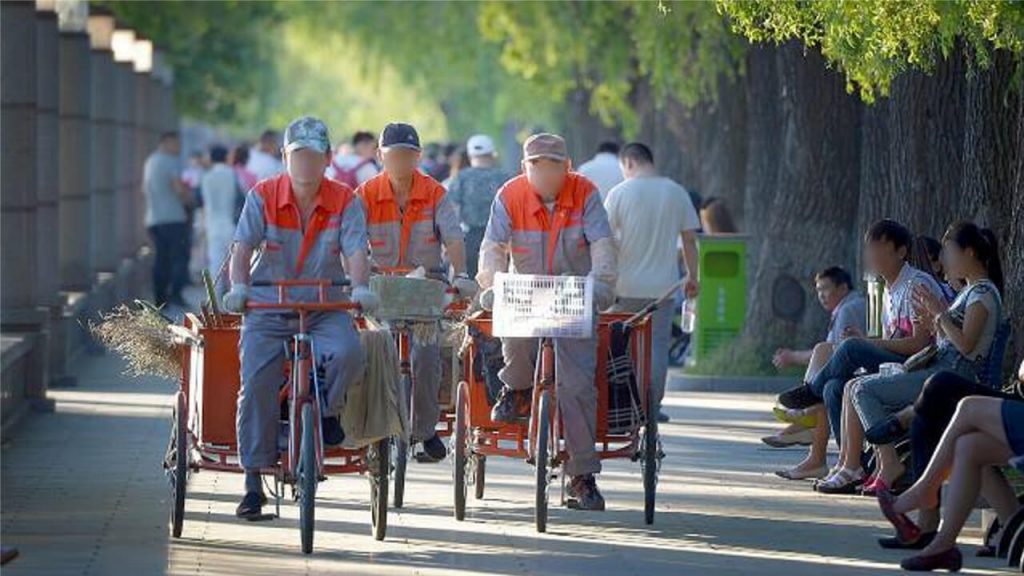 The CCP has implemented a reward-based reporting system and has mobilized sanitation workers, community building supervisors, retired seniors, waste pickers, and others to report information about Christians. The authorities have even encouraged government-controlled Protestant Three-Self Church adherents to report on house church worshipers.
In October 2017, civilian officers from a police station in Faku county, Shenyang city, found a man surnamed Wang who picks up scrap for a living, and lured him to help the government investigate Christians, "Picking up scrap is too tiring, and you make very little money," said the officers. "For every believer whom you report on, you will receive a reward of 5,000 yuan." Motivated by profit, Wang became a government informer, monitoring and investigating Christian believers.
In the spring of 2017, four officers from a police station in Daqing city, Heilongjiang Province, visited a local sanitation team and called on more than 70 sanitation workers to gather information on Christian believers. The police told the workers that anyone who heard about a religious meeting must secretly take photos or videos; those who reported it promptly would be appropriately rewarded. The police handed their business cards to each sanitation worker and then left. In June the same year, officers from another police station rounded up four sanitation workers and demanded that they looked out for strangers; upon discovering members of a religious gathering, the workers were told to inform the police so that the congregants could be tracked and monitored, without being alerted prematurely.
On June 2, 2018, government officials from Donggang city, Liaoning Province, arrived at a subordinate village and held a meeting. They arranged for every team leader to secretly observe religious adherents in each village, focusing on the senior personnel of churches, and keeping the whole operation a secret.
On May 26, during an election meeting in a village in Wangyefu, in the Harqin Banner of Chifeng city, Inner Mongolia, a police officer interrupted the meeting to mobilize more than 60 attendees to report on believers, with rewards given for doing so.
In May, a community in Hunchun city, Jilin Province, to implement the authorities' policy of "cleaning up" the attendees of house church gatherings, mobilized one full-time building director in each residential building and paid them each additional 120 yuan per month to investigate and find out the homes where sermons took place or religious gatherings were organized. Rewards would be given for reporting people, and those who did not report would be punished.
On April 13, the director of a unit in Bei'an city, Heilongjiang Province used a WeChat workgroup to mobilize team leaders to report information about China-based South Korean Christian churches within the jurisdiction.
On March 15, a Christian from a Three-Self church in the Acheng district, Harbin city, Heilongjiang Province, revealed that officials from the Bureau of Religious Affairs had ordered a pastor to record information on Three-Self Church believers, and also mobilized Three-Self Church believers to report Christians from house churches.
On February 28, a village in the Taizihe District, Liaoyang city, Liaoning Province, convened a meeting, during which officials from the district's Bureau of Religious Affairs issued an order to village cadres, "You must carry out strict checks of every corner in the village, including unidentified vehicles and suspicious persons. Whenever you find someone you cannot identify, you must restrain them. If you discover religious house gatherings, you must notify the police. For every believer whom you catch, you will receive a reward of 500 to 1,000 yuan. If you catch one of their leaders, you will receive a reward of 5,000 yuan."
On February 20, a community office in Jilin city, Jilin Province mobilized idlers and retired seniors to report the locations of house gatherings and collect information on Christians in the jurisdiction, and to register the cases of families who often have strangers visiting their homes.
Reported by Ling Tian
Source: BITTER WINTER