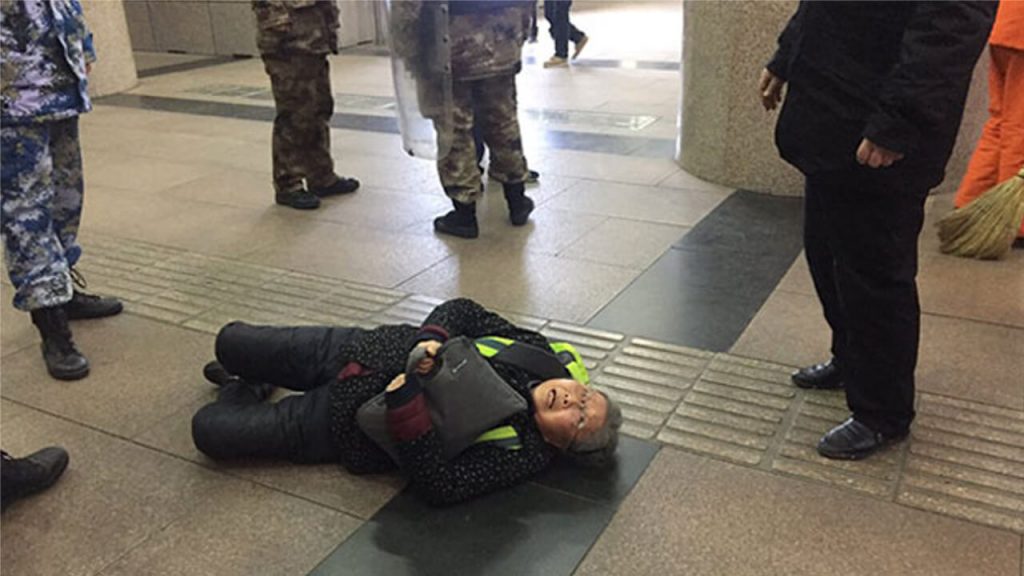 The mother of Chinese rights activist and website editor Huang Qi has been detained by official 'interceptors' in Beijing, who shoved her to the ground after she tried to take her calls for his release to the Chinese capital.
Pu Wenqing, who is in her eighties, was stopped by police during a trip to Beijing, the rights website Weiquanwang reported on Saturday.
She told RFA by phone that she was followed from the moment she got off the train from her home province of Sichuan by officials from her hometown of Neijiang, and thrown to the ground by the interceptors, law enforcers specifically hired by local governments to force petitioners to return to their hometowns and stop complaining about their actions to a higher level of government.
"The moment I got off the train, I was surrounded by seven or eight men, who then pushed me to the ground," Pu told RFA at the time. "They wanted to take me away."
"Wei Wenyuan was there too, and the police came when we shouted. I'm now in the police office [in the station]. My head hurts, and I have high blood pressure," she said.
Video footage of her detention showed Pu lying on the ground shouting: "They're beating me! They're beating me!" as the person shooting the video comments: "Huang's mother has been pushed to the ground by interceptors."
Weiquanwang quoted rights activist Zhang Baocheng as saying that local police from the Beijing West Railway Station, as well as state security police from the city's Fengtai district, had hurried to the scene and told him to mind his own business.
"We are extremely concerned about the fate of Pu Wenqing," the group said.
Zhang told RFA on Monday that Pu's wheareabouts are currently unknown, and that he is "extremely worried" about her.
"I haven't been able to find out her actual whereabouts," Zhang said. "The Beijing police are saying that Huang's mother was taken away by interceptors from Sichuan, who left a phone number."
He added: "I called the phone number and asked them about it, but the person answering said they didn't know and that it was the wrong number."
"So her status is currently disappeared," Zhang said. "I am sick with worry because her health is very poor; she has to take more than 20 different medications every day."
Huang's pre-trial hearing cancelled
Calls to the Beijing municipal police department rang unanswered during office hours on Monday.
A friend of Pu's from the Sichuan provincial capital Chengdu said she hasn't been able to track her down either.
"I haven't had any news of her today, and I've been trying to get in touch with her this whole time," the friend, who gave only her surname Wu, told RFA.
"It is Human Rights Day today, and several of us wanted to speak out on Huang Qi's behalf," she said.
Meanwhile, Huang's defense attorney Li Jinglin told RFA that the authorities have canceled a planned pre-trial hearing, without setting another date.
"The judge told me the reason for this was that they are pretty busy towards the end of the year, and they couldn't find a time for it," Li said on Monday. "I told him I'd come back to Sichuan [specially], but he said it couldn't be helped."
"I thought I might as well go and visit Huang Qi in the detention center, now that I've come all this way, but the staff there told me their system was down, and that they couldn't get online to check me in," he said. "So I wasn't able to get in [to see him]."
Huang, founder of the Tianwang rights website, which won an RSF prize in 2016, was arrested on Nov. 28 of that year and is being held at the Mianyang Detention Center in the southwestern province of Sichuan on suspicion of "illegally supplying state secrets overseas."
Fourteen rights groups called for Huang's immediate release on urgent medical grounds ahead of a United Nations review of China's rights record last month, warning that his condition is so serious that there is an immediate threat to his life.
Reported by Wong Lok-to for RFA's Cantonese Service, and by Qiao Long for the Mandarin Service. Translated and edited by Luisetta Mudie.
Source: Copyright © 1998-2016, RFA. Used with the permission of Radio Free Asia, 2025 M St. NW, Suite 300, Washington DC 20036. https://www.rfa.org.