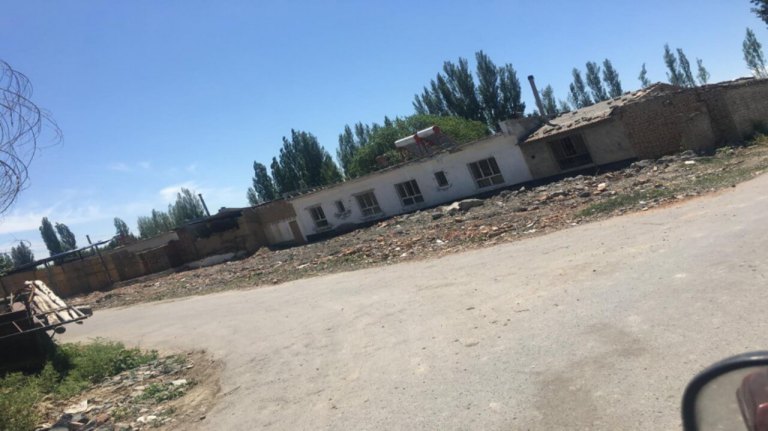 ADHRRF – Since Xi Jinping took power, religious beliefs and fundamental human rights of Muslims in Xinjiang have been subjected to destructive repression and persecution. Nearly a million people were sent to re-education camps, and innumerable mosques were demolished.
Recently the reporter visited the remains of a demolished mosque in Shawan County of Xinjiang. A local Muslim reported, "We lost our mosque and cannot pray. We are sad but dare not say out the words in our heart, or else we'll be arrested and sent to the educational conversion class."
As this Muslim reported, on April 15 of 2018, the authorities forcefully demolished their mosque of 350 m2 which the local Hui people raised funds to build. The authorities did not show any warrants or notification to the local people when they ordered the destruction of this mosque. The government sent an excavator, a fork truck and three trucks to the site, and the mosque was completely demolished in four days. During the time, police officers and staff members of the working unit from Village Shuimogou were on site supervising the process. And the mosque was surrounded by cordons.
Some Muslims were arrested when the mosque was being demolished, while others had no choice but to stay away from the cordons, sighing, shaking head, with mouth shut.
According to the findings, the Xinjiang authorities have demolished thousands of mosques since last year. Among over 800 mosques in Kumul City alone, only about 80 mosques survived the destruction campaign, and the star and crescent on the top of most mosques were removed, together with their domes.
As exposed by Bitter Winter previously, the CCP regime issued a confidential document, Suggestions on Consolidating and Improving the Work with Islam Under New Situation, to repress Islam. The document emphasized that the management of Islamic activities such as the construction, reconstruction and expanse of religious buildings must be strengthened, new religious buildings and places of worship should be prohibited, the principle of demolishing more and building less should be insisted. All of a sudden, plenty of mosques were subjected to destruction and most of them were razed to the ground overnight.