Bitter Winter has received a secret Communist Party document with a plan to close down churches and religious meeting places in Liaoning Province.
Since February 2018, following the implementation of the new national Regulations on Religious Affairs, authorities in the Chinese province of Liaoning have intensified their efforts to crack down on religion. Just in the period between March and May, at least twenty churches have been shut down, many have had their crosses dismantled, dozens of congregation sites have been closed, and several priests and pastors have been imprisoned.
In an internal Chinese Communist Party (CCP) document, local authorities in Liaoning Province are directed to crack down on "feudalistic superstition," dismantling religions "illegal establishments" that were "illegally constructed," and arresting and prosecuting "followers of xie jiao." In theory, xie jiao ("heterodox teachings") are considered only those movements listed as such by the authorities, which publish and periodically update a list of xie jiao. In practice, however, Article 300 of the Chinese Criminal Code, which punishes those active in a xie jiao with a jail penalty of three to seven years "or more," is increasingly applied to Christians whose house churches are not listed as xie jiao.
On March 15, 2018, a document, Two Special Tasks Notifications from the State Administration of Religious Affairs of P.R.C Regarding the Development of Religions Among People was issued. On April 9, the Liaoning Ethnic and Religious Affairs Committee issued orders to the offices of the Bureau of Religious Affairs in every city for a total reconnaissance of the locations of religious activities. They demanded a detailed census of religious believers and an "omission-free" list of places of worship and "congregation sites," specifying that even a small location, measuring only 10 square meters, should be regarded as a "congregation site" and listed if believers assemble there to pray.
The document states that the authorities will begin their census by carrying out trials in the cities of Dalian and Chaoyang, Benxi county of the city of Benxi, Tieling county of the city of Tieling, and Jianchang county of Huludao city. The aim is to identify unauthorized "congregation sites" and shut them down.
In fact, in the middle of March, multiple congregations in the cities of Zhuanghe and Fushun were ordered to stop assembling, under the pretext that they were "disturbing other citizens." One church in Zhuanghe, established 27 years ago, was banned from branching off through congregations, and one of its "congregation sites" had its cross sawed off as well.
Since the implementation of these regulatory operations, massive numbers of "congregation sites" have been forced to cease operations and have had their crosses forcibly dismantled and churches shut down.
Believers are afraid that the trial reconnaissance conducted in some counties and cities is just a preparation for a province-wide crackdown on religion.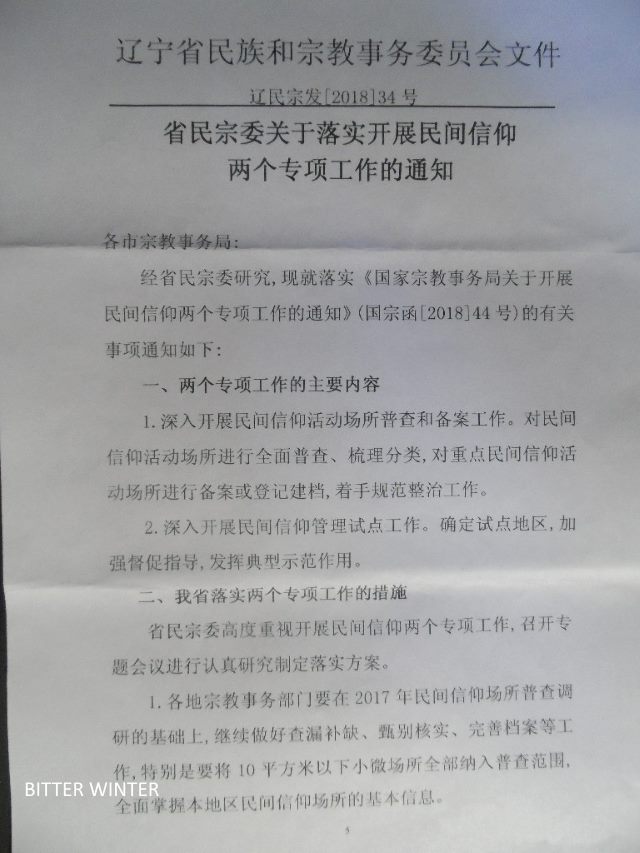 Source: BITTER WINTER