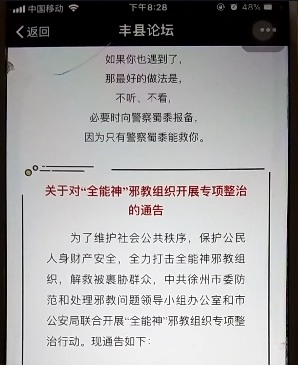 ADHRRF – On April 1, 2018, Chinese Communist authorities released a notice about the special crackdown on The Church of Almighty God (CAG) in Xuzhou," Jiangsu Province. Afterward, eight local Christians of this church were arrested by Chinese Communist police in the short span from April 10 to 15.
Recently, the reporter learns that at 9 a.m. on April 13, 2018, Li Chun (pseudonym) and another three female Christians in Tongshan, Xuzhou were suddenly arrested by the local police at a congregation. On that day, the police climbed over the wall to get into the courtyard, surrounded the meeting place, and then made the capture and raid, seizing SD cards and MP5 players used for Christians meetings, etc. At 3 a.m. the next day, Lichun and another Christian were released after their families went through connections. The other two Christians were detained for 8 days and paid RMB200 for meal expenses before their release.
At about 3 p.m. on April 15, the police re-arrested Li Chun and released her after 5 days.
At 9 a.m. on April 21, Christian Wang Zhen (pseudonym) was arrested by Chinese Communist police. Because one of Wang's relatives works at police post, Wang was released on the same day.
At 1:30 p.m. on April 15, another 3 Christians of CAG in Xinyi were unfortunately arrested as a result of being reported to the police by an informant.
Sources have said that in order to arrest Christians, now the Chinese Communist plainclothes policemen even disguise themselves as dolts or idiots to stalk Christians. The religious situation in mainland China is deteriorating drastically.
In addition, the authorities defined CAG as "Xie Jiao" and offered rewards for tip-offs in this special crackdown notice. It is learned that the Chinese Communist government listed the CAG, the Shouters, All Ranges Church and some other Christian house churches as "Xie Jiao" in 1995, and then began its suppression and crackdown on all the house churches, including the CAG, in the name of combatting cults.