Authorities in India's Tamil Nadu state on Friday arrested at least 15 Tibetans, including the head of the Tibetan Youth Congress (TYC) exile group, as they protested an informal summit between visiting Chinese President Xi Jinping and Indian Prime Minister Narendra Modi.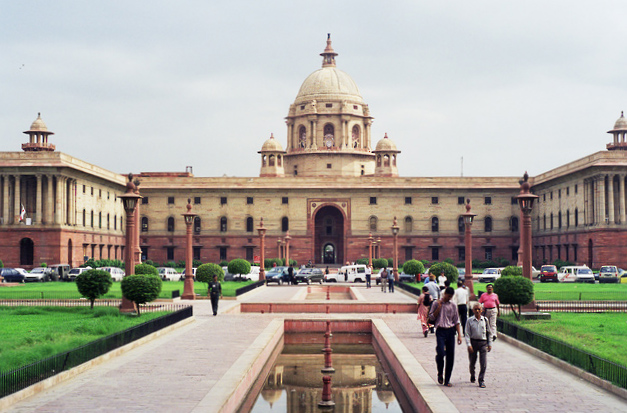 Police detained TYC president Gonpo Dhundup and 14 Tibetan students in several locations ahead of Xi's arrival in the city of Chennai, according to TYC and media reports, including the airport and a highway leading to a seaside resort in the town of Mamallapuram, where the two leaders kicked off an informal summit to improve Sino-Indian relations amid trade and border tensions.
Sonam Tsering, General Secretary of the TYC, told RFA's Tibetan Service that police had arrested 15 of his group's members as they waited for the Chinese leader's entourage in Chennai.
"Initially, we tried to wait until Xi arrived at his hotel, but six of us were detained there, while police arrested six of our other Tibetan youth protesters from where they waited at the airport exit," he said.
"We have three other protesters who were to demonstrate ahead of Xi's arrival at the airport, but they were arrested moments ago."
Reuters news agency reported that Dhundup shouted, "We want freedom," as he was "wrestled away by six policemen" and taken away in a waiting autorickshaw, citing a video shared by TYC.
TYC is based in India's hill town of Dharamsala—home to Tibet's exiled spiritual leader the Dalai Lama and the seat of the Tibetan government-in-exile—and India has taken special measures to prevent Tibetans from protesting Chinese rule in Tibet.
The Dalai Lama fled Tibet into exile in India following a failed 1959 national uprising against rule by China, which marched into the formerly independent Himalayan region nine years earlier.
Chinese authorities have maintained a tight grip on Tibet and on Tibetan-populated prefectures of Chinese provinces ever since, restricting Tibetans' political activities and peaceful expression of ethnic and religious identity, and subjecting Tibetans to persecution, torture, imprisonment, and extrajudicial killings.
Earlier on Friday, TYC issued a press statement saying it "strongly condemns" Xi's visit following China's celebration of the 70th anniversary of Communist rule on Oct. 1, which it called a recognition of "70 years of oppression and aggression against the people of Tibet."
The statement urged Modi to take up the issue of Tibet with Xi during their informal summit and called on the Indian government to release TYC cultural secretary Yeshi Chomphel, Students for a Free Tibet-India national director Rinzin Choedon, and prominent Tibetan activist Tenzin Tsundue, along with Tibetan students who are being held by police prior to Xi's arrival.
"We also urge the Indian government for the quick release of TYC President Gonpo Dhundup along with 11 students members of RTYC Bangalore who were arrested today just before the president Xi Jinping's arrival at the summit venue," the statement said.
Earlier arrests
The arrests on Friday brought to at least 50 the number of Tibetans held in the lead up to Xi's visit, including a stringer for RFA's Tibetan Service assigned to cover the event, who has spent two nights in detention.
Kathmandu, which hosts Xi this weekend for a rare visit by a Chinese leader, has prevented 33 Tibetan delegates based in Nepal from returning home after they attended a major meeting of Tibetan exile groups from around the world in Dharamsala, the delegates told RFA on Thursday.
Of the 33, three delegates were able to slip back into Nepal just before the restriction was imposed, five delegates were sent back to India from the Nepalese border, and the rest are still stranded in India, the delegate said.
Nepali media have reported that Nepal is preparing to sign an extradition treaty with China during Xi's visit, raising concerns from human rights groups about the fate of Tibetans in the Himalayan country.
On Friday, Washington-based International Campaign for Tibet (ICT) issued a statement outlining its concerns over Tibetans' status in Nepal ahead of Xi's visit, noting that at least 18 Tibetans were detained by police, although some of them were subsequently released.
Responding to reports that Nepal may sign an extradition deal with China, ICT president Matteo Mecacci said his organization is concerned that such a treaty could "effectively further jeopardize the situation of Tibetan refugees in Nepal, whose status has been precarious for a long time."
"We call on the Nepalese authorities not to sign an extradition treaty with China and on the international community to be vigilant and protect the rights of Tibetans in Nepal," he said.
ICT said that Nepal's ability to counter China's heavy-handed approach on Tibet has been increasingly compromised, particularly since Nepal joined the "One Belt One Road" initiative in 2017, with promises of millions of dollars of Chinese investment in Nepalese infrastructure projects that Beijing has tied to Nepal's "role in guarding against Tibetan separatists," according to state media.
The group said that following a crackdown in Tibet in 2008, and an ensuing tightening of border controls, there has been a dramatic decline in the number of Tibetan refugee arrivals in Nepal, while "thousands of Tibetans remain stateless and in political limbo" in the Himalayan nation.
A 2009 survey put the number of Tibetans in India at about 128,000 and 13,500 in Nepal.
Reported by RFA's Tibetan Service. Translated by Tashi Wangchuk. Written in English by Joshua Lipes.
Source: Copyright © 1998-2016, RFA. Used with the permission of Radio Free Asia, 2025 M St. NW, Suite 300, Washington DC 20036. https://www.rfa.org.