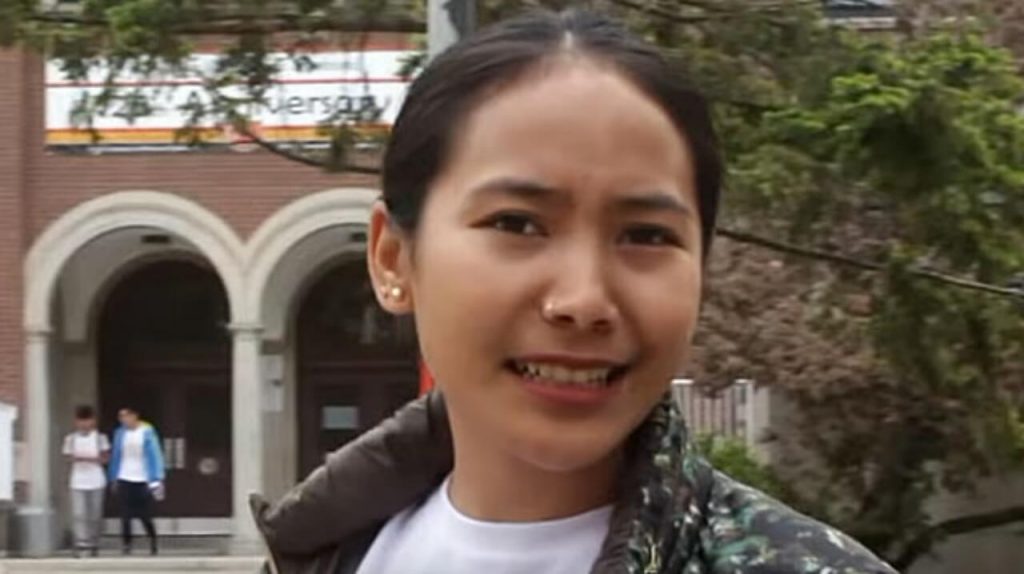 An independent group of overseas Chinese students has hit out at Communist Party-backed student groups on overseas campuses, following reports that they threatened and harassed Uyghur and Tibetan activists campaigning against Beijing's human rights violations.
The Independent Federation of Chinese Students and Scholars in USA (IFCSS) said it was "deeply concerned" about reports that have emerged from universities in the United States, Canada, France, Ireland, and the Netherlands of the coordinated targeting of activists campaigning against China's treatment of ethnic minorities.
It said that "apparently organized pro-CCP (Chinese Communist Party) students harassed, abused and threatened Uyghur and Tibetan students, concerned scholars and activists," in incidents at McMaster University and the University of Toronto in Canada, and Duke University in the U.S.
Similar reports have also emerged from students at the University of Strasbourg in France and University College Dublin and from activists in the Netherlands, it said.
"We strongly denounce these Chinese students' efforts to stymie free speech and suppress the truth about the ongoing genocidal crimes committed by China's murderous regime," it said.
The group called on authorities in the countries concerned "to protect Uyghur and Tibetan students and scholars from intimidation on campus and guard their citizens of Uyghur and Tibetan backgrounds against foreign threats at home."
It called on police to investigate possible crimes that may have been committed, and to investigate the role of the Chinese government in the incidents.
Threat to son
Uyghur activist Rukiye Turdush, whose lecture on the mass incarceration of Uyghurs and other ethnic minority Muslims in China's Xinjiang Uyghur Autonomous Region (XUAR) was disrupted by Chinese students, said in a video statement that German broadcaster Deutsche Welle had reported that the students had discussed locating her son.
"According to [this evidence], these students tried to threaten my son," she said. "I am here: you can deal with me. I don't understand why they look for my son. It's quite disturbing."
A message in a screenshot of a group chat cited by the Deutsche Welle article said: "We should figure out who her son is."
Turdush said the issue was a violation of academic freedom in Canada, and of the freedom of speech.
"The Chinese consulate, using these students, infiltrated [the] academic field in Canada," Turdush said, calling on the Canadian government and Western society to stand up for democracy. "This is a war between atrocity and liberal democracy," she said.
In one screenshot shared by journalist Bethany Allen-Ebrahimian, Chinese students at McMaster discuss the use of video equipment to record Turdush's presentation.
The group, titled "MU Rationally Oppose Xinjiang Independence" was created specifically to oppose this particular lecture, and some of its members reported being in contact with the Chinese consulate, which asked them to observe whether other Chinese nationals and university officials were present, according to a screenshot posted to Allen-Ebrahimian's Twitter account.
Turdush said she was also "verbally insulted" during the discussion that followed her speech, and that the students had issued a statement via the Beijing-backed Chinese Students and Scholars Association (CSSA) using language identical to the Chinese government's official statements on Xinjiang.
Ties to consulate
"When I read the joint statement, I heavily suspected that these students have some connection with the Chinese consulate, and [that] they are instructed by the Chinese consulate, because the language of the statement echoed the CCP and the Chinese consulate," she said. "I strongly believe that these students are instructed by the Chinese government."
She added: "More than two million, probably several million, Uyghurs are locked up in concentration camps and subjected to physical and psychological torture, and that 1.6 million Han Chinese [officials] have been posted in Uyghur homes and Uyghur families, spying on Uyghurs, grossly violating Uyghurs' privacy."
"Uyghur individuals' physical and mental autonomy is totally taken away," Turdush said.
Expanding influence
Meanwhile, Canada-based Chinese activist Sheng Xue, who spoke out against a similar incident targeting a Tibetan activist, said the Chinese government continues to extend its influence at every opportunity, far beyond its borders.
"The CPC's control over the Chinese isn't just at home, but has woven a huge network through the international community," Sheng tweeted.
"It uses money, vested interests, intimidation, lies and so on to control countless Chinese throughout the international community," Sheng wrote.
"Overseas students bear the brunt; they do not have the nationality of other countries to protect them and they may have to go back to China, so they become cannon fodder for the Chinese Communist Party overseas."
Reports also emerged this week that Tibetan student Chemi Lhamo, 22, had received a torrent of hate messages after being elected student president at the University of Toronto's Scarborough campus (UTSC).
One comment read: "China is your daddy — you better know this," while another threatened her, saying "we will make sure things get done so u won't survive a day. Peace RIP."
'This won't affect me'
Meanwhile, a petition calling on Lhamo, who has been active in the Free Tibet movement, to step down garnered nearly 10,000 signatures, and screenshots calling Lhamo a "Tibetan separatist" were shared via social media.
Lhamo issued a statement saying she wouldn't be influenced by the hate mail.
"They won't affect me; on the contrary. I hope that this incident will make more people aware of freedom and democracy," she said.
"This isn't just about me; it's about the Chinese government's infiltration of Canadian universities," she said.
Requests to UTSC for comment went unanswered by time of writing on Thursday.
Reported by Liu Fei for RFA's Mandarin Service, and by Fok Leung-kiu and Ma Lap-hak for the Cantonese Service. Translated and edited by Luisetta Mudie.
Source: Copyright © 1998-2016, RFA. Used with the permission of Radio Free Asia, 2025 M St. NW, Suite 300, Washington DC 20036. https://www.rfa.org.