Authorities in the eastern Chinese province of Jiangsu have placed a prominent rights activist under criminal detention after she "disappeared" earlier this month.
Xu Qin, a key figure in the China Human Rights Observer group founded by detained veteran dissident Qin Yongmin, is likely being held on suspicion of "picking quarrels and stirring up trouble," a public order charge typically used in the initial detention of activists, a fellow activist said.
Her family are currently seeking a defense attorney to represent her.
Xu had recently spoken out in support of a number of high-profile human rights cases, including that of detained human rights lawyer Yu Wensheng.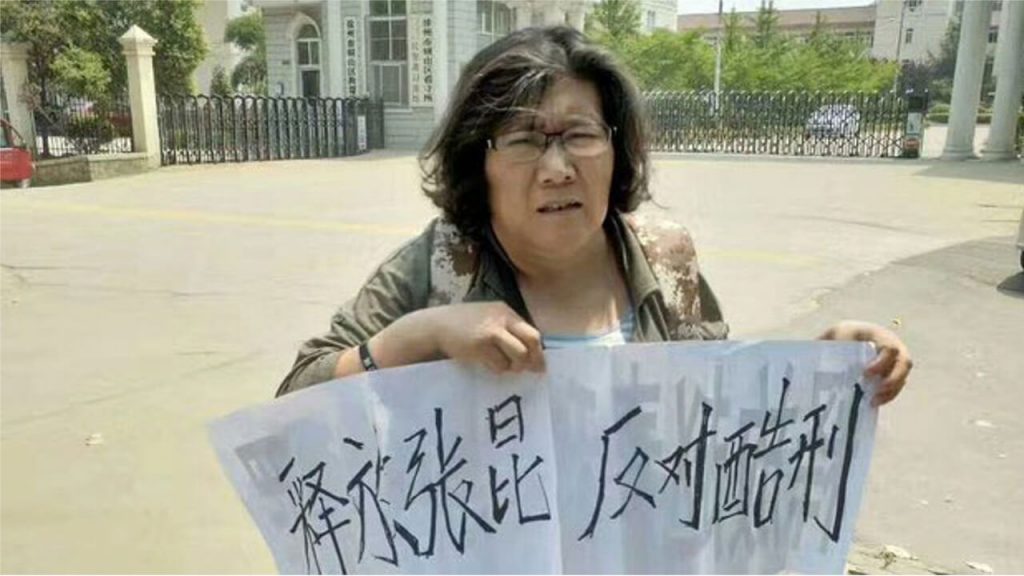 Police in Gaoyou city, which is under the administration of Jiangsu's Yangzhou city, called Xu's son Guo Chen to inform him of his mother's detention, fellow Hubei rights activist Chai Jinyuan told RFA.
"The Gaoyou police department of Yangzhou city called him [on Thursday] morning to say she had been criminally detained," Chai said. "They also gave him a message from his mom, which was that he hire Li Weida, a lawyer from Hebei."
"I'm guessing it's picking quarrels and stirring up trouble; it's very easy for them to make anything fit into that charge," Chai said, adding that the charges could be linked to Xu's public support for Yu Wensheng.
"She recently organized a private petition for Yu, and I also got messages from friends in Wuhan saying that she went there recently to try to find Zhao Suli," he said.
Zhao Suli, the wife of Qing Yongmin, was detained alongside her husband in January 2015, and both were initially held in unknown locations.
But while Qin has since been tracked down by friends and lawyers to a detention center in the central city of Wuhan, Zhao had been in an unknown location for nearly three years, before resurfacing last week in the city's Peace Park, where she was allowed to spend time with relatives and call her son in the eastern province of Anhui.
"I'm pretty sure she used a fairly secure app to talk about that, but it seems that they found out about it one way or another," Chai said.
Calls to Guo Chen's cell phone rang unanswered on Thursday.
Health and safety worries
A friend of Xu's surnamed Xue said her friends and fellow activists are very concerned for her health and safety.
"All Xu Qin ever did was to promote progressive and civilized social values, and I can't guess why she has been detained," Xue said.
"I hope the authorities will be able to supply us with some legal documentation pretty soon, and things might improve once a lawyer gets involved," he said.
A friend surnamed Zhao said Xu had always been a "courageous and active" supporter of human rights.
"As to why she was detained, it could be because of her financial support and New Year greetings for the parents of [detained singer-songwriter] Xu Lin in Guangdong, or it could be her support for Sui Muqing [whose license to practice was recently revoked] or Yu Wensheng," she said.
Yu Wensheng has been held since Jan. 19 in connection with online posts deemed critical of the ruling Chinese Communist Party, on suspicion of "incitement to subvert state power."
He has been denied access to a lawyer or visits from his friends and family.
A fellow activist surnamed Ling said he had visited Xu Qin while she was already under round-the-clock surveillance by state security police at her home.
"When I went back a second time on Feb. 9, I wasn't able to see her," Ling said. "Her domestic helper told me that she had gone shopping, but then we lost touch with her."
Ji Xinhua, a rights activist based in Beijing, said the cases of Qin Yongmin, Zhao Suli, Xu Qin and Sui Muqing are all interconnected.
"These people are all connected to each other, and [Xu] was pretty outspoken," Ji said. "The government is cracking down harder and harder on people who dare to speak out, so she would have been at risk."
"She probably thought they would be kinder than they are, and now she's been locked up for more than a month," he said. "If she gets formally arrested, then it'll be bad news."
Source: Copyright © 1998-2016, RFA. Used with the permission of Radio Free Asia, 2025 M St. NW, Suite 300, Washington DC 20036. https://www.rfa.org.