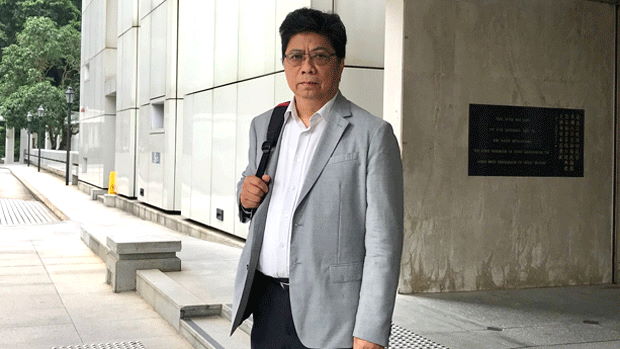 Hong Kong journalists are seeking a judicial review into the actions of police officers attacking, abusing, and obstructing journalists covering the protest movement.
The Hong Kong Journalists Association (HKJA)'s application, which is based on multiple allegations of police misconduct since the anti-extradition movement gripped the city in early June, was heard by a High Court judge in the city on Wednesday.
HKJA has repeatedly called for an independent inquiry into police violence, citing complaints from reporters, photographers, and camera operators that police have repeatedly used abusive and insulting language, shone bright lights at them to spoil camera footage, and obstructed their reporting of protests and arrests.
The union has also received numerous reports of journalists being shot with rubber and textile bullets and targeted with pepper spray, tear gas, and water cannon, as well as being beaten and kicked by officers.
Judge Anderson Chow declined to consider individual cases on Wednesday, saying that verifying the facts of every single complaint could take years. He said the court could decide whether the police have a responsibility to cooperate with the media and if so, to what extent.
Chow said some of the complaints were linked to the widespread failure of police officers to carry visible warrant cards or ID numbers, and that similar complaints were also the subject of other judicial reviews, suggested they could be considered together.
HKJA chairman Chris Yeung said the court would now need time to consider the evidence it had submitted.
"We want the court to consider that the police, in acting against the law and against the Police General Orders that require them to facilitate the work of media reporting, have been doing their jobs in an illegal manner," Yeung said.
"That is what the judge will now study."
'Approval and support'
The case came as Beijing on Wednesday expressed its "approval and support" for the decision by a Hong Kong official to bar Joshua Wong, a former leader of the 2014 pro-democracy movement, from running in forthcoming district council elections.
Wong has said the move is a form of political screening, but an official in Beijing's Hong Kong and Macau Affairs Office (HKMAO) said Wong supports independence for the city, an idea that is anathema to the ruling Chinese Communist Party.
HKMAO official Yang Guang said Wong has publicly denied that Hong Kong, a British colony until July 1, 1997, is now a part of China.
"We express approval and support of this decision," Yang said, describing Wong as a "chief culprit" in challenging Beijing's authority in the city, which was promised a high degree of autonomy under the terms of a 1984 Sino-British treaty governing the handover.
Wong was the only candidate barred from standing in elections next month for seats on district councils, the first elections to be held since the protest movement escalated.
Wong and his party, Demosisto, have denied supporting independence for the city, but are in favor of a referendum for its seven million inhabitants to decide their own future.
The administration of Hong Kong chief executive Carrie Lam formally withdrew the hated amendments to the city's extradition laws earlier this month, fulfilling the first of the protest movement's five demands.
Vow to continue
But protesters say they will continue to protest until there has also been an amnesty for thousands of people arrested during the movement, the withdrawal of the official term 'rioting' to describe some gatherings, an independent inquiry into police violence against protesters, and fully democratic elections to the Legislative Council and for the post of chief executive.
In recent weeks, protesters have also begun calling for the current Hong Kong police force to be disbanded, particularly after widespread reports of the sexual abuse and torture of detainees at the hands of police.
Police have fired thousands of rounds of tear gas and rubber bullets at protesters and arrested more than 2,300 people since June, many of them minors.
Two people have meanwhile been shot with live rounds, while there is widespread anger over the police failure to arrest and prosecute pro-China thugs who have attacked the general public and a number of prominent figures in the movement, including Civil Human Rights Front convenor Jimmy Sham, who was left with serious head injuries after a hammer attack earlier this month.
London-based rights group Amnesty International has hit out at the Hong Kong police over the torture and other ill-treatment of anti-extradition protesters in detention, as well as the reckless and indiscriminate use of force.
Reported by Lau Siu-fung for RFA's Cantonese Service, and by Lu Xi for the Mandarin Service. Translated and edited by Luisetta Mudie.
Source: Copyright © 1998-2016, RFA. Used with the permission of Radio Free Asia, 2025 M St. NW, Suite 300, Washington DC 20036. https://www.rfa.org.