Plans to amend China's constitution to allow President Xi Jinping to remain in office indefinitely have prompted vocal opposition in the former British colony of Hong Kong, where many fear a more authoritarian leadership style in Beijing could spell the end of the city's traditional freedoms.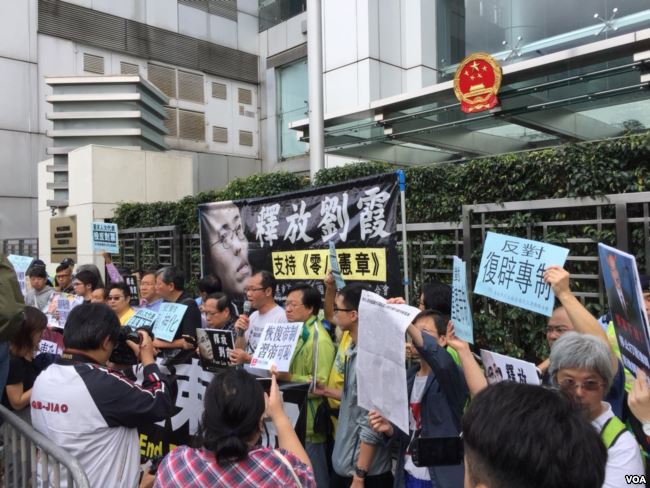 Dozens of protesters took to the streets at the weekend, marching to the ruling Chinese Communist Party's central liaison office in the city, calling for the two-term limit on presidential office to be retained.
Hong Kong lawyer Albert Ho, head of protest organizers the Hong Kong Alliance in Support of the Patriotic Democratic Movement in China, called on members of China's National People's Congress (NPC) to vote against the amendments during its current annual session.
"A system of lifelong tenure with no limits would be a return to imperial China," Ho told the rally. "We are outraged at this, so we have come to make our voices heard to delegates."
Delegates to the NPC and its advisory body, the Chinese People's Political Consultative Conference (CPPCC), are currently meeting for their annual session in Beijing.
"We want them to vote against this," Ho said. "In particular, the NPC delegates from Hong Kong. They should lose all their authority with the people of Hong Kong if they come back and say that they blindly voted along with this."
But Hong Kong NPC delegate Peter Wong told reporters on Monday that the proposed changes were "a step forward."
"You have a supervisory committee to check on all government public servants, including the president and the vice-president," he said in comments quoted by government broadcaster RTHK.
"If they are not doing their job, the supervisory committee should act. So it is a more enhanced democratic system."
And outgoing NPC standing committee member Rita Fan said there currently aren't any alternatives to Xi.
"I don't think we can see anyone on the horizon who can pick up this leadership role other than President Xi," Fan said. "So to remove that limitation on two terms, which therefore allows Xi possibly to have a third term, I think is very important for China's development at this stage."
Hong Kong labor union leader and veteran rights activist Lee Cheuk-yan said the Alliance is implacably opposed to lifelong tenure for China's president, however.
"We have come here to oppose lifelong tenure, to oppose the restoration of imperial rule," Lee told protesters. "We hold to the ideals of democracy … and we must now stand up, not just to authoritarian rule, but to a dictatorship."
'One-man imperialistic rule'
He noted that the CPPCC's annual report had failed for the first time since the 1997 handover to Chinese rule to allude to Hong Kong's special status and "high degree of autonomy" that formed part of a 1983 Sino-British treaty on the city's future.
"We have lost one country, two systems, and lost the high degree of autonomy," Lee said. "Now we can see what kind of dream Xi Jinping's Chinese dream is going to be: it's a dream of one-man imperialistic rule."
Premier Li Keqiang's annual work report to the NPC on Monday also left out any reference to Hong Kong's autonomy, focusing instead on integration with the mainland Chinese "hinterland."
"The practice of 'one country, two systems' was continuously enriched and developed, the authority of the Constitution and the Basic Law was further highlighted, in-depth promotion of exchanges and cooperation between the mainland and Hong Kong and Macau was achieved," the premier said.
"We must support the integration of Hong Kong and Macau into the general development of the country … We firmly believe that Hong Kong and Macau will surely develop and thrive together with the hinterland of the motherland," Li said.
Democratic Party lawmaker Andrew Wan said he believes that the change in wording is no accident.
"If words are missing from the work reports for the CPPCC and the NPC, this doesn't happen accidentally," Wan said. "My own feeling is that this is a matter of huge concern for the people of Hong Kong."
"This is a warning signal … telling us that the high degree of autonomy of Hong Kong people in administering Hong Kong is now less important to the central government than it was," he said. "I wish it wasn't so, but the message seems obvious."
He said Li's reference to the "authority" of the central government likely means the recent debarring of six pro-democracy lawmakers from the city's Legislative Council, after their oaths were ruled insufficiently "solemn and sincere" by the NPC standing committee.
Joshua Wong, one of the student leaders of the 2014 pro-democracy movement in Hong Kong, tweeted on Monday that Beijing is now taking a tougher line across the board.
"We've already known about Beijing's new approach to governing HK: hardline control," Wong wrote on his Twitter account.
"The Chinese Government's recent decision to remove presidential term limits — allowing Xi to stay in power indefinitely — signals an even sharper turn back to China's darkest days of autocracy," he said.
Source: Copyright © 1998-2016, RFA. Used with the permission of Radio Free Asia, 2025 M St. NW, Suite 300, Washington DC 20036. https://www.rfa.org.