Authorities in the southern Chinese province of Guangdong cremated the remains of a rights activist who died in police custody in 2015 without telling his family, amid continuing suspicions among relatives over the cause of death.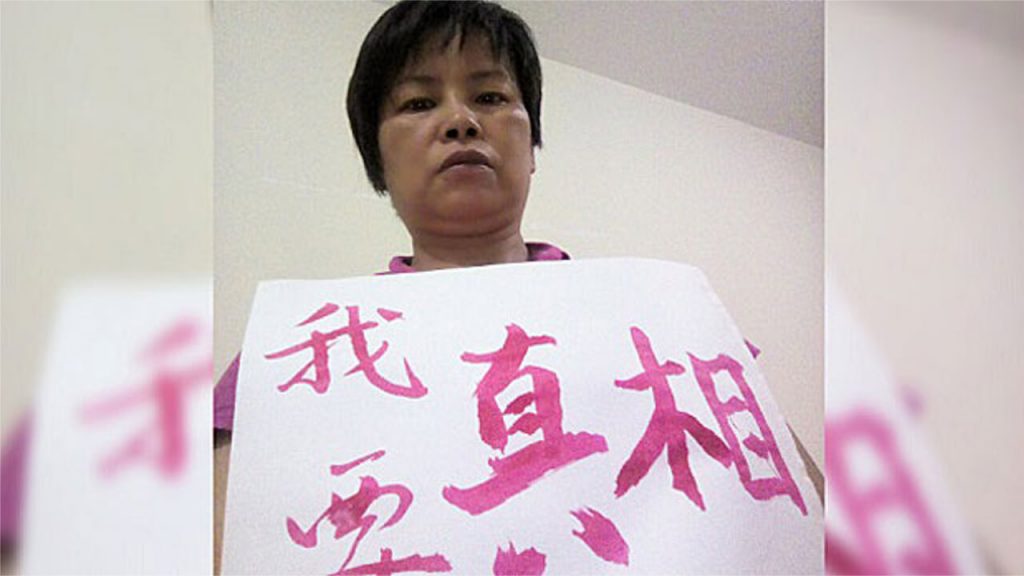 Zhang Liumao's cremation went ahead in the provincial capital Guangzhou on Jun. 15, before the scheduled date.
But when the family showed up Guangzhou's Galaxy Cemetery last week, they were told that the cremation ceremony had been canceled, with no reason given.
Zhang's sister Zhang Weichu said police had informed the family by calling on her at home on Friday.
"He was the head of the Guangzhou No. 3 Detention Center, who gave only his surname, Hu," she said.
"He said that the body of Zhang Liumao, formerly of his detention center, had been cremated according to law on Jun. 15."
Zhang Weichu said the family is still trying to obtain crucial documents relating to the circumstances of her brother's death.
Zhang died while in custody at the Guangzhou No. 3 Detention Center on Nov. 4, 2015, with his family reporting that his body showed multiple signs of severe physical assault when they identified it.
Relatives and a lawyer who viewed Zhang's body said there was evidence of serious injuries, including rectangular marks and curved, bloodied areas, and possible signs of a broken arm.
Repeated calls to the Guangzhou municipal government offices resulted in a busy signal during office hours on Friday.
And an officer who answered the phone at Beijing's Xicheng district police department on Friday declined to comment.
"You need the press center," the officer said. But calls to the press office rang unanswered.
Avoiding enquiries
Rights lawyer Chang Boyang said he believes the authorities cremated Zhang's body quickly to deflect enquiries about the cause of his death.
"No further autopsies can be carried out to determine the cause of death, if the body has been cremated," he said. "We have no way to continue with this, because the chief evidence was the body."
Patrick Poon, China researcher for the London-based rights group Amnesty International, said the Guangzhou police had acted illegally, unreasonably, and without compassion in cremating Zhang's remains in secret.
"The authorities haven't provided a clear explanation, and if any investigation was done, they haven't informed the family of any evidence they found," Poon said.
"If there was nothing suspicious in their report, they should have given a copy to the family," he said. "Now that there's no body, it's going to get harder and harder to get to the truth of the matter."
"The authorities should offer an explanation that the family can trust," Poon said.

Sisters also targeted
Zhang's sister Zhang Weichu, an experienced gynecologist, has lost her job and been evicted from her home along with her young son since taking up her brother's case with the authorities.
She has been unable to secure another job as a doctor since being fired from the Vanke Hospital in Guangdong's Qingyuan city on Aug. 31, and fears she will be barred from such work in the future.
Meanwhile, Zhang's second sister Zhang Wuzhou has also been targeted by the authorities in connection with her rights activism.
"We were at the court [in Beijing] filing a lawsuit, and Zhang Wuzhou was wearing a T-shirt with a slogan supporting … railway workers," fellow activist Li Weijie told RFA on Thursday.
"When we were done, Zhang Wuzhou was taking photos, and the court police ordered her to delete the photos," he said. "Zhang Wuzhou refused … and was detained along with her friend."
"The court police grabbed her and pinched her arm and one of them kicked her butt, and then they took her into another room where they smashed up her cell phone," Li said.
Zhang Weichu said on Thursday: "We don't know how long she's being detained for … but I'm pretty sure they think that the problem [of our brother's cause of death] will go away if they just detain us."
Source: Copyright © 1998-2016, RFA. Used with the permission of Radio Free Asia, 2025 M St. NW, Suite 300, Washington DC 20036. https://www.rfa.org.