Prohibited from observing Christmas, the Chinese were urged instead to salute and worship the Great Helmsman, Mao Zedong, on his 126th birthday on December 26.
by Li Mingxuan
Amid government-imposed bans on Christmas last year, not all churches in China were allowed to celebrate the birth of Christ. Those who managed to do so reported that services reminded more of government propaganda gatherings and had barely anything to do with Christmas. CCP officials throughout the country pulled all the stops to make sure that no celebrations were held on December 25, in churches or elsewhere. The next day, however, they encouraged people to gather and worship "the other great man" – Mao Zedong.
Stay away from Western holidays
On Christmas morning, people started arriving early to Grace Church, a state-approved Three-Self church in Ningling county's Chengjiao township, administered by Shangqiu city in the northern province of Henan. But all were driven out by a local religious affairs administrator, who ordered one of the congregation members to stand guard at the door and prohibit other believers from entering the church.
"We came from afar, soaked through by the rain," a believer complained helplessly. "Still, the government would not allow us to celebrate Christmas." She added that that day, officials from all levels of government –village, township, county, city, and province – came to the church to make sure that no one was celebrating Christmas. They all took photos and left.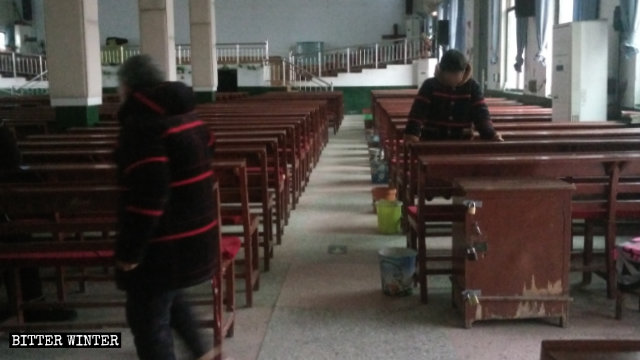 On Christmas Eve, a local government official warned the person in charge of the Liji Church in the county's Qiaolou township that the church would be sealed if anyone came to celebrate Christmas the next day.
Educational institutions, from kindergartens to universities, were also scrutinized by the government ahead of Christmas. According to the information received by Bitter Winter, governments of localities in Henan, Liaoning, Shandong, Jiangxi, and other provinces issued special orders, prohibiting any Christmas-related activities for children and young adults.
The Education Department of Qi county in Henan's Hebi city issued a notice ahead of Christmas, banning celebrations in kindergartens and schools under its jurisdiction, threatening to punish all violators.
A source from Puyang, a prefecture-level city in Henan, revealed to Bitter Winter that a middle school teacher repeatedly told her students that Chinese people, especially the young, should stay away from Western things. "You should only believe in the Communist Party, not Jesus. If you are found celebrating Western holidays or going to church," the teacher warned, "you'll be dismissed from school. Teachers who receive Christmas gifts will also be punished." All students in the school were required to pledge an oath "to reject religion and Western holidays," standing by the national flag.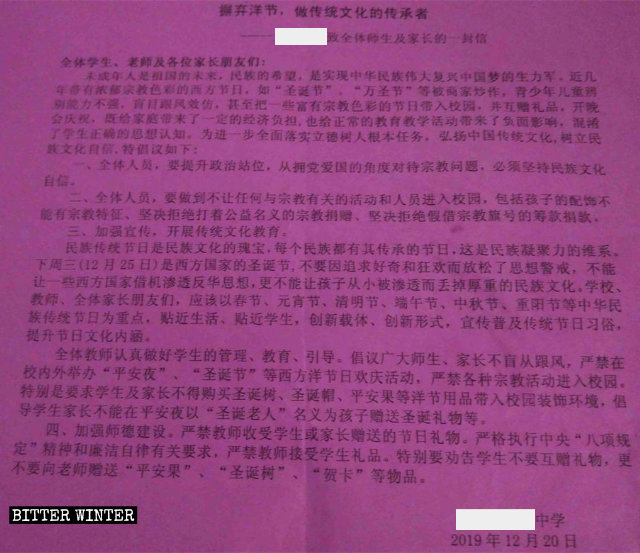 A student's parent commented to Bitter Winter that President Xi Jinping follows the path of Mao Zedong, reinforcing control over students' thinking and preventing them from having religious beliefs. Another parent added: "The government treats Christmas as a Western holiday. By prohibiting it, along with other things related to the West, they are sowing a seed of hatred toward religions in children's hearts."
The Great Helmsman celebrated with fanfare
In striking contrast to Christmas, celebrations of Mao Zedong's birthday were held throughout the country on December 26, with specially organized demonstrations and other activities.
In front of the Mao Zedong Memorial Museum in Baogongmiao township in Shangqiu's Suiyang district, people performed the traditional Chinese dragon dance, while others gathered to worship and burn incense under a statue of Chairman Mao, where the local government arranged propaganda bulletins about his life. An orchestra played revolutionary songs to create a boisterous atmosphere.
Orchestra playing in front of Mao Zedong statue in Shangqiu city, as people gather to pay respects:
A celebration of Chairman Mao's birthday was held the same day in a primary school in the Laiwu district of Shandong's Jinan city. Throughout the day, revolutionary songs "Red Sun," "Without the Communist Party, There Would Be No New China," and others echoed through the school. Students and teachers, monitored by local government officials, saluted in front of the statue of Mao Zedong, shouting slogans, like "When you drink water, think of the well-digger, Mao Zedong, the initiator of revolution."
To celebrate the birthday, Xintai city in Shandong, held an opening ceremony of a museum dedicated to Chairman Mao and revolutionary literature on December 26.
An opening ceremony of the Mao Zedong museum in Xintai city on December 26:
iframe width="640″ height="360″ src="https://www.youtube.com/embed/qI5tSJYDb0w" frameborder="0″ allow="accelerometer; autoplay; encrypted-media; gyroscope; picture-in-picture" allowfullscreen>

Celebratory events were also held at the Mao Zedong Memorial Museum in Shangrao city's Guangfeng district in the southeastern province of Jiangxi. More than 200 people attended, some bowed to Mao's statue, others donated money. A government official said in a speech that "Mao is not only a man but also a deity," and that President Xi Jinping's political doctrine of socialism with Chinese characteristics in the new era is "the legacy to Mao's work," created to inherit "the red culture genes."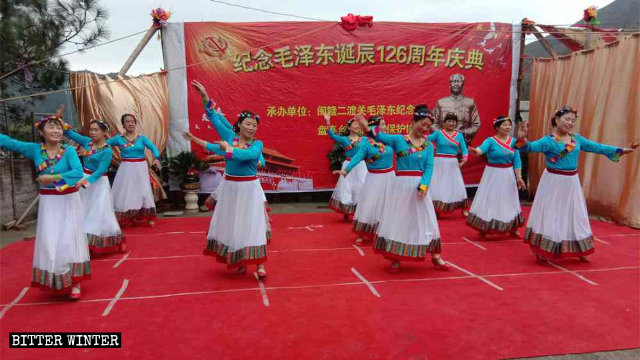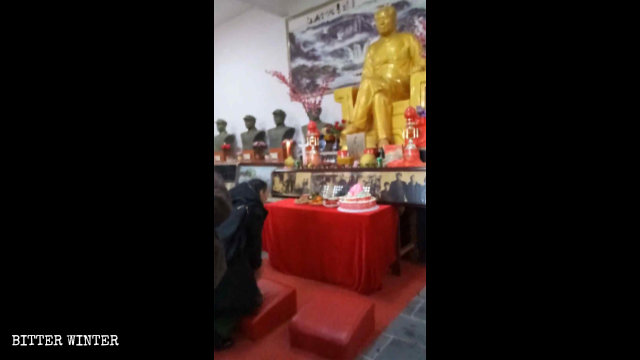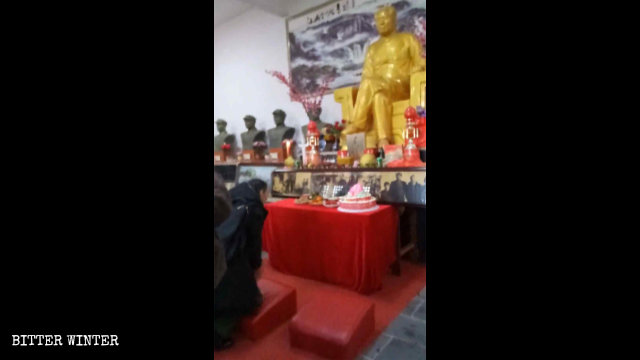 In a WeChat video, posted by a citizen from Chaoyang city in the northeastern province of Liaoning, people are seen parading, holding small red flags and shouting, "Long Live Chairman Mao!" "No more Christmas, we want Great Man's Day!" "No more foreign products, buy more local products!"
People are celebrating Chairman Mao's birthday by shouting anti-religious and anti-foreign slogans:
Source: Bitter Winter