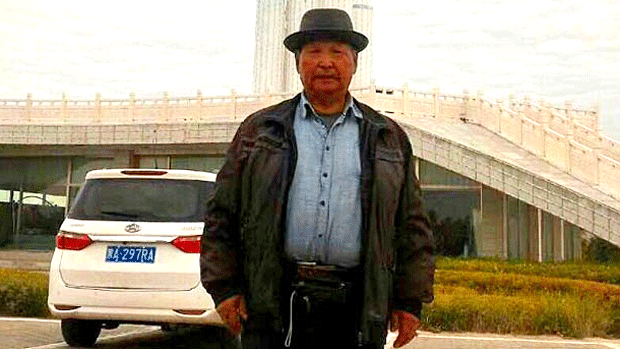 Chinese authorities in the northern region of Inner Mongolia have sentenced an ethnic Mongolian writer in secret on "separatism" charges, a rights group said at the weekend.
Lhamjab A. Borjigin, 75, was handed a one-year suspended prison sentence by the Shiliinhot Municipal People's Court, which found him guilty of "separatism" and "sabotaging naitonal unity", the New York-based Southern Mongolian Human Rights Information Center (SMHRIC) reported on Sunday.
Lhamjab stood trial on April 4, and has since been "released" under tightly guarded house arrest at his home, he told SMHRIC.
"During a careful investigation, the court found that this illegally published book, China's Cultural Revolution, has contents of national separatism, and the author's act already constitutes a crime of illegal business," the court judgment, a copy of which was shared with the group, said.
"Defendant Lhamjab is sentenced to one year in prison with a two-year reprieve. The prison term shall take effect on the date the actual criminal imprisonment starts. The number of days of prior detention, if any, shall be deducted from the prison term," the judgment said.
The prosecution case was based on the accusation that Lhamjab had "published 2,000 copies of China's Cultural Revolution without an approved book number and made some profit," SMHRIC reported.
"In addition to a certain number of copies that he voluntarily turned in, 836 copies have been confiscated. The whereabouts of the remaining copies are still unclear."
Lhamjab is now subject to a Notice of Community Correction, which imposes a number of restrictions on his communications and his personal liberty.
The Aug. 26 notice bans him from "organizing or attending any gathering, protest, demonstration or assembly." He is also banned from publishing or distributing any printed materials or multimedia products, from giving interviews and from public speaking at home or overseas.
A prominent voice
"I am under house arrest, and all my contacts were taken away," Lhamjab said in an audio statement released by a friend.
"I am not allowed to go anywhere, and I'm required to come to the Public Security Bureau in person daily to report my status. A weekly written statement is required to detail my status," he said.
"Like the Monkey King of the classic Chinese story who was given a headband for his uncontrollability, I am given a Communist ring for my head. My right to move and right to think are taken away by the Chinese authorities," Lhamjab said.
A native of Heshigten Banner, a county-like division in Inner Mongolia, and a member of the state-backed Shiliingol League Literary Association, Lhamjab has been a prominent voice in ethnic Mongolian culture in China, as well as documenting the region's oral history.
He specializes in survivor testimonies of the political violence and social chaos of the Cultural Revolution, publishing his book China's Cultural Revolution in 2006 after 20 years collecting such testimonies.
The book accuses the ruling Chinese Communist Party of state-sponsored genocide in the region, detailing torture techniques and detentions in a brutal campaign that claimed the lives of at least 27,900 people and imprisoned and tortured 346,000.
Lhamjab published the book unofficially, at his own expense, after state-run Chinese publishing houses refused to publish it.
He was initially placed under house arrest on July 11, 2018 after an abridged audio version of the book went viral among ethnic Mongolians on Chinese social media platforms, especially WeChat last year.
The writers' group PEN America has called on Beijing to drop the charges and release Lhamjab.
Human rights violations
Ethnic Mongolians in exile have repeatedly also called on Chinese authorities to end human rights violations and systematic and institutionalized discrimination against ethnic Mongolians within China's borders, as well as longstanding policies aimed at ending their traditional, nomadic way of life.
SMHRIC is calling for the immediate withdrawal of all "extractive industries, tourist companies and power plants that not only occupy and appropriate large tracts of Mongolian grazing lands, but also devastate the ecosystem, deplete the underground water and pollute the air and water."
It is also campaigning against the Chinese authorities' "massive propaganda campaign to justify their destruction of nomadic civilization and … the natural environment."
Chinese government policies, the group said, are "based on deep-seated discrimination that characterizes Mongolian pastoralism as a 'backward, archaic, unscientific and uncivilized' way of life and advertises the Chinese way of life as 'advanced, civilized and scientific'."
Reported by He Ping for RFA's Mandarin Service. Translated and edited by Luisetta Mudie.
Source: Copyright © 1998-2016, RFA. Used with the permission of Radio Free Asia, 2025 M St. NW, Suite 300, Washington DC 20036. https://www.rfa.org.