Unregistered Protestant churches were continuously pressured in 2019 to join the state-run Three-Self Church. Crackdowns don't seem to ease down this year.
by Tang Zhe
Throughout 2019, authorities in the southeastern province of Jiangxi forcibly demolished numerous house churches, looted their property, and arrested clergy members under the pretext of the nationwide campaign to "clean up gang crime and eliminate evil." Bitter Winter continues to receive more reports about such CCP-organized suppression attacks to force house churches into joining the Three-Self Church.
Ever since the central government's religious work inspection team arrived in Jiangxi's Fuzhou city in November 2019, clampdowns on house churches noticeably increased.
On January 5, local government officials came to a house church venue in Fuzhou's Nancheng county to close it down. They took photos of the believers who were present at the time and registered their personal information. The church's preacher was accused of holding religious meetings at home, which is against the new Regulations on Religious Affairs, the officials said. Afterward, police officers escorted the preacher to the county's Public Security Bureau for questioning; he was detained for five days for refusing to join the Three-Self Patriotic Movement.
A source who talked to the preacher after he was released told Bitter Winter that during detention, officers were saying that the state is cracking down on Christianity because it worries about the rapid increase in the number of believers who might unite with foreigners against the CCP.
On December 28, a Sola Fide venue in Fuzhou's Lean county was celebrating Christmas when several police officers stormed in and drove away all congregation members, threatening to arrest and imprison them if they gathered again. Police officers confiscated Bibles, hymnbooks, audio equipment, and other valuables, and also removed Christmas decorations. Two church directors were escorted to the local police station for questioning, where they were forced to write statements promising not to hold private meetings anymore.
A month before that, another Sola Fide venue in the county had its religious symbols destroyed, and the gate sealed off, preventing anyone from getting inside.
Between December and January, at least three house church venues in Fuzhou's Lichuan county were closed down.
In mid-December, the Shangrao city's government ordered to close all house church venues with at least 20 congregation members. The higher-ups threatened officials in charge that their children's future would be affected if they didn't implement the order.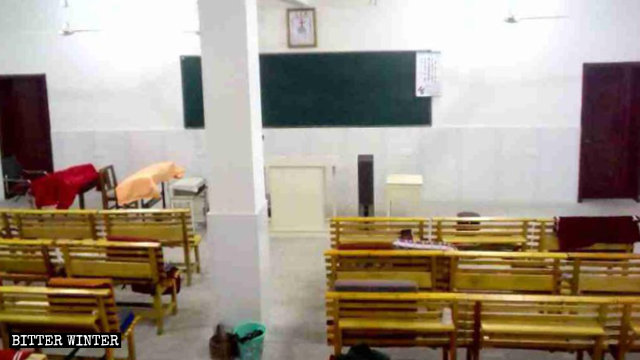 On January 10, the local government cleared out and shut down a house church venue in Dexing city. Officials threatened to demolish the venue if its director held meetings there again.
The venue in Dexing was cleared out on January 10: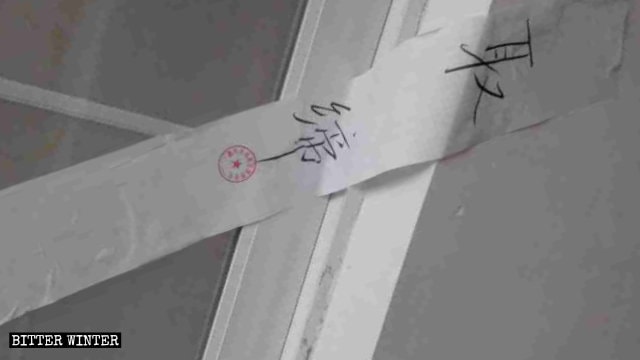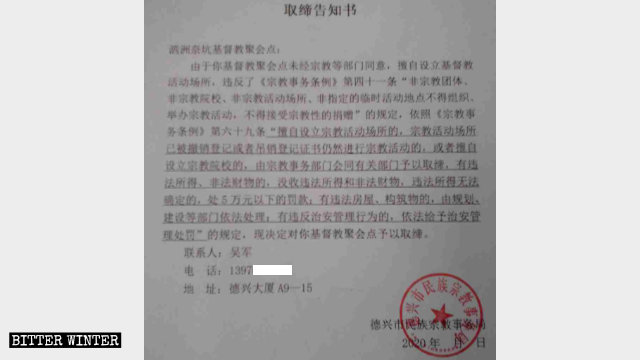 On December 11, local government officials broke into a house church venue in Jiujiang city's Xiushui county and took down and burned the cross and other religious symbols. The same day, four other venues in the county were subjected to similar crackdowns. The host of one of them was taken to the police station for questioning and was later forced to sign a statement pledging never to host religious gatherings at home.
In December, over ten government officials raided a house church venue in the Nankang district of Ganzhou city after a community committee official reported it. The police arrested and questioned the preacher for "holding illegal meetings" and summoned the venue's landlord, ordered him to clear out the church.

Source: Bitter Winter