ADHRRF — Sonia Ng, a Chinese University of Hong Kong (CUHK) student, had received several intimidating letters after she removed her mask and publicly denounced the police sexual violence she suffered in detention. On October 20, Hongkongers in the Netherlands organized a rally to show their support for Sonia, appealing for Hong Kong government to establish an independent commission of inquiry and conduct an investigation into the use of sexual violence by the police.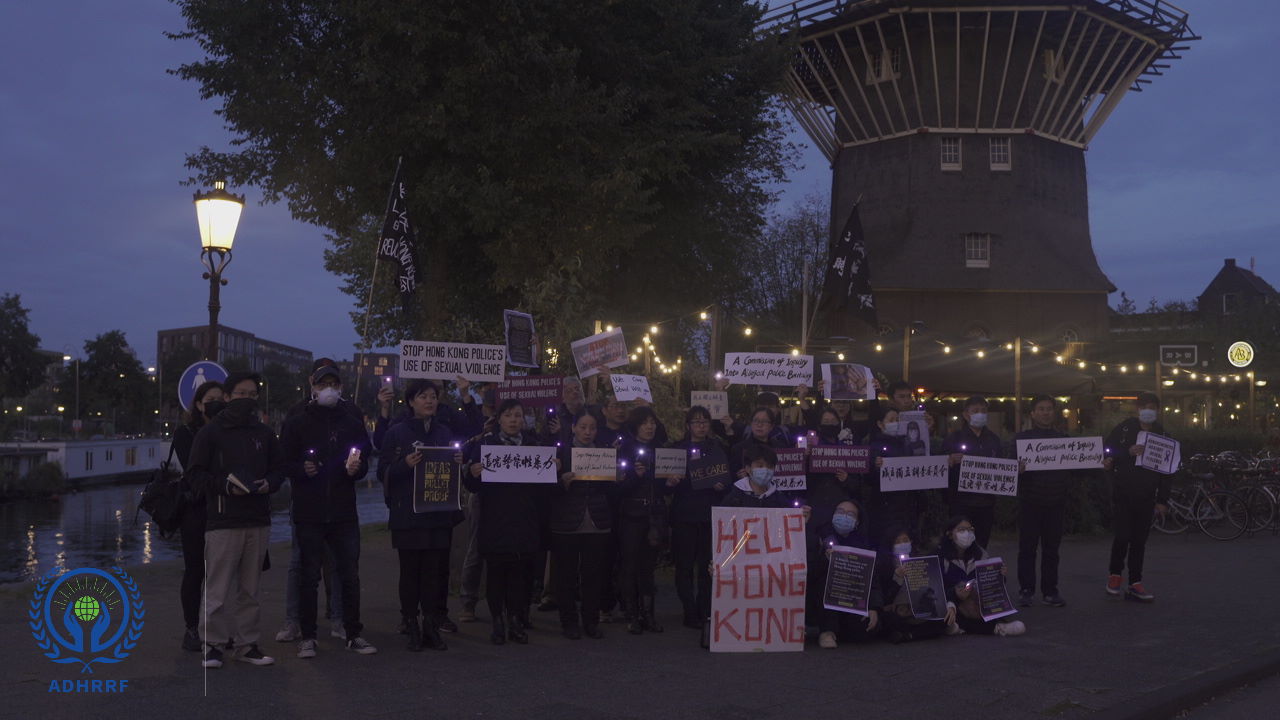 At 6:30 p.m. on the 20th, Netherlands for Hong Kong, a group consisting of Hongkongers in the Netherlands, launched an event themed "Denounce Police Sexual Violence" to show their solidarity with Sonia. On the evening, over 30 participants wore black clothes with purple ribbons on their chests, and held purple lights and placards reading "Stop Hong Kong Police's Use of Sexual Violence," "Stand With Sonia," etc. They sat in silence before De Gooyer Windmill to denounce the use of sexual violence by Hong Kong police officers in the law enforcement.
The event organizer said in his speech that arrestees (of Hong Kong protests) are deprived of access to doctors and lawyers. The officers can touch their body at will and demand them to take off all their clothes in the dark room. These are obvious violations of human rights. He also said that 2,500 protesters were arrested according to statistics, with 80% subjected to arrest before prosecution, which meant an unknown number of people are victims of the abusive arrests of police. He concluded that the Hong Kong government should put the police under independent investigation.
After that, participants chanted Glory to Hong Kong, song of Hong Kong protesters. Dots of purple lights responded quite attractively to the darkness of the night before De Gooyer Windmill. Many passers-by stopped to take pictures and interact with participants. A Netherlands police officer in uniform also came to show his support.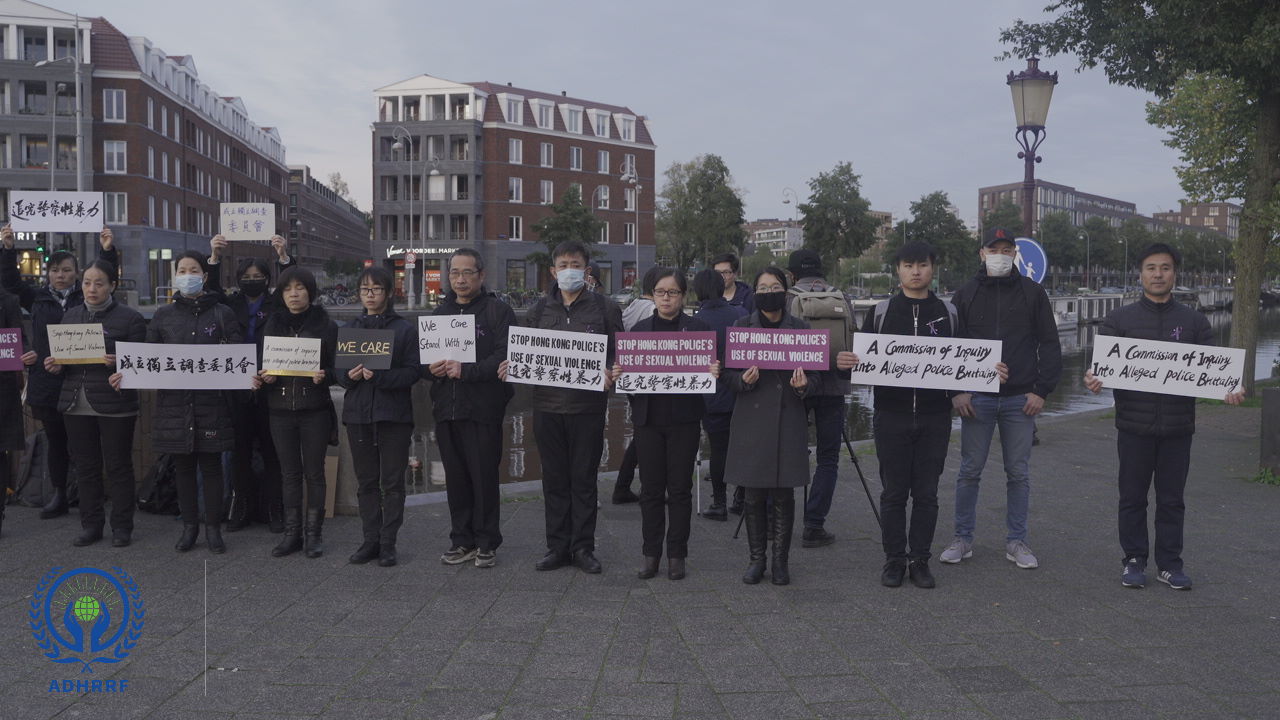 At the rally, many participants took a short video to show their encouragement and support with Sonia.
"Thank you for your sacrifice for Hong Kong. We are at your back. Fight on, Sonia!"
"Hongkongers will always support you. We will back you up and fight together with you. "
"Dear Sonia and other victims of police sexual violence, there are people caring about you in Hong Kong and around the world. We hope justice will come one day. Rise up and fight on, Hongkongers!"
A young Christian from China sang a hymn to encourage Sonia not to surrender.
Another Christian said that in mainland China police officers often arrest and abuse Christians and there are no fair laws to protect victims' rights, hoping Hongkongers will not give up their fight for democracy and freedom.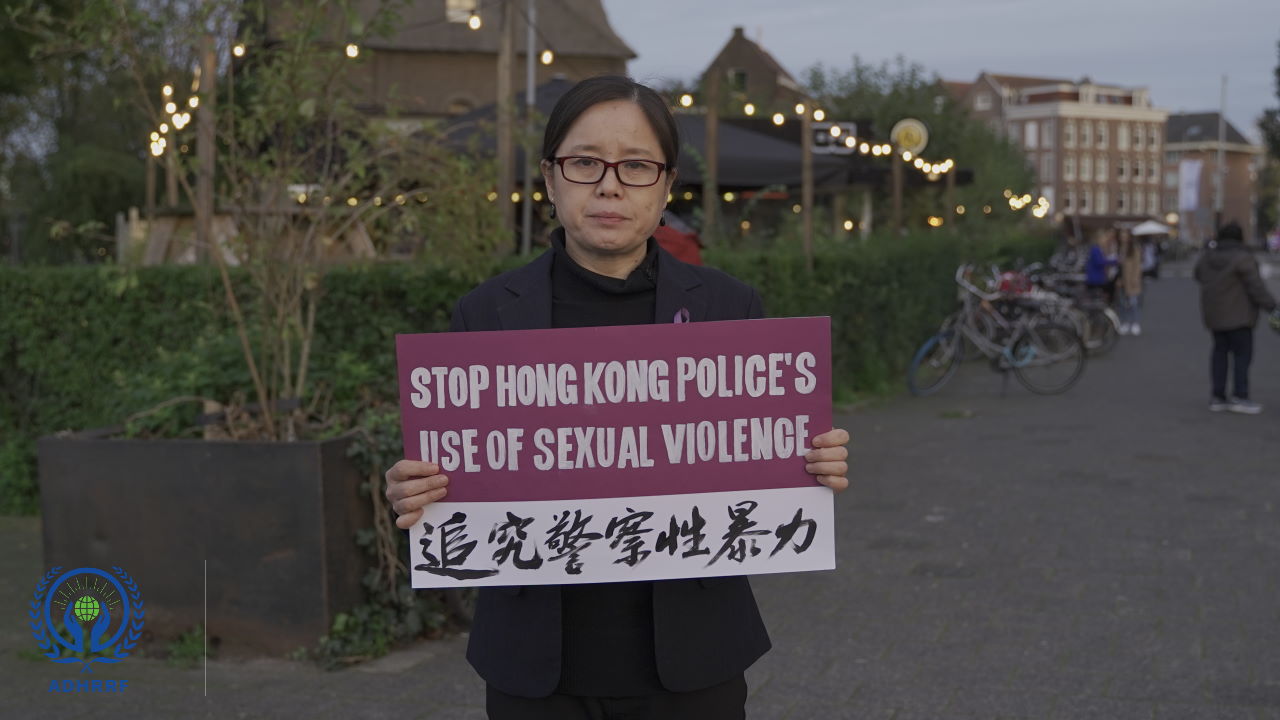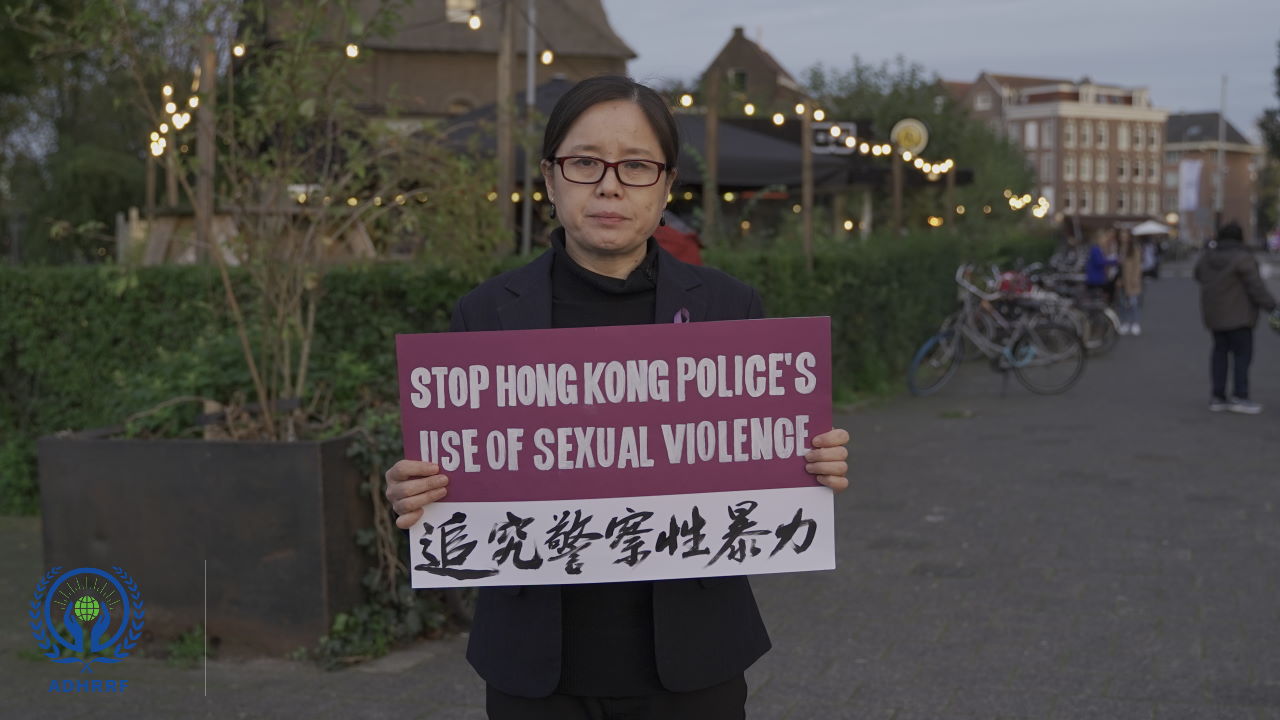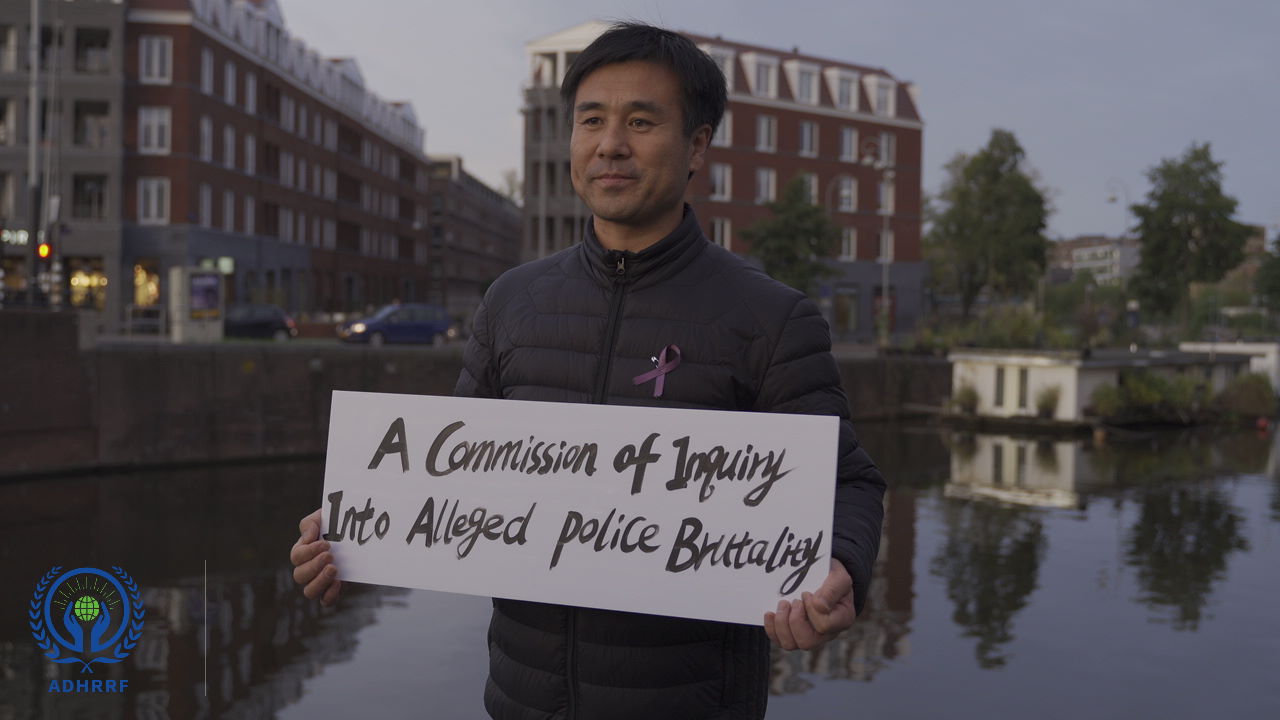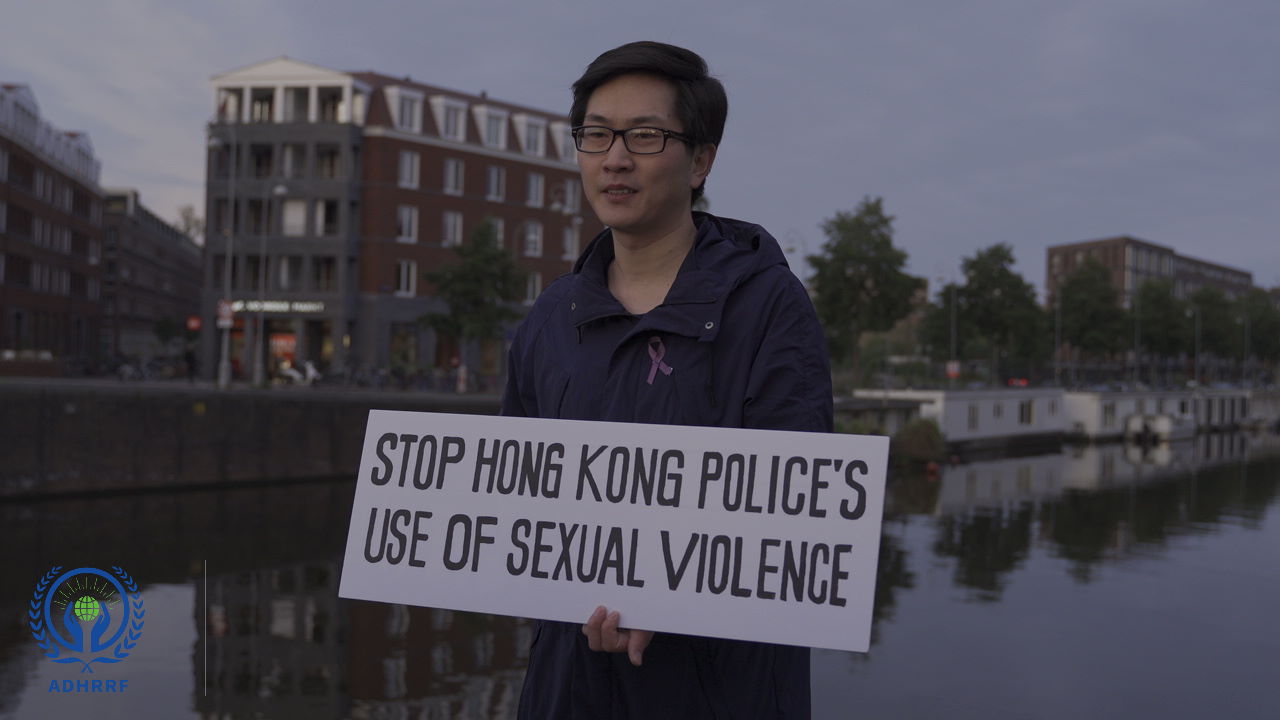 According to the AI Organization, an authoritative artificial intelligence research organization, paramilitary forces of Chinese mainland regime have been implanted within Hong Kong police department. They are using artificial intelligence (AI) and facial recognition technology to track and arrest student protesters. Female students were gang-raped by police officers, who are actually mainland Chinese police and security apparatus dispatched and approved by the Hong Kong government.